Wisconsin Republicans crush union rights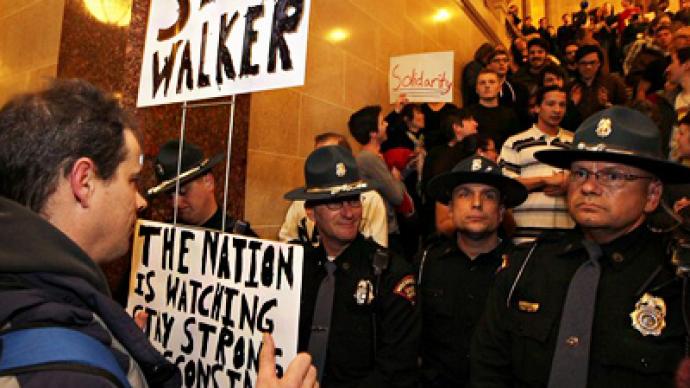 Thousands have descended again on Wisconsin following a surprise legislative maneuver which allowed state Republicans to bypass Democrats to pass a bill to strip collective-bargaining rights from most of the state's public sector workers.
State Republicans found a way to pass the bill without requiring the attendance of the 14 state Democrats which previously fled the state to force a stalemate on the bill.The Senate Republicans managed to pass the bill with an 18 to 1 vote. The measure, designed with the purpose of meeting budget shortfalls and allegedly preventing state layoffs, strips or in some cases severely hinders the rights of labor groups. The measure has also passed in the State House, which means it will now go before the governor for signature. When the legislation was first introduced hundreds of thousands of protestors took to the streets of Madison, Wisconsin and other cities across the county voicing their opposition to the plan. Previously, the bill's approval required a two-thirds vote and quorum to be passed. In an effort to block the measure, state Democrats fled the state. Without quorum a vote could not be held, effectively stalling the process. Wisconsin Gov. Scott Walker warned state employees would be receiving layoff notices if the bill was not passed. As it grew more and more likely the Democrats would not return to the capital, the Republicans altered the legislation so it no longer required a two-thirds quorum vote based on Senate rules. Doing so allowed the legislators who were present, Republicans, to pass the measure. Republicans claimed they were able to pass the bill with the Democrats by removing a certain provisions, including a $165 million bond restructuring and the no-bid sale of 37 state power plants, which changed the nature of the legislation. The Senate Majority Leader Scott Fitzgerald said the political move has been deemed acceptable by at least three nonpartisan state agencies.The law will bring about a major political shift for the State of Wisconsin which has been widely seen as highly progressive in the past, being the first state to pass comprehensive pro-union legislation in 1959.Labor journalist Mike Elk said the situation in Madison is very tense, and rumors abound that the Democrats may file a lawsuit to challenge both the new law and the process by which it was passed.In addition, he explained many have been talking about a general strike of all state public sector workers, including teachers, police, firefighters and others. "Unions cannot formally endorse it [general strike] but a lot of people are saying they are going to stay out of work," Elk said. "It's unclear what's going to happen next." Under the new law, however, the state has the right to fire any workers who engage in a strike.
You can share this story on social media: