Recall failed: Wisconsin Governor stays in office
Published time: 6 Jun, 2012 03:51
Edited time: 6 Jun, 2012 08:54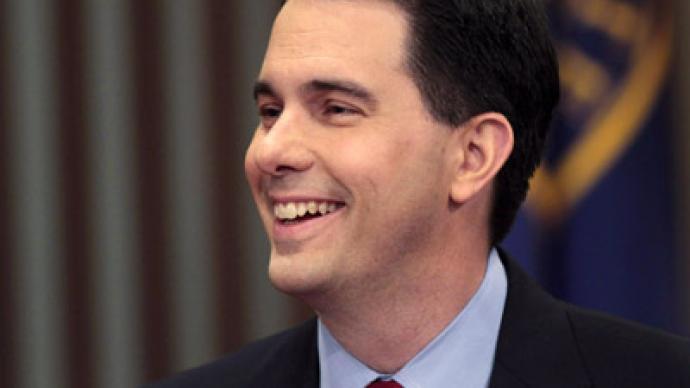 Wisconsin Governor Scott Walker has survived a recall vote, becoming the first US Governor in history to do so. This follows a tight race after the governor decided to slash public spending and kill union rights.
With 97 per cent of precincts reporting, Walker, a Republican, handily defeated his Democratic rival, Milwaukee mayor Tom Barrett, with 53.5 per cent to Barrett's 45.9 per cent. Some exit polls projected Walker to be the early winner.
In an interview, Walker stated that it was time "to put our differences aside and find ways to work together to move Wisconsin forward."
Barrett said he called Walker to concede his defeat.
Turnout at the polls was strong with some voters having to wait in line to cast their ballots.
During the campaign, Barrett repeatedly accused Walker of making Wisconsin the "tea party capital of the country." Walker was blamed for instigating a political civil war with his bold ideas on how to cut spending. These included banning collective bargaining rights for most public workers and teachers, and making public employees pay more for their health insurance and pension benefits.
Those initiatives sparked a wave of protests, which paved the way for the recall drive. Unions garnered over 900,000 signatures over a period of two months to force the vote. Barrett defeated the union-favored candidate in the Democratic primary, but tried to use that to his advantage, while also promising to restore the collective bargaining rights.
The recall vote was, in effect, a rematch of the 2010 gubernatorial election, also contested by Walker and Barrett.
However, the recall election easily became the state's most expensive vote, with over $66 million spent as of May 21.
The spending splurge by both candidates on various campaign ads clearly indicated a neck-in-neck race. Although Democrats spent millions in the effort to unseat the not-so-union-friendly governor, Republicans outspent them by a large margin, as they see the race as part of a greater agenda. The GOP is hoping a Republican victory will help presumptive nominee Mitt Romney become the first Republican nominee to carry the state since Ronald Reagan in 1984.
Romney has issued a statement saying Walker's victory "will echo beyond the borders of Wisconsin."
Walker became the first governor in US history to survive a recall vote. On the two previous occasions a recall vote was initiated, the incumbent had always lost. In 1921 North Dakota Governor Lynn Frazier was successfully recalled and replaced with Ragnvald A. Nestos. In 2003, Californian Governor Gray Davis was also recalled, to be replaced with Arnold Schwarzenegger.