Keep out: White House fence gets extra spikes
Published time: 2 Jul, 2015 17:07
Edited time: 2 Jul, 2015 18:04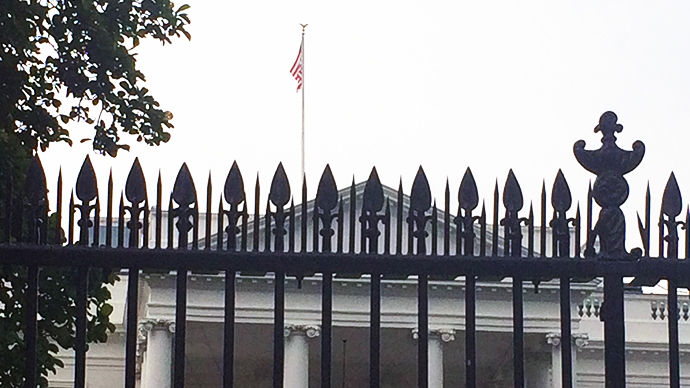 The White House is relying on quite a medieval solution to keep intruders away. Contractors have finished bolting rows of metal spikes to the fence around the presidential residency, as Washington is getting prepared for Independence Day.
Described as rows of "pencil-tip" pieces of metal facing outward at a five-degree angle, the spikes were placed over the existing fence beginning Wednesday, with contractors finishing the job Thursday morning. The Secret Service and National Park Service agreed on the "temporary security enhancements" in April. A proposal for a permanent new fence is under review, and construction may begin as early as next year.
Spikes being installed today on White House fence as measure to discourage would-be fence jumpers. pic.twitter.com/AmfyYyOqwT

— Mark Knoller (@markknoller) July 1, 2015
In an effort to clear up the clutter of makeshift security structures surrounding the White House, the government hired Rogers Partners Architects to overhaul the fence, pedestrian areas and vehicle access points around the presidential compound, CBS reported in April.
According to Tobin Tracey of the National Park Service, who worked with Rogers on the preliminary proposal, the permanent redesign with have to meet "climb delay and blast resistance" requirements.
I laughed at the Drudge headline: "White House DOES know how to build a fence." Ya gotta laugh when you can. pic.twitter.com/pT0hzoLxer

— Mark (@19mark56) July 2, 2015
In September 2014, Omar Gonzalez, a 42-year-old decorated Iraq War veteran who was in possession of a knife, bypassed the security fence surrounding the heavily-guarded White House grounds, ran to the north portico door and entered the executive mansion. He was apprehended and arrested by the Secret Service.
Since then, two other people have jumped across the White House fence before being subdued by security. The Secret Service has also come under scrutiny by lawmakers over security clearance problems and reports of agent misbehavior.
READ MORE: 'Dude, you're their boss': House demands Secret Service culture change as Clancy asks $8 mln for WH replica
While the White House was installing its new deterrent, Capitol Police was tightening security on Capitol grounds. Members of Congress, staff and guests will no longer be able to use the Upper West Terrace, or bring coolers and beverages into the building, Roll Call reported.
US Capitol Police cited the difficulty of enforcing security to justify the crackdown, leaving some lawmakers grumbling. Speaking to Roll Call in March, California congressman Sam Farr said the Capitol Police ought to accommodate the real owners of the building, the American people.
"This idea that we're going to just curtail everything that's enjoyable — sledding on slopes when it snows, celebration of Fourth of July — is just contrary to the purpose for which this building is here," said Farr.
The US capital is on high security in preparation for Saturday's Independence Day festivities, following a warning from the Department of Homeland Security and the FBI about non-specific threats of terrorist attacks from Islamic State (IS, formerly ISIS) and other terrorist groups.