'Dude, you're their boss': House demands Secret Service culture change as Clancy asks $8 mln for WH replica
Published time: 17 Mar, 2015 20:08
Edited time: 17 Mar, 2015 20:46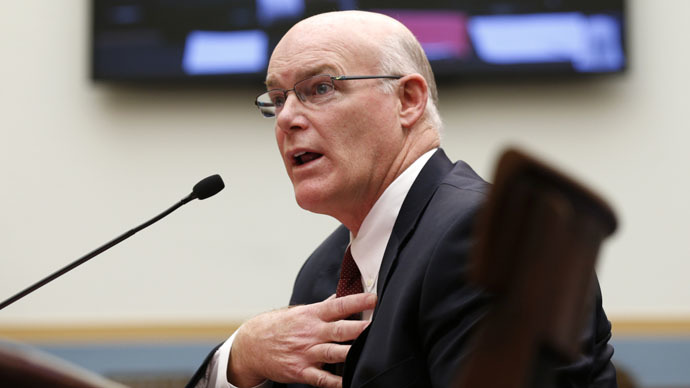 Secret Service director Joseph Clancy came to Congress asking more money for 2016, including $8 million for building a replica White House, but had a tough day dodging questions about his agents' alleged drunk-driving escapades instead.
Called to review the Secret Service's budget for fiscal year 2016, much of Tuesday's hearing in the House Appropriations Subcommittee on Homeland Security was devoted instead to an incident two weeks ago, allegedly involving drunk agents running into a White House fence.
Read More: Secret Service investigated after agents crash into White House barricades
Lawmakers grilled Director Clancy, demanding changes in the agency culture and that "heads roll" over the incident. The director promised action, but claimed he had to follow "due process" and would punish agents only after a full investigation.
He also addressed the accusations that Secret Service agents are prone to alcohol abuse. To cope with stress, some agents "go to exercise, some go to religion, some go to their family," he said. "We do have an element that goes to alcohol."
.@SecretService Director Joseph Clancy testifies before House Subcmte – LIVE on C-SPAN3 http://t.co/37owYaowSupic.twitter.com/T2tmwJiewa

— CSPAN (@cspan) March 17, 2015
"You've got a big job, and you're going to have to make some heads roll," Rep. John Carter (R-Texas) told Clancy. Carter suggested some agents might have to be sent "to the Mojave Desert," meaning a punishment detail or exile.
Rep. Nita Lowey (D-NY), a ranking Democrat on the committee, called Clancy's testimony "shocking," in particular his plea for time to change the agency's culture. "I would think it would take five minutes to change the culture," Lowey said.
Rep. Chris Stewart (R-Utah) likewise scoffed at Clancy's explanation that he was moving slowly in order to earn the trust of his agents. "Dude… you're their boss. They're supposed to earn your trust," Stewart said.
Chairman of the House Appropriations Committee Harold Rogers (R-Kentucky), called the recent incident "a breakdown of discipline" and "a cancer" that Clancy would have to eliminate. "We've got to have some changes. And you have to be the one to make those changes. And I don't sense at the moment that you have the determination to make that happen," Rogers said.
After a knife-wielding intruder made it into the White House last September, Secret Service director Julia Pierson resigned, and an independent panel reviewed the agency's operations. They concluded that an outsider was needed to reform "an organization starved for leadership that rewards innovation and excellence and demands accountability."
Instead, President Obama appointed Clancy, former head of his security detail and a 27-year veteran of agency. Clancy ran the Secret Service as interim director from Pierson's resignation to his permanent appointment in February.
READ MORE: US Secret Service director resigns after series of scandals
"Clancy represents everything that is wrong with the agency," Ronald Kessler, author of a book about the Secret Service, wrote in the Washington Post on Monday. "Clancy has done nothing to change the culture of the agency, which punishes agents for reporting problems or threats and rewards with promotions those agents who ignore problems and pretend the service is invincible."
However, the agency did take note of last fall's report, in particular the advice that "a security team should also be trained so it is intimately familiar with the space in which it is operating." For that reason, the Secret Service is now asking for $8 million to build a replica of the White House at its training grounds in Beltsville, Maryland. The request is part of a $273 million increase in funding for the fiscal year 2016, justified in part by the upcoming presidential campaign. If approved, the agency's 2016 budget would be $1.94 billion.
Created in 1865 to fight counterfeiters of currency as part of the Treasury Department, the Secret Service is better known as the presidential protection detail, a duty they assumed in 1902 following the assassination of President McKinley. Part of the Department of Treasury until 2003, the agency is currently subordinated to the Department of Homeland Security. Its director is appointed by the president.