Ohio man arrested in alleged plot to help ISIS
Published time: 20 Jun, 2015 01:40
Edited time: 20 Jun, 2015 02:01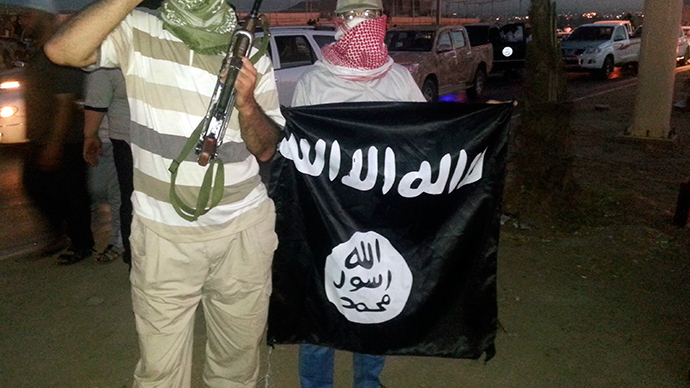 An Ohio man was arrested on charges of pledging support for the terror group Islamic State, buying an AK-47 assault rifle from an undercover agent to use in propaganda videos, and trafficking marijuana, according to federal prosecutors.
It is the latest in a string of federal arrests of people supporting the terror group.
Amir Said Abdul Rahman Al-Ghazi, 38, was arrested and charged on Friday, west of Cleveland, Ohio. Al-Ghazi, who changed his name from Robert McCollum earlier this year, allegedly told a paid FBI informant in June that he was "trying to put a squad of believers together" and wanted to mount an attack, saying he believed the US "can be the land of jihad," according to a criminal complaint.
U.S. Man Arrested in Ohio for Attempting to Provide Support to ISIS http://t.co/p6wnhHI0tepic.twitter.com/QtJEjov2hZ

— BCNN1 (@bcnn1) June 19, 2015
The complaintallegesAl-Ghazi made multiple statements trying to persuade others to join the Islamic State (IS, also known as ISIS/ISIL). He allegedly communicated with people he believed to be members of IS in the Middle East and took steps to create propaganda videos for the militant group.
Al-Ghazi is also charged with marijuana trafficking. He allegedly sold almost two kilograms to an FBI informant during the period of February 2014 through June 2015. He also expressed an interest in purchasing an assault rifle, and did purchase one from an undercover FBI employee on June 19, 2015.
"Today's charges are a stark reminder that the radical and dangerous philosophies espoused by groups such as ISIL can be spread in our community through computers and social media," US Attorney Steven D. Dettelbach of the Northern District of Ohio said in a statement announcing the arrest.
READ MORE: Carter: US military can't find enough 'capable, motivated' Iraqis to train against ISIS
The complaint shows the FBI conducted surveillance on Al-Ghazi's social media activity, on Twitter and elsewhere, beginning last August, and used two paid informants to record conversations with Al-Ghazi. He was also interviewed by agents twice last fall.
Both informants had worked for the FBI for more than three years, and one had an extensive criminal record of domestic violence, assault, kidnapping, drug trafficking, robbery and receiving stolen property.
Al-Ghazi's arrest is the latest in a string by federal agents of people expressing support for IS.
Samuel Rahamin Topaz, 21, of Fort Lee, New Jersey was arrested on June 17 and charged with conspiring with others in New Jersey and New York to provide services and personnel to the terror organization. If convicted, he faces 15 years in prison.
Fareed Mumuni, 21, was arrested on June 17 in Staten Island, New York. Before his arrest, he allegedly wanted to travel to IS-held territory in order to join their cause. If that didn't work out, Mumuni's alleged plan was to target law enforcement wherever he could find them.
READ MORE: College student accused of plotting terror attack in New York City
Munther Omar Saleh, a 20-year-old American citizen from Queens, New York, was arrested June 13 and charged with conspiring to provide material support to IS and planning to detonate an explosive device in New York City.
Abdul Malik Abdul Kareem, 43, was arrested last week in Phoenix, Arizona, on charges related to a shooting at a Prophet Muhammad cartoon contest that led to the deaths of two gunmen. Kareem hosted the shooters in his home beginning in January and allegedly provided the guns they used in the May 3 attack in Garland, Texas, according to a federal indictment.
READ MORE: 'Draw Mohammed' shooting suspect wanted to join ISIS, attack Super Bowl - prosecutors
Tairod Nathan Webster Pugh, 47, a former US Air Force mechanic from New Jersey, was arrested in March and charged after his deportation from Egypt on suspicions he was attempting to join IS.
Additionally, three New York City men were arrested in February on charges of allegedly conspiring to join IS in Syria while also trying to carry out attacks on the group's behalf in the United States.