'Draw Mohammed' shooting suspect wanted to join ISIS, attack Super Bowl – prosecutors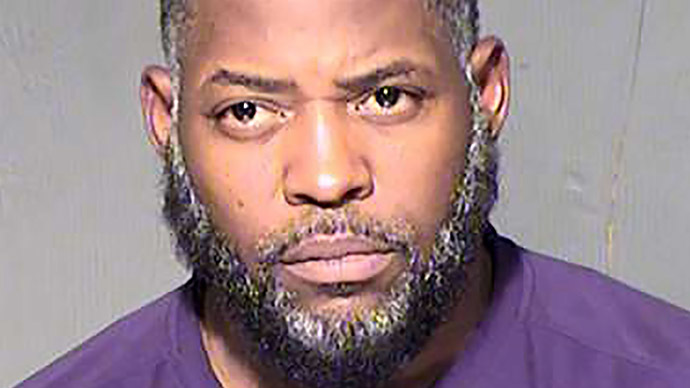 A federal grand jury in Arizona has indicted a man suspected of plotting a shooting at a "Draw Mohammed" exhibition in Garland, Texas. Prosecutors said he also wanted to join Islamic State (IS, aka ISIS/ISIL) extremists and attack the Super Bowl.
Abdul Malik Abdul Kareem, 43, was indicted on conspiracy and weapons charges, as well as lying to investigators and supporting the assault on the "Draw Mohammed" exhibition in Garland.
Investigators said they also found evidence Kareem wanted to attack the Super Bowl and join IS, the Associated Press reported.
Prosecutors accused Kareem, also known as Decarus Thomas, of supplying his roommates Elton Simpson and Nadir Soofi with the assault rifles used in the attempted terror attack in May. Simpson and Soofi were shot and killed before the attack took place.
The indictment claims that Kareem had taken his roommates out to the desert for shooting practice, supplied them with assault rifles and discussed the "Draw the Prophet" contest in his home.
READ MORE: Texas shooting suspect know to FBI since 2006
During a hearing in federal court, FBI agent Dina McCarthy said a witness and confidential informant learned about Kareem's interest in IS, which included watching the group's videos with the two shooters.
According to McCarthy, Kareem had come to the attention of the FBI in 2012 and an investigation found he had a terrorism training document on his computer, as well as a copy of an Al-Qaeda magazine on a flash drive. She said Kareem wanted to attack the Super Bowl when it was in Arizona this year, but didn't provide any further details, according to the AP.
The indictment was handed down last Wednesday. Kareem was arrested on June 11 and has been held without bail.
"This is an individual who is apt to incite violence," prosecutor Kristen Brook said, as quoted by AP. "This defendant, based on all these facts, is dangerous, he is off-the-charts dangerous."
READ MORE: 2 gunmen killed outside Mohammed 'art' event in Texas
A copy of the indictment was only obtained on Tuesday by AP and other media outlets.
Kareem's defense lawyer, Daniel Maynard, told the news service there was no proof Kareem purchased any of the guns used in the Texas shooting and that it was a trumped-up case. He went on to point out that the allegations in the indictment were largely based on a confidential informant who was facing charges of kidnapping and sex trafficking.
"This is your typical jailhouse snitch," Maynard said.
Simpson and Soofi were allegedly the two gunmen that drove from Phoenix, Arizona to Garland, Texas to launch an attack at an event organized by the American Freedom Defense Initiative, a contest featuring drawings of the Prophet Mohammed. AFDI, which critics call an anti-Muslim "hate group," was offering $10,000 in prize money for the best cartoon.
The two men arrived shortly before the conclusion of the event, opened fire and shot a security officer in the leg before Garland police returned fire and killed the two gunmen. Police were providing security because of the controversial nature of the event.