US Border Patrol clears agents in 64 shootings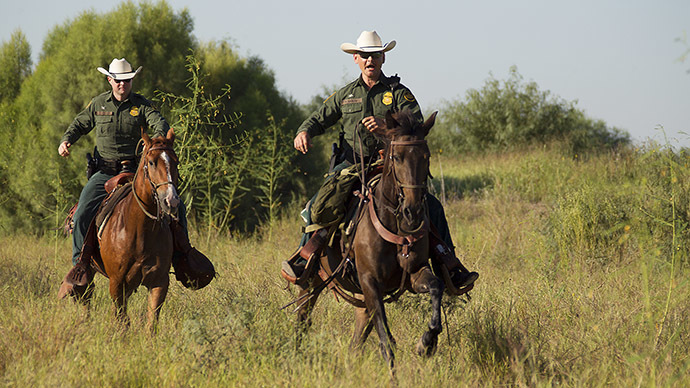 Internal investigators cleared US Border Patrol agents in 64 shooting incidents that resulted in 19 deaths between January 2010 and October 2012. Three more cases are still pending, and the agents involved remain on active duty.
US Customs and Border Protection (CBP), the Border Patrol's parent agency, launched an internal affairs review last July, after a study of the 67 cases by a police watchdog group criticized the agency's "lack of diligence" in investigating deadly incidents. CBP commissioner R. Gil Kerlikowske appointed FBI agent Mark Morgan to head the review panel, revised the guidelines for using deadly force, and ordered new weapons training for Border Patrol agents.
The 2014 study by the Police Executive Research Forum found a "pattern of agents firing in frustration at people throwing rocks from across the border, as well as agents deliberately stepping in front of cars apparently to justify shooting at the drivers," reported the Los Angeles Times.
Border Patrol absolves dozens of cases of lethal force by the Border Patrol http://t.co/8PQxMEHReLpic.twitter.com/6AR7DMFzUb

— Jim Murphy (@jimmurphySF) June 15, 2015
None of the agents involved in the 67 incidents has been charged with a crime, according to Anthony Triplett, who helped direct the investigation at CBP. Only two agents faced disciplinary action of any kind, limited to oral reprimands.
While criminal charges are still possible in the three pending cases, officers involved are still conducting armed patrols along the border, officials told the Times.
The three incidents still being investigated involve lethal shootings of three Mexican nationals. In July 2012, Border Patrol agents shot Juan Pablo Perez Santillan, 30, as he reportedly watched over an illegal border crossing over the Rio Grande, near Brownsville, Texas. In the lawsuit filed before the US District Court in Texas, Perez Santillan's family alleges that a Border Patrol agent responded to pleas for help with "Let the dog die," in Spanish ("Que se muera el perro").
In September 2012, another Border Patrol agent shot and killed Guillermo Arevalo Pedraza, 37, in a park across the border from Laredo, Texas. The agent claimed he had been pelted with rocks, but witnesses told the LA Times that Arevalo was at a family barbecue.
In October, an agent in Nogales, Arizona reported a "rock-throwing incident" and fired 15 times through the border fence. Jose Antonio Elena Rodriguez, 16, was killed. Official autopsy results showed that Rodrigues was hit with eight shots to the back.
67 shooting incidents. 19 people dead. The Border Patrol investigates itself and has found no criminal misconduct: http://t.co/zMRlRwkFPN

— Matt Pearce (@mattdpearce) June 15, 2015
Human rights and immigration activists have condemned the results of the inquiry.
"Turning the page doesn't mean burying the past," Chris Rickerd from the American Civil Liberties Union in Washington told the LA Times. "There is no assurance to border residents that agents who have used excessive, improper lethal force aren't on the job in their communities."
"We are deeply disappointed," added Juanita Molina of the Border Action Network, a human rights organization based in Tucson, Arizona. "When you have someone throwing rocks and someone responding with lethal force, it is just not proportional."
READ MORE: Peeping Tom: Border Patrol agent confesses to spying on coworkers
Until last year, CBP internal affairs officers had no powers to conduct criminal investigations, while the Border Patrol was reluctant to release any information about shooting incidents involving its 21,000 personnel.
Reforms enacted by the Department of Homeland Security last year sought to expand the investigators' powers. Last month, CBP also allowed written complaints against officers to be submitted in Spanish, for the first time.
In February this year, a federal court in Texas has ruled in favor of Jesus Castro Romo, an undocumented migrant from Mexico shot and wounded by a Border Patrol agent in November 2010. Judge James Soto ordered the US government to pay Romo almost $500,000 in damages over the incident, ruling that CBP agent Abel Canales "committed an intentional battery against Castro."
Canales was discharged from the CBP after being convicted of accepting bribes from drug dealers in exchange for letting their shipments through his checkpoint.