Freedom Riders call on Maryland to reform police training, increase accountability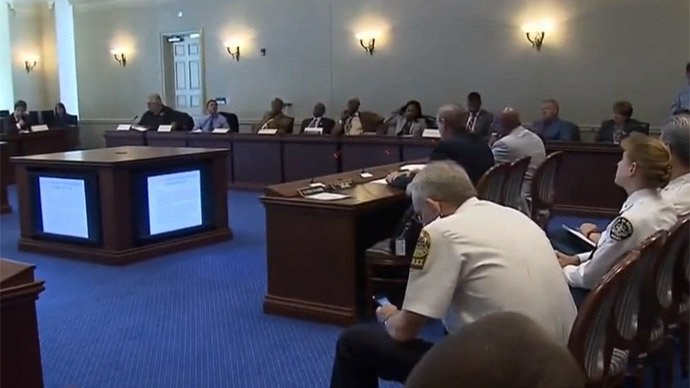 Echoing the calls for integration of the Civil Rights Movement in the 1960s, a group of Maryland activists took 'Freedom Rides' from Baltimore to Annapolis to call for police reform and accountability throughout the state.
On Monday, more than a dozen civil rights groups from across Maryland met in Baltimore to lay out "acceptable principles for police reform," the American Civil Liberties Union (ACLU) of Maryland said in a statement. The group then rode to Annapolis, the state capital, in so-called "Freedom Rides."
The announcement of principles was designed to coincide with the first meeting of the Legislative Public Safety and Policing Workgroup, which was established by the Maryland legislature to examine policing policies and recommend reforms in response to the in-custody death of 25-year-old Freddie Gray in Baltimore in April.
"After a failed 2015 legislative session where serious proposals to improve policing received scant attention, activists prepare to hold legislators accountable for real reforms to address the statewide crisis in policing and community relations," ACLU of Maryland said. (emphasis original)
One of the main goals that the Freedom Rides groups to achieve is building better relations between police and the communities they serve.
"Changes we want to see in our community [are] the police force being there not only when something negative is happening in the community, but really having that community engagement so that the community members are familiarizing themselves with the police officers," Lydia Walther-Rodriguez, a community organizer with CASA, told RT's Anya Parampil. "There's an evident fear between the community and police officers that goes back time, you know."
Reports and lawsuits show a trend of Baltimore police brutally mistreating residents, especially those in the poorer communities, leading to massive mistrust of police in those communities. Over the course of nearly four years, Baltimore paid some $5.7 million to more than 100 people in court judgments or settlements for lawsuits claiming police brutality and civil rights violations, the Baltimore Sun reported after conducting a six-month investigation.
Happening now! Press conference to release principles for #policeaccountability in Maryland #mdpolitics@Somos_CASApic.twitter.com/PPCobfCGNL

— Elizabeth Alex (@in_la_lucha) June 8, 2015
"It's being seen more nowadays, and with everything going on, the youth is really getting affected and seeing this negative [connotation] with police officers, so it would be really good for them to really start, not just in uniform, but out of uniform, being part of these community events so that folks are able to recognize them when they're out and about in uniform," Walther-Rodriguez said
She also told RT that Baltimore communities want transparency from police, especially when it comes to officers who commit offenses like the six Baltimore Police Department officers who have been charged with various crimes ‒ including involuntary manslaughter and second-degree depraved-heart murder ‒ in Gray's death.
The working group hopes to address the issues that activists brought up.
READ MORE: Horrible conditions at Baltimore jail spark renewal of ACLU lawsuit
"We are definitely going to try to develop specific legislation to deal with long-term solutions to create better relations between the community and the police," said Del. Curt Anderson, a Baltimore Democrat who co-chairs the panel, according to the Baltimore Sun.
During the working group's first meeting, police leadership faced heavy questions from lawmakers, particularly J. Michael Zeigler, the executive director of the Maryland Police and Correctional Training Commissions, Parampil reported.
Sen. Joan Carter Conway asked Zeigler how Maryland's police departments train officers in diversity.
"Well, there are 167 different departments across the state of Maryland, so I don't know," Zeigler responded.
1st meeting of police accountability work group in Annapolis. Will hold 7 public meetings from now to Nov #MDPoliticspic.twitter.com/vOfbUpo8Tg

— Matt Bush (@MattBushMD) June 8, 2015
Legislators were not amused with his seemingly flippant remarks, and pushed him to answer. After the meeting, Teresa Walter, president of the Maryland Chiefs of Police Association, explained to Parampil why Zeigler had such trouble responding to the lawmakers' questions.
"There is diversity training that is going on in all the different departments, but the Training Commissions, they receive the lesson plans, the testing from all the different agencies. For him to know specifically, in every single agency, he probably couldn't speak to it right offhand," Walter said. "So I think that's what he was referring to more so than he just doesn't know what's in the training when it comes to diversity."
Walter noted that there are huge differences among in the communities within Baltimore, let alone throughout the state of Maryland, and that the police training for each community is different.
As Maryland legislators discuss police reform here are some talking points. Break the thin blue line @FOP3https://t.co/sEB8f5kKXZ

— Thurston (@SAThurstonDC) June 8, 2015
The groups involved with Monday's Freedom Ride included the Service Employees International Union (SEIU), Amnesty International, Bmore United, CASA, Communities United, Council on American-Islamic Relations, Jews United for Justice, Justice League and several others, along with the ACLU of Maryland.