Former marine tased to death by police in upstate New York
Published time: 1 Jun, 2015 18:20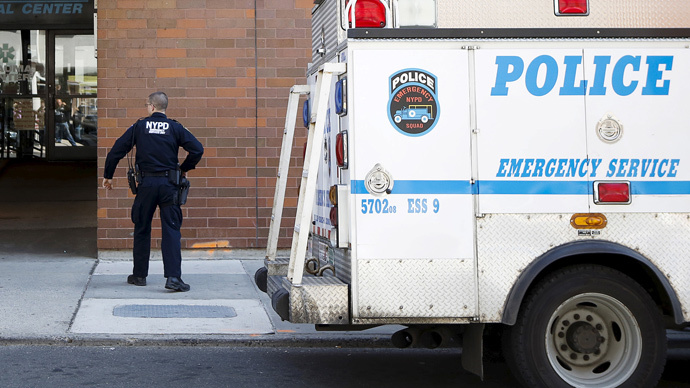 A former marine who was driving recklessly through a neighborhood died after police in Rochester, New York used a Taser to subdue him. Police say the man had charged at officers with his fists clenched.
Family has identified the man as Richard Gregory Davis, 50. Police and witnesses say Davis had crashed a red pickup truck into another vehicle and a church in southwest Rochester. Davis fled on foot, according to the Rochester Democrat & Chronicle.
Vehicle of man who was killed after police tased him while responding on Tremont St @DandCpic.twitter.com/GFXLNyP9QE

— Lauren Petracca (@LaurenPetracca) May 31, 2015
Police responded to the scene at about 9:00 am ET on Sunday. Moments later, Davis allegedly returned and got back into the truck, against police orders. He then crashed into a street sign, a fence, and a house, knocking over a gas meter, according to Rochester police chief Michael Ciminelli.
Damaged fence that suspect crashed into while police were on scene @DandCpic.twitter.com/EIJRkyWt9J

— Lauren Petracca (@LaurenPetracca) May 31, 2015
Davis locked himself inside the truck as officers demanded he exit with his hands up.
About five minutes later, Davis exited the truck and proceeded to charge the officers with his fists clenched, police and witnesses said. One police officer used a Taser to slow him. Police would not say where the Taser shot struck Davis, or which officer fired the shot.
"An officer on scene decided to use a less-than-lethal option and he used his Taser to stop the suspect," Ciminelli said, according to Reuters.
Davis was tended to by certified emergency medical technicians at the scene, then was taken to a nearby hospital where he was pronounced dead, Ciminelli said.
This is him with his son and grandson in February @DandCpic.twitter.com/dvaTkWrI7g

— Lauren Petracca (@LaurenPetracca) May 31, 2015
The Rochester Police Department and the district attorney's office are conducting an investigation into the incident, the Democrat & Chronicle reported. An autopsy on Davis' body will also be performed.
Charles Sanders, a witness who lives in the neighborhood, said Davis had driven wildly along Tremont Street the past several days.
"The police told him, 'get out.' ... He got out with his hands (up). They said, 'Get on your knees.' He acted like he didn't hear them. They said, 'Get on your knees.' He went charging at them people and that's when they stung him."
Davis, who has six children and 11 grandchildren, was a former marine who served in Beirut, Lebanon in the 1980s, according to his brother, Michael Davis Sr.
"I don't know what was going on over here or what happened," he said. "They say he charged at the officers with his fists clenched. My brother is 300 pounds. He can barely breathe just walking. Whether he was intoxicated or whatever — I don't understand why he was Tased."
Brother of victim at scene, says he doesn't believe what the police are saying @DandCpic.twitter.com/m2YPWTUdFl

— Lauren Petracca (@LaurenPetracca) May 31, 2015
Rochester Mayor Lovely Warren urged calm amidst already inflamed tensions between police and minority communities in the city.
"We cannot speculate what caused this incident to occur and we need to wait for the medical examiner's report to know if drugs, alcohol, mental illness, physical illness or some other factor was at play," she said. "Further speculation should end now while we wait for definitive answers. What I do know is this matter was taken seriously from the moment neighbors called 911 to report that chaos was occurring on Tremont and Morgan streets."