Protests, clashes as Ohio cop found not guilty in deaths of unarmed black suspects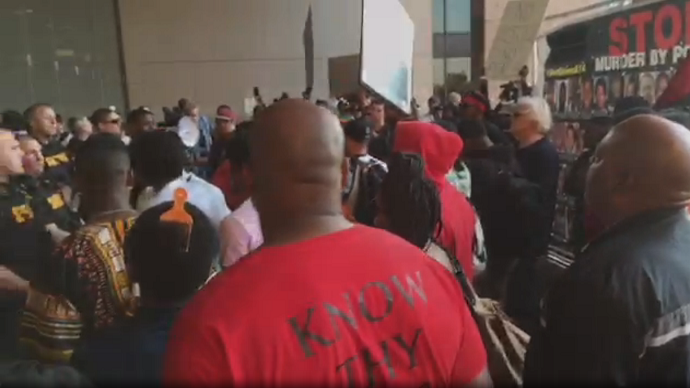 An Ohio police officer has been found not guilty of the voluntary manslaughter of two unarmed black motorists. The verdict has prompted protests in Cleveland, with police arresting some 71 people overnight.
READ MORE: Grand jury clears Dallas officers in 'screwdriver' shooting
Cleveland officer Michael Brelo, 31, faced two counts of voluntary manslaughter after mounting the hood of the suspects' car and firing shots into their windshield in 2012. He faced up to 22 years in prison if found guilty.
But Cuyahoga County Judge John P. O'Donnell ruled on Saturday that Brelo's "entire use of deadly force was a constitutionally reasonable response to an objectively reasonably perceived threat of great bodily harm."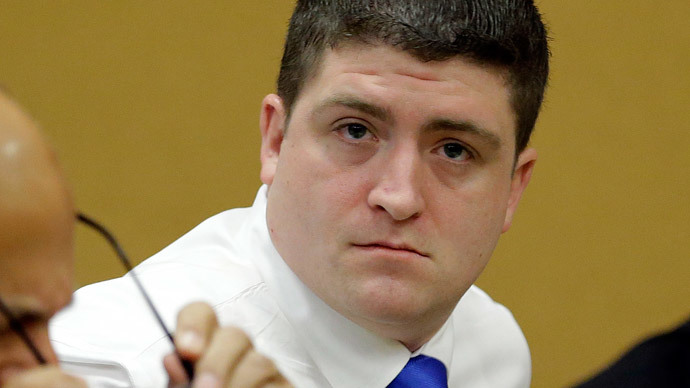 The verdict was met with protests from those who say the shooting was racially motivated, as Brelo is white and the motorists were black. Standing at the doors of the Justice Department where Brelo was found not guilty, the demonstrators shouted "No justice, no peace."
Peaceful protests outside Justice Center #BreloVerdictpic.twitter.com/woyiAgKyYR

— Corrina Pysa (@CorrinaPysa) May 23, 2015
A line of police officers in riot gear was initially shown at the doors, though officers later retreated inside.
#BreloVerdictpic.twitter.com/WDsBnxVA23

— Ru (@Rudy52) May 23, 2015
Police officers clashed with protesters around 6:20pm local time outside Quicken Loans Arena, and subsequently arrested some 71 people overnight.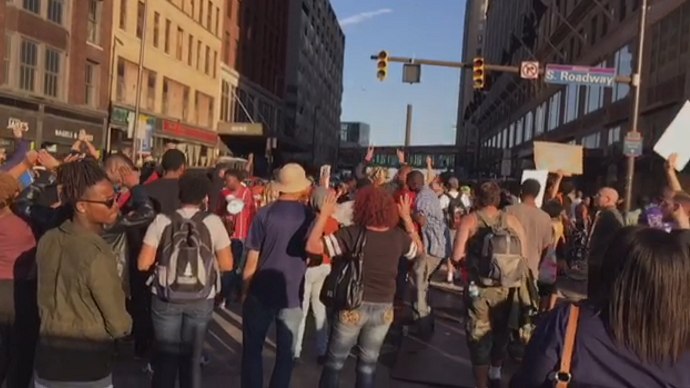 Prior to that, a group of demonstrators marched away from the city center and blocked a highway leading to Cleveland's downtown area. People chanted: "Hands up, don't shoot."
Protesters of the #BreloVerdict have shut down the Shoreway Highway in Cleveland. Pic via @rachology216: pic.twitter.com/W9a7hSizNm

— Keegan Stephan (@KeeganNYC) May 23, 2015
Some 200 demonstrators also organized a mock funeral to protest the acquittal. Activists carried a a black, plywood coffin and laid flowers.
Brelo was one of 13 officers who fired 137 shots at a car with Timothy Russell and Malissa Williams inside, following a high-speed chase on November 29, 2012.
Three people arrested. pic.twitter.com/WhmJhE03Z3

— Puncture The Silence (@PTS_CLE) May 23, 2015
The officer was charged criminally because prosecutors said he waited until the car had stopped and the pair were no longer a threat to mount the hood of the car and fire 15 shots into its windshield.
The grand jury also charged five police supervisors – none of whom fired shots – with misdemeanor "dereliction of duty" for failing to control the chase. All five have pleaded not guilty. No trial dates have been set.
READ MORE: Madison officer who fatally shot unarmed teen will not be charged – District Attorney
Russell, 43, and Williams, 30, were each shot more than 20 times. Although prosecuting attorneys argued they were alive until Brelo's shots, medical examiners for both sides testified that they could not determined the order in which the fatal shots were delivered.
The chase and subsequent shooting began when an officer attempted to pull over Russell for a turn-signal violation. Russell initially stopped the car, but drove off as the officer got out of his car.
About five minutes later, Russell's car backfired as he sped past the Cleveland police headquarters. Officers and bystanders falsely believed someone in the car had fired a gun. More than 100 officers in 62 marked and unmarked cars were involved in the 22-mile chase.
"We been doing Peace for 400 years. And we been being killed for 400 years." #BreloVerdict#BlackLivesMatterpic.twitter.com/jfD7705CO3

— Puncture The Silence (@PTS_CLE) May 23, 2015
The Cleveland shooting helped prompt an investigation by the US Department of Justice (DoJ), which concluded in December that the department had engaged in a pattern of using excessive force and violating people's civil rights.
Attorney General Eric Holder said the year-and-a-half-long investigation uncovered evidence of "systematic deficiencies," "inadequate training" and "ineffective policies" by local law enforcement between 2010 and 2013. It also found that officers too often used deadly force when it was not called for.
The city and DoJ are currently negotiating a reform-minded consent decree which will be approved by a federal judge and overseen by independent monitors.
You can share this story on social media: