Madison officer who fatally shot unarmed teen will not be charged – District Attorney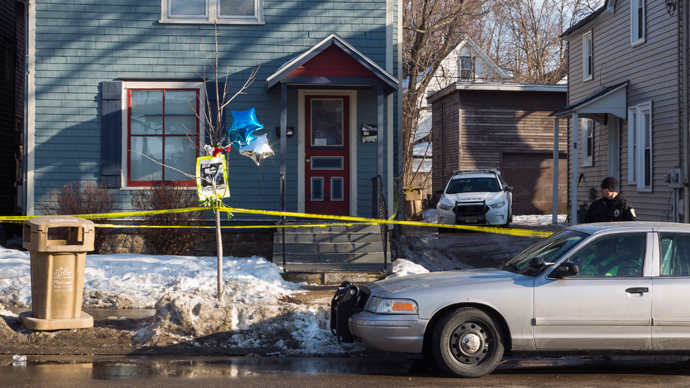 Dane County District Attorney Ismael Ozanne announced that he would not pursue criminal charges against Madison PD officer Matt Kenny, in the fatal shooting of Tony Robinson, 19, on March 6, deeming the incident "lawful use of deadly police force."
"When we use violence to control, we do so at tremendous cost," said Ozanne. He went to great lengths to preface the announcement with a reminder about his family history, the fact that he was the first person of color to be a DA in Wisconsin. "I am a man who understands the pain of unjustified profiling," he said, and "cognizant of the very real disparities and issues that exist" in Dane County.
#BREAKING: Madison police officer Matt Kenny cleared in shooting of #TonyRobinsonhttp://t.co/zkxB5aGCKX

— Wis. State Journal (@WiStateJournal) May 12, 2015
Having reviewed all the evidence related to the incident, including 814 pages of reports and documentation provided by the Madison PD, Ozanne concluded that officer Kenny was justified in shooting Robinson on the night of March 6. Multiple 911 calls indicated that Robinson had been "tweaking" and "on drugs." Toxicology reports showed the presence of Xanax, marijuana and psilocybin (mushrooms) in his blood.
"My decision is not based on emotion," Ozanne insisted. "Rather, this decision is based on the facts as they have been investigated and reported to me. This decision is guided by the law, and the oath I took to uphold the Constitution."
Ozanne quoted Martin Luther King and called for peace and non-violence in the wake of the decision. Protests have already been scheduled, with a group "Young, Gifted and Black" saying it would hold a "mass action" starting at 9 AM on Wednesday at the house where Robinson was shot, reported the Milwaukee Journal-Sentinel. Several stores in the area have announced closings for the day.
RIGHT NOW: Protests at location of #TonyRobinson's death WATCH LIVE: http://t.co/8iietTV6JYpic.twitter.com/rxLTBqoaZZ

— Breaking News Feed (@PzFeed) May 12, 2015
Following the announcement, the family plans to hold its own news conference near the apartment where Robinson was killed. A march to the Wisconsin state Capitol building will ensue, according to AP.
People shutting down the street in protest at site of Tony Robinson shooting after DA decision #BlackLivesMatterpic.twitter.com/zKIlRvbgpU

— Scott Foval (@scottfoval) May 12, 2015
On March 6, Officer Kenny, a 12-year veteran of the Madison Police Department, was responding to reports of a man who had allegedly "battered someone" and was was jumping in and out of traffic, creating a safety hazard.
Kenny followed Tony Robinson, who is biracial, into an apartment building and forced his way in because he heard a disturbance. In an ensuing scuffle, Robinson was injured by gunfire, according to Mike Koval, chief of police in Madison.
Kenny immediately began to administer first aid, as did other officers who arrived at the scene, according to the police chief. Nevertheless, Robinson, a 2014 graduate of Sun Prairie High School, died of his wounds at a local hospital.
Protests in Madison occurred for several days following Robinson's killing.
The Department of Justice's Division of Criminal Investigation is investigating the shooting. A Madison law introduced in 2014 requires that all homicides involving police are looked into by an outside agency.
Kenny was previously cleared of a separate fatal shooting in 2007, according to Madison police.
Robinson's family, meanwhile, is unhappy that the announcement will take place before they are informed of the decision, the Associated Press reported.
READ MORE: Justice system 'kinder' to whites, Madison mayor says in wake of police shooting
Ozanne should alert the family out of respect, a family spokesman, Jerome Flowers, told AP. He added that Ozanne's announcement was going to be released on Mother's Day, which speaks to a lack of compassion for the family.
You can share this story on social media: