Wisconsin officer who shot unarmed man was exonerated in previous fatal shooting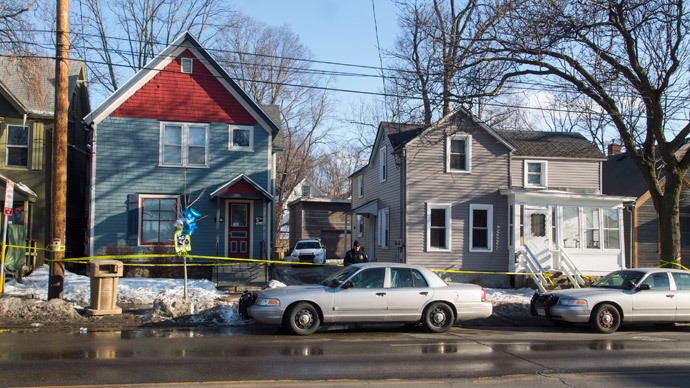 Matt Kenny, the cop responsible for fatally shooting an unarmed black teenager in Madison, Wisconsin on Friday, was also involved in a fatal 2007 shooting that was deemed a "suicide-by-cop" situation, according to Madison's police chief.
Mike Koval, chief of police in Madison, said Saturday that Kenny, 45, was cleared of all charges regarding the 2007 case by the district attorney's office in Dane County, Wisconsin.
Kenny received a commendation of valor for the 2007 fatal shooting of 48-year-old Ronald Brandon, who had called 911 to report that a man – himself – was threatening neighbors with a gun.
READ MORE: Protests over death of unarmed black man in Madison reach fourth straight day
"After making this report the man went out on the porch with a replica handgun and waited for officers to respond," police said at the time.
Police said Brandon pointed a gun at the responding officers, including Kenny. One officer then fatally shot Brandon, who died later at a nearby hospital. The firearm wielded by Brandon proved to be a pellet gun, according to Dane County District Attorney Brian Blanchard.
"We cannot know precisely what Mr. Brandon was thinking, but his pointing a very realistic-looking facsimile firearm at police effectively compelled officers to resort to deadly force," Blanchard said, according to NBC 15.
On Friday, Kenny, a 12-year veteran of the Madison Police Department, was responding to reports of a man who had "battered someone" and was was jumping in and out of traffic, creating a safety hazard, Koval said.
Kenny followed Tony Robinson, 19, into an apartment building and forced his way in because he heard a disturbance. In an ensuing scuffle, Robinson was injured by gunfire, Koval said.
Kenny immediately began to administer first aid, as did other officers who arrived at the scene, according to the police chief. Nevertheless, Robinson, a 2014 graduate of Sun Prairie High School, died of his wounds at a local hospital.
Based on the ongoing state-led investigation, Koval would not say how many shots were fired. Yet during a gathering in Madison to commemorate him, Robinson's family referenced five shots.
Officer Kenny is on administrative leave with pay during the state's investigation.
Following the death, some 100 activists gathered at the scene as police blocked off the area. They chanted: "Black lives matter" prayed and drummed. Many of the activists then entered the Madison City County building, according to videos published on social media.
READ MORE: 'Black lives matter': 70,000 march across 'Bloody Sunday' bridge in Selma (PHOTOS, VIDEO)
Robinson's aunt, Lorien Carter, described her nephew as "gentle" and said, "he didn't deserve" to be killed. She said his family encouraged peaceful protest.
Jack Spaulding, 17, said he was Robinson's best friend and added he was "one of the happiest people I know."
Protests entered their fourth day on Monday, as demonstrators gathered at the State Capitol building. Hundreds of students at nearby high schools and the University of Wisconsin-Madison walked out of class to participate, as RT reported.
The Department of Justice's Division of Criminal Investigation is investigating the shooting. A Madison law introduced in 2014 requires that all homicides involving police are looked into by an outside agency.
READ MORE: City of Cleveland says 12-yr-old boy killed by cops was culpable for his death
Robinson's murder comes amid a tense period in which public attention is fixed on cases of African Americans killed by police.
The August 2014 killing of unarmed black teenager Michael Brown in Ferguson, Missouri, triggered nationwide protest against police brutality, racial profiling, and the police-court-prison system in the US.
A federal investigation into Ferguson PD revealed a "toxic environment" of mistrust between the police force in the St. Louis suburb and the predominantly black community. The DoJ is considering disbanding the department as one of the options for a planned reform.
You can share this story on social media: