Hundreds pay tribute to unarmed black teen shot dead by police in Wisconsin
Hundreds of people have attended the funeral for the 19-year old Tony Robinson Jr. , an unarmed black teen shot dead by police officer in Madison, Wisconsin. Family of the victim asked the mourners to leave social and political concerns at the door.
READ MORE: Protest after 'unarmed' black 19 yo shot dead by Madison police
About 1,600 people have gathered near Wisconsin high school field house to pay tribute to Tony Robinson, also known as Terrell, Reuters reported. According to local news outlets the funeral drew about 1,000 mourners.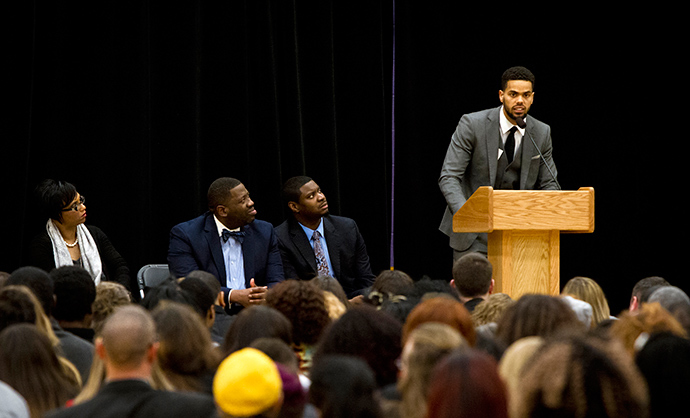 People were heading to the school's secondary gym where the screen showed the moments from Robinson's life.
"Too many of our children are dying before their time," Rev. David Hart told mourners. "We must not accept that narrative that has become all too common."
#TonyRobinson family, more than 1,000 mourners leave E. High after hour-and-a-half emotional community funeral #news3pic.twitter.com/efcdvsF8BY

— Matthew Simon (@MSimonReporter) March 14, 2015
The family of the victim said the memorial was not about politics.
"We want this to be about a celebration of Terrell/Tony's life and not necessarily about the issues it raises," Robinson's uncle, Turin Cater told WITI TV station.
A few people arrived wearing T-shirts saying "Black Lives Matter," but soon they were politely asked to put them away at the teen's family's request.
The funeral ceremony started with selected songs and readings. Some of the participants were overcome with emotions to speak. The song "Gone Too Soon" was heard at the service.
READ MORE: Black teen's behavior 'should not be a death sentence' – Wisconsin activist
"Tony is not a victim. He's our own martyr, a champion of change. And for you I will always stand," Robinson's aunt Lorien Carter said.
Tonight on Willy St for #TonyRobinsonpic.twitter.com/4NxIjrcBvI

— Rebecca Kemble (@rebeccakemble) March 15, 2015
"We are family. We stand for what he stood for. We stand for peace, we stand for change. He was young, he was black and he is beautiful," Sharon Irwin, Robinson's grandmother said . "I know my grandson was on a spiritual path."
READ MORE: Protests over death of unarmed black man in Madison reach fourth straight day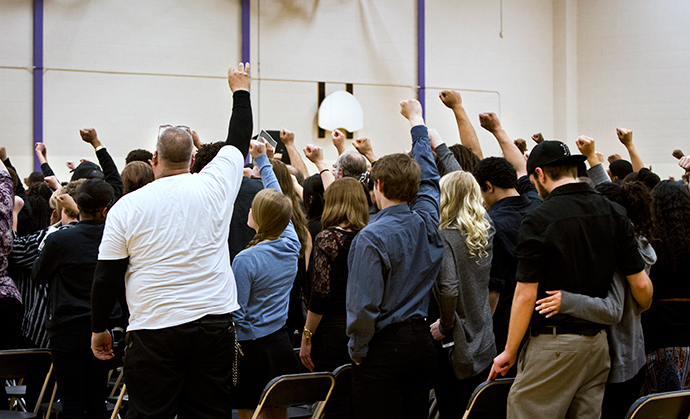 The incident happened March 6, when officer Matt Kenny, a 12-year veteran of the Madison Police Department, was responding to the reports of traffic interference. Kenny followed Robinson into an apartment building and forced his way in because he heard a disturbance. In an ensuing scuffle, Robinson was injured by gunfire, according to police.
Kenny administered first aid, as did other officers who arrived at the scene, police said. Nevertheless, Robinson, a 2014 graduate of Sun Prairie High School, died of his wounds at a local hospital.
READ MORE: Wisconsin officer who shot unarmed man was exonerated in previous fatal shooting
Kenny, who is now on administrative leave with pay during the state's investigation, was also involved in a fatal 2007 shooting that was deemed a "suicide-by-cop" situation, according to Madison's police chief.
#TonyRobinson grandmother requests Phil Collins song "in the air tonight" and said it's tony speaking pic.twitter.com/31HeNUfMkI

— Kristen Barbaresi (@KristenWKOW) March 14, 2015
Following the shooting, Madison saw a series of anti-police brutality rallies in the city. People took to the streets chanting, "Black lives matter."
READ MORE: Justice system 'kinder' to whites, Madison mayor says in wake of police shooting
According to 2011-2012 arrest statistics reported by USA Today, Madison actually had worse racial disparity in arrests than Ferguson, Missouri, where police shot 18-year-old Michael Brown last summer. The Ferguson shooting brought into focus the alarming trend of African-American youths being killed by police.
You can share this story on social media: