No more pistol-whipping: Cleveland settles with DoJ over policing complaints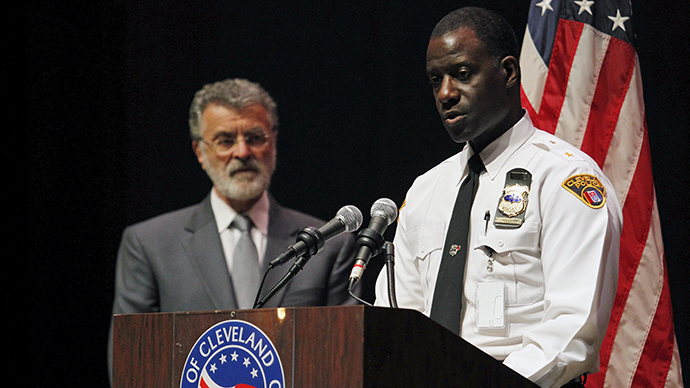 Officials in Cleveland, Ohio have reached a deal with the Department of Justice to settle complaints contained in a scathing federal review of the city's police force released late last year.
Cleveland has signed a 105-page, comprehensive "consent decree" with the Department of Justice, agreeing to implement a series of programs improving its police practices.
The settlement agreement calls for numerous rewrites to the Cleveland Division of Police (CDP) rulebook on using force, including the ban on pistol-whipping (striking suspects with guns instead of batons) better policies on the use of Tasers and pepper spray, and a ban on neck holds as a method of subduing suspects.
"The Decree will only terminate after the City can demonstrate to a federal judge sustained and substantial compliance with its terms – and there are certain specific metrics set forth for that," said US Attorney Steven M. Dettelbach, of the Northern District of Ohio.
Among the areas covered by the document are new policies on use of force; establishment of a Community Police Commission to solicit input from residents; better equipment for the officers – which may include body cameras; and training officers to deal with mental health cases.
Within a year, the CDP has to implement a "single, uniform reporting system" for use of force, with three classification levels, ranging from minor pain and disorientation (Level 1) to "serious physical injury" and lethal force (Level 3). Internal Affairs will have a new Force Investigation Team (FIT), which will examine all Level 3 cases and any accusations of criminal misconduct made against officers.
Dettelbach also said the program would require sensitivity training on "cultural competency and avoiding implicit biases", including racial and other stereotypes, as well as a major reorganization of the Office of Professional Standards and the Police Review Board. The mayor of Cleveland is to create a new office of Police Inspector General, and appoint the inspector.
A civilan will now OVERSEE Internal Affairs in Cleveland. A huge deal. The question will be who appoints that civilian.

— Shaun King (@ShaunKing) May 26, 2015
"This comprehensive settlement – developed with input from a broad spectrum of the Cleveland community – could serve as a model for the nation in addressing police and community relations," said Senator Sherrod Brown (D-Ohio).
In December, a DoJ report concluded that "systematic deficiencies," "inadequate training" and "ineffective policies" were rampant within the ranks of the Cleveland Police Department between 2010 and 2013, and that "CDP officers too often use unnecessary and unreasonable force in violation of the Constitution."
At the time, the city was still reeling from the November 22 police shooting that took the life of Tamir Rice, a 13-year-old African-American boy shot down on a Cleveland playground by the CPD.
More recently, the city has again become a focal point with regards to policing after a jury on Saturday found Officer Michael Berlo not guilty of voluntary manslaughter with respect to the 2012 shooting death of two unarmed people. According to local media, at least 71 protesters were arrested over the weekend for failing to disperse from demonstrations held in the wake of the Berlo ruling.
The Justice Department previously opened nearly two dozen investigations into police departments during the administration of President Barack Obama, according to the Times, and authorities in places like Seattle, Newark, Albuquerque and Ferguson have all been subjected to federal scrutiny during.
READ MORE: Protests, clashes as Ohio cop found not guilty in deaths of unarmed black suspects
Eric Holder, then the US attorney general, said in December that a "sense of trust" must be renewed between law enforcement personnel "and the communities that they serve and protect."
"The DOJ and the city of Cleveland have come together to set in motion a process that will remedy these issues," Holder said.
In the interim, the White House has announced it's providing millions of dollars to law enforcement agencies across the country, so that police departments can purchase body cameras that will record officer activity and attempt to bring accountability amid a wave of violent police conduct across the US.