Captive women sends out SOS in pizza order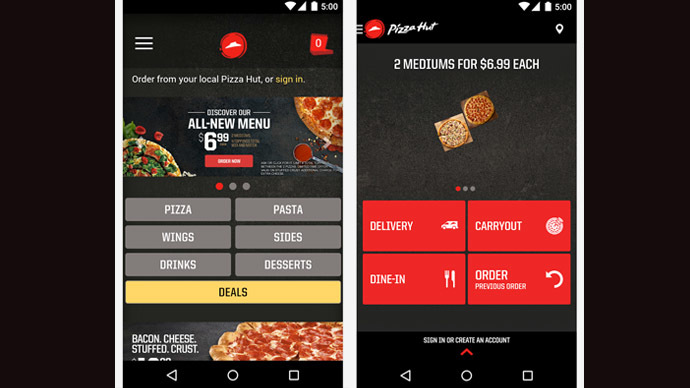 A Florida woman sent out a cry for help in an online pizza order, thus saving the lives of herself and her three children. They had been held hostage by her boyfriend – a drug addict armed with a knife.
"Please help! Get 911 to me" was the comment that concluded an otherwise ordinary online Pizza Hut order in central Florida on Monday.
READ MORE: Shocking dashcam video shows fatal shooting of mentally ill Florida man
The Avon Park Pizza Hut employees noticed the message from Cheryl Treadway, 25, whom they recognized as a regular customer, and didn't hesitate to call the sheriff's office.
"We've never seen that before," Pizza Hut manager Candy Hamilton told AP. "I've been here 28 years and never, never seen nothing like that come through."
When Highlands County Sheriff's deputies arrived at the scene, they were met by Treadway and her small child. Her boyfriend, Ethan Nickerson, 26, and the other two children were inside the house. After the woman and child had been taken to safety, the deputies talked the armed man into coming out.
Florida woman rescued from hostage—by writing "Please help—call 911" using Pizza Hut app! https://t.co/ErYvH3SSKlpic.twitter.com/IHDW5FdRjD

— David Pogue (@Pogue) May 6, 2015
"His first words were, of course, 'I'm not coming out because I know I'm going to jail,'" Lt. Curtis Ludden told the WFLA-TV station.
READ MORE: Obama Mama: Baby born on highway shut down for presidential motorcade
Following a day of arguing, Nickerson confiscated his girlfriend's phone and accompanied her to pick her kids up from school, while threatening her with a knife. The woman eventually managed to talk Nickerson into giving her phone back so that she could order a pizza, according to Highlands County Sheriff's Office press release.
"I don't know if I would have thought of it," Ludden said of the woman's idea. "I mean it's just something she did so naturally. The boyfriend never knew about it until he saw us coming around the corner."
Nickerson faces numerous charges including aggravated assault with a weapon without intent to kill, battery, false imprisonment, and obstructing justice by depriving communication to law enforcement. He remained in jail on Wednesday with no information as to whether he had hired an attorney.
Nickerson has been arrested on several occasions since 2007 on charges including damage to property, public intoxication, vehicle theft and forgery, Daily Mail reported.
READ MORE: Two dead after domestic disturbance at California medical facility