Obama Mama: Baby born on highway shut down for presidential motorcade
Published time: 4 Apr, 2015 00:13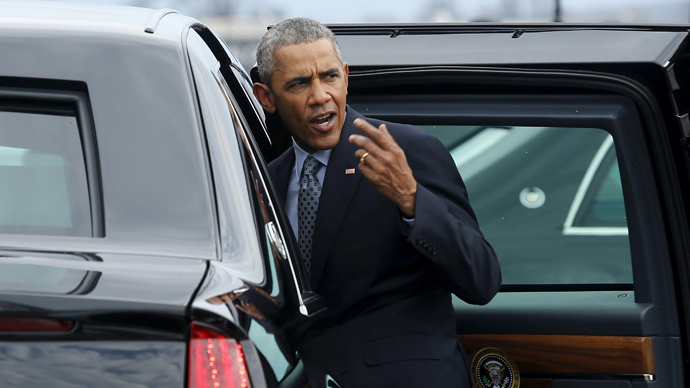 A woman gave birth while stuck in traffic on a highway in Louisville, Kentucky, and President Barack Obama is to blame. His motorcade was the cause of the traffic.
A man called 911 about 5:15 pm Thursday to report that his wife was in labor and that traffic was not moving, Louisville MetroSafe spokeswoman Jody Duncan said.
The rush-hour traffic was at a standstill moving because Interstate 65 had been shut down so that the presidential motorcade could travel from the airport to downtown Louisville. Stormy weather did not help matters, the Louisville Courier-Journal reported.
Thousands of motorists were stuck in the snarled traffic on both directions of the highway, as well as surface streets in the city, preventing emergency crews from getting to the laboring woman.
"They couldn't get through due to the traffic from the motorcade," Courtney Maloney, a Louisville MetroSafe EMS worker who responded to the call, told WAVE. "I pretty much had to ride the emergency lane all the way down."
Baby born on interstate during Obama Louisville visit gridlock http://t.co/k10WZUAbD8 via @WTSP10News

— Karen Zahaluk (@KarenZahaluk) April 3, 2015
By the time they arrived 12 minutes after the papa-to-be's distress call, the boy had been born. A nurse who was also stuck in the presidentially-caused congestion helped deliver the infant.
Maloney said the unnamed mother took it all in stride.
"She did say it's a story she will never forget," Maloney said.
Maloney said both the baby and mother were doing well.
A similar situation happened during a presidential visit to Los Angeles, California in July. In that case, a woman in labor was forced to sit on a bench across the street from the hospital for at least half an hour until Obama's motorcade passed and the street reopened. She did not actually deliver the baby until the next day, though.
READ MORE: #ThanksObama: L.A. commuters rip presidential motorcade on Twitter after it keeps woman in labor from hospital (VIDEO)
"I felt bad for her," witness Carrie Clifford told the Blaze at the time. "It does happen when Obama comes to L.A. or I'm sure anywhere else. It paralyzes the city, it does make it complicated."
Obama was in Louisville to give a speech at technology company Indatus, in which he urged Congress to put more money into job training programs. Indatus is participating in TechHire, the jobs initiative the president recently unveiled, the Courier-Journal reported.
His arrival had been delayed three hours so that he could hold a press briefing on the Iran talks from the White House Rose Garden. Negotiators had just announced a nuclear deal with Iran.
"First of all, sorry I'm late," he said, causing the audience to laugh. "A couple of things I had to do, and obviously, when you're president, you've got national security issues that always take top priority."
Obama left Louisville before 7 pm, flying to Utah for another speech on his jobs initiative.