#ThanksObama: L.A. commuters rip presidential motorcade on Twitter after it keeps woman in labor from hospital (VIDEO)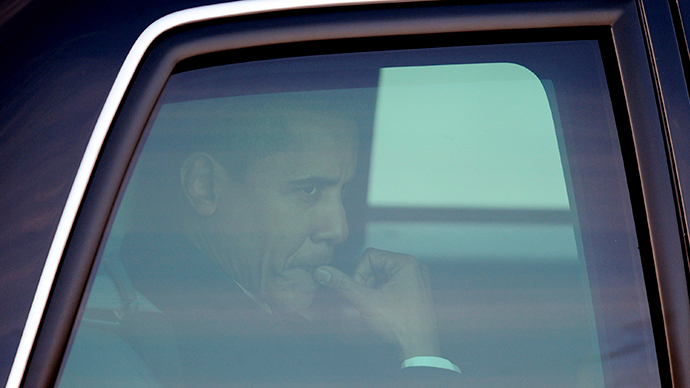 Los Angelenos are no strangers to snarling traffic, a daily, often faceless, nuisance. But President Barack Obama's two-day fundraising trip to the city has given commuters - and one woman in labor - a specific target for their ire.
An unidentified pregnant woman in labor was not allowed to cross a street - closed for the impending arrival of the president's motorcade - to get to Cedars Sinai hospital in Los Angeles on Wednesday afternoon.
KNBC-TV reporter Robert Kovacik posted footage on Instagram of the woman's wait. "Woman in labor on bench as motorcade passes; not allowed to cross street to get to #CedarsSinai," he wrote.
The woman had to wait at least 30 minutes during the wait, witness Carrie Clifford told TheBlaze.
"I felt bad for her," Clifford said. "It does happen when Obama comes to L.A. or I'm sure anywhere else. It paralyzes the city, it does make it complicated."
"You can't do the things you had set out to do because the president is in town," Clifford added.
Clifford posted a photo of the woman accompanied by medics during the wait.
A few people in scrubs are there now. Still no baby. Still no #Obama. Cc: @WehoDailypic.twitter.com/NfGCv8Wc2J

— Carrie Clifford (@CarrieClifford) July 23, 2014
Kovacik also posted video of a Los Angeles police sergeant explaining the situation.
"As soon as we can — it looks like the motorcade is coming through right about now, so we'll be able to open it up for traffic. The first thing we'll try to get through will be an ambulance, but I can't guarantee there will be —," the officer said before the video cuts out.
The Los Angeles police department directed TheBlaze to the Secret Service for comment. The Secret Service has yet to respond on the matter.
KNBC and KTLA both reported that the baby has yet to be delivered as of early Thursday morning.
Meanwhile, Los Angeles commuters sounded off on the president via social media.
Traffic backed up in parts of LA as road closures go into effect for beginning of President Obama's 2-day visit http://t.co/4fPZWy9XgS

— KTLA (@KTLA) July 24, 2014
Obama is in Los Angeles....a total of 12 people are excited about this. The rest of us are crying in traffic.

— Reinaldo Irizarry (@reyalfashion) July 24, 2014
Thank you Obama for making the horrible traffic in Los Angeles worse. Hope the campaign donations were worth it. #obamajam

— Michael Wilburn (@MDWilburn) July 24, 2014
Westside of Los Angeles voted for Obama TWICE. Instead of giving him the welcome mat when he is in town, they groans about traffic.

— Allen J. Wilson (@AllenJWilson) July 24, 2014
@BarackObama traffic is the worst traffic, everrrrr #ObamaTraffic#obamajam#obama#LosAngeles

— Lauren & Lindsey (@STELLAandBOW) July 24, 2014
Learned a new word today: "Obama traffic" (noun): Los Angeles traffic, exacerbated by the presence of the United States president

— Kim (@OhKimmies) July 24, 2014
The only time LA turns Republican. Obama visits. Traffic Alert: Obama In L.A. Today For Fundraiser http://t.co/miYWCjBGch via

— Bryan Alexander (@BryAlexand) July 23, 2014
Never more irritated than when #obama comes to #losangeles and royally messes up our traffic.

— Elana Joelle Hendler (@ElanaJoelle) July 23, 2014
Although some didn't see how Obama's presence made Los Angeles traffic any worse than it usually is.
Headline: President Obama lands in Los Angeles, traffic is a mess What makes this different from every other day in LA?

— Christine Chan (@christyxcore) July 24, 2014
Was Obama really in town yesterday or is that just our new go-to excuse for traffic, now? #LosAngeles

— Jodi Jacobs (@iamMovingArt) July 24, 2014