Obama offered pot during Denver visit (VIDEO)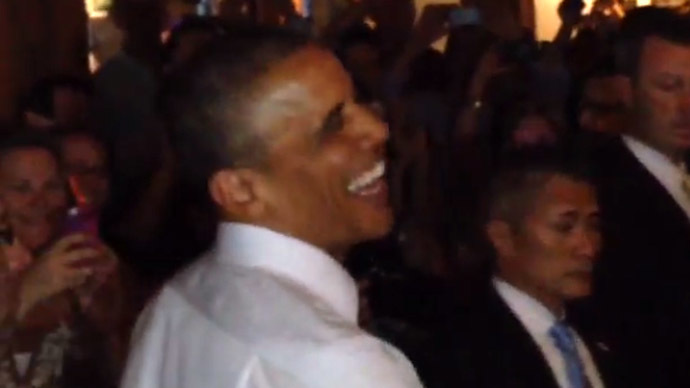 United States President Barack Obama could have legally smoked weed during a stop in Denver this week, but reportedly failed to take up no fewer than three offers.
The commander-in-chief shook hands and posed for photographs during an appearance in Denver, Colorado on Tuesday, and even played a friendly game of pool with Gov. John Hickenloop and downed a glass of beer at a bar co-founded by the state leader.
With regards to weed, however, Mr. Obama laughed off an offer from one bar patron who apparently offered the president an impromptu hit.
Instagram user Matt Anton posted a brief clip to the social media site late Tuesday in which he's heard asking the president, "Do you want to hit this?" According to a report from a local CBS affiliate, the exchange occurred at Hickenloop's Wynkoop Brewing Co., where the president and governor each drank pints of Red Yard Ale.
"Asked him if he wanted a hit of pot...he laughed!" Anton captioned the video footage he uploaded to Instagram, along with the hashtags "#legalizeit" and "#iinhaled."
Indeed, the commander-in-chief was caught cracking a smile after the offer was made. It's unclear what the president was actually offered, however, since smoking weed in "at indoor-but-public locations like bars, restaurants and common areas in buildings" is still illegal in Colorado, according to state law.
Nevertheless, other eyewitnesses to the Tuesday visit say Mr. Obama failed to respond to two homemade signs that announced there'd be free weed for the president should he wish to take advantage of the offer, including one in the window of an area dispensary.
Spotted along Obama motorcade route in Denver: Bearded dude holding "Free weed 4 Obama" sign

— Steve Holland (@steveholland1) July 9, 2014
In Denver, presidential motorcade passed pot retailer with sign: "Free Weed for Obama." For the record, the limo did NOT stop.

— PETER MAER (@petermaercbs) July 9, 2014
The president did entertain at least one odd request, however — a handshake with a horseman. Media photographers traveling alongside Mr. Obama captured several photographs of the president greeting a man in Denver wearing a horse head costume on his head, the likes of which have already widely circulated the internet.
"One onlooker wore a large horse head," the pool report of the visit read, "but it's unclear what message he hoped to convey."
Obama reacts as he is greeted by a man wearing a horse-head as he walked the streets of downtown Denver. pic.twitter.com/QNqnXKzwzm

— Doug Mills (@dougmillsnyt) July 9, 2014
Pres. Obama's stop in Denver preceded a visit to Texas, where he is expected to speak with Gov. Rick Perry this week as tensions continue to worsen concerning the immigration crisis that in recent weeks has rekindled a long-standing national debate.
In Colorado, onlookers are still gauging which direction to take the national weed debate six full months after the state enacted a law that allows adults over the age of 21 to legally purchase and grow marijuana for recreational purposes in limited amounts. This week, Washington became the second state in the US, following Colorado, to pass a law curbing the otherwise-nationwide federal pot prohibition.