Chicago mayor abandons plan to name high school after Obama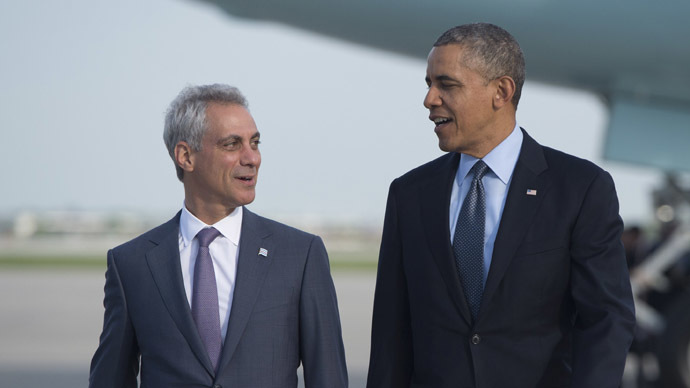 Chicago Mayor Rahm Emanuel's attempt to boost support among African-Americans has backfired again, leaving him walking back plans to name a highly selective high school in a wealthy neighborhood after President Barack Obama.
Earlier this year, Emanuel cheerfully announced the city would build a new selective-enrollment high school in the Near North Side area of Chicago. The school would be called 'Barack Obama College Preparatory High School,' a title meant to honor the first African-American president in US history.
In the wake of strong criticism and backlash from the black community, however, the Chicago mayor has changed his tune. On Thursday, he revealed the school will not be named after President Obama after all.
READ MORE: Americans think Chicago is most dangerous US city, even as crime drops
"Over the last few months, my team has listened to questions and concerns from the community, ranging from location of the building to the naming of the school. We take that community input seriously, which is why – as we continue to look for a thoughtful way to honor President Obama – we will look for other possible names for this future school," Emanuel said in a statement, according to the Chicago Tribune.
Emanuel did not say exactly why he backed off his plan, but the New York Daily News reported that the Chicago Board of Education has a policy that prohibits the naming of schools after individuals who are still alive.
Besides the education board's own polices, though, many African-Americans objected to the idea of naming the school after Obama, especially since he has much stronger ties to the more racially diverse South Side.
"If they're going to name a school after President Obama they should put it somewhere else," Alderman Carrie Austin told the Tribune on Thursday. "Either in Roseland, where he got his start, or in the Hyde Park area, where he lived and has a home. To put it [in the near North Side], that just doesn't look right."
There were also more substantive concerns over the school's location, which, in the North Side, would have placed it in an area that is 72 percent white, according to Chicago Demographics Data from 2010. There is already a selective-enrollment high school in the area, and local residents there have complained that a new school would overtake park/play space and make bad traffic even worse.
READ MORE: Chicago gun violence may cost 'Rahmbo' his job
With plans for the school still up in the air – it's scheduled to open sometime in 2017 – it is possible that the city may end up relocating it altogether.
"[Obama] was the first black president. [The school] should be in a more or less minority community," said Elaine Jones of Safe Passage, which ensures school kids can get to school and home safely. "It just gets to be about the politics. For many of the people deciding, the kids really don't matter."
Others, meanwhile, criticized Emanuel for polices they claim benefit the wealthy at the expense of everyone else. Back in May, Ald. Leslie Hairston slammed the mayor for failing to greenlight infrastructure and service projects in poorer neighborhoods.
"He should work harder to make sure there is a grocery store in Jeffery Plaza," Hairston told the Chicago Sun-Times. "He needs to put the same type of energy and effort [into that] that he is putting into building a school named after the President from my ward."
You can share this story on social media: