Americans think Chicago is most dangerous US city, even as crime drops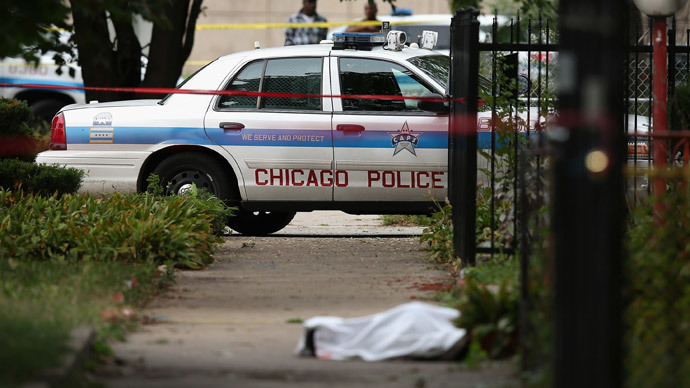 Chicago is the most dangerous of the ten most populous cities in the United States – or so most Americans think, according to a new poll. Yet data shows that the crime rate in the Windy City has actually plummeted over the past three years.
In a new survey, YouGov asked Americans how safe or unsafe they felt in each of the ten largest US cities.
When asked about Chicago, 53 percent felt it was either fairly or very unsafe, ranking it the "most dangerous" city in the US. Only 33 percent of those surveyed said the city was fairly or very safe.
Males and females felt similarly about Chicago's safety.
New York City (49 percent unsafe, 40 percent safe) and Los Angeles (48 percent unsafe, 37 percent safe) rounded out the top three dangerous cities. Washington DC, nicknamed the "murder capital of America" during the crack epidemic of the late 1980s and early 1990s, was viewed as just a wink safer (48 percent unsafe to 40 percent safe).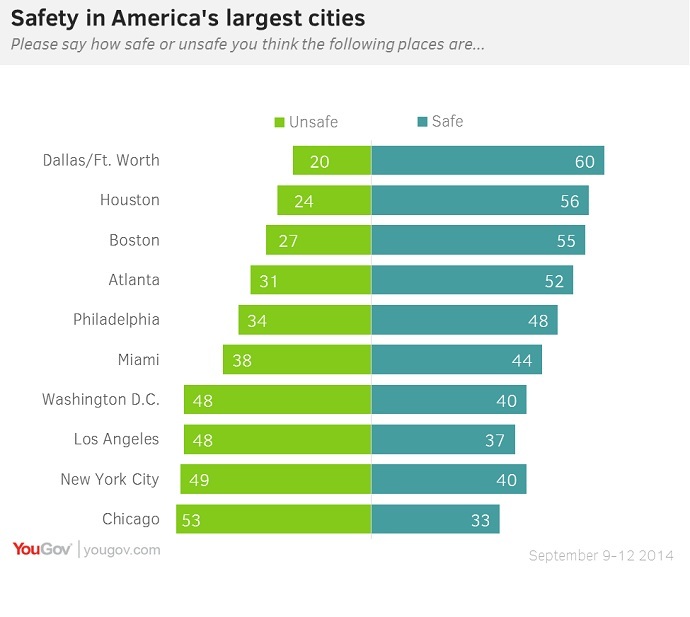 Meanwhile, the two major cities in Texas ‒ Dallas/Ft. Worth and Houston ‒ were voted the safest. Perceptions of safety may be tied to gun ownership. In Texas, "concealed carry permits are easy to get, gun ownership is high, and there are no restrictions at all on long-barreled firearms," John Giokaris of the Illinois Mirror noted.
Illinois, New York, California, and the District of Columbia have some of the strictest gun laws in the country. In July 2013, Illinois became the last state in the country to legalize carrying concealed weapons, as long as residents with a Firearm Owner's Identification card passed a background check and completed 16 hours of gun safety training ‒ the longest of any state ‒ and purchased a concealed-carry permit for $150, AP reported.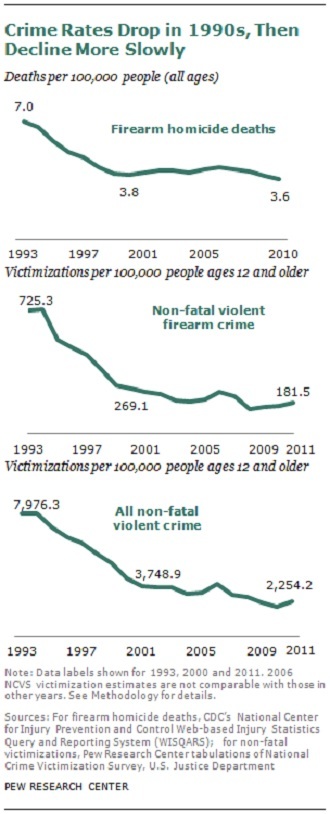 Crime across the country has dropped significantly over the last two decades, yet Americans believe shooting murders have increased. The gun homicide rate has dropped 49 percent since 1993, with non-fatal gun crimes dropping 75 percent, according to the Pew Research Center. In a 2013 survey, Pew found that over half of all Americans ‒ 56 percent ‒ believe gun crime increased over the last 20 years. The YouGov survey mirrored those results, finding that half the country say that violent crime has increased since 1994.
Despite Chicago having taken over the dubious "murder capital" title, crime has actually dropped in the Windy City. The Chicago Tribune tracked crime in the city from 2001 to present, and found that lawlessness has steadily decreased over the last 13 years. Violent crimes peaked at 4,471 in July 2001, property crimes at 14,540 in October of that year, and quality-of-life crimes at 11,326 in October 2003.
By July 2014, violent crimes were halved, with 2,251 occurring that month. Property crimes dropped nearly 40 percent to 8,446, while quality-of-life crimes dropped over 50 percent to 5,221. In February, all three types of crimes hit 13-year lows. There have been 280 homicides in Chicago so far this year, putting the city on pace for about 420 for all of 2014, which would be a slight drop from 440 in 2013. According to the blog 'Hey Jackass!,' which tracks crime and murder in Chicago, nearly 85 percent of murders were shooting deaths.
"It isn't any coincidence crime rates started to go down when concealed carry was permitted. Just the idea that the criminals don't know who's armed and who isn't has a deterrence effect," Richard Pearson, executive director of the Illinois State Rifle Association, told the Washington Times. "The police department hasn't changed a single tactic – they haven't announced a shift in policy or of course – and yet you have these incredible numbers."
It is not just Americans in general who view Chicago as dangerous. Mayor Rahm Emanuel, the former White House chief of staff for fellow Chicagoan President Barack Obama, is dogged by the perception of violence as he runs for reelection.
"Part ugly reality, part perception, the rate of violence in impoverished, mostly black areas of the city has helped shape negative impressions of the first-term mayor as ineffective when it comes to problems afflicting the urban poor," the Tribune wrote in August, citing a poll of voters.
Chicago residents will take to the polls in February for the mayoral election.
You can share this story on social media: