Baltimore protester wearing 'F**k the police T-shirt' gets face full of pepper spray (VIDEO)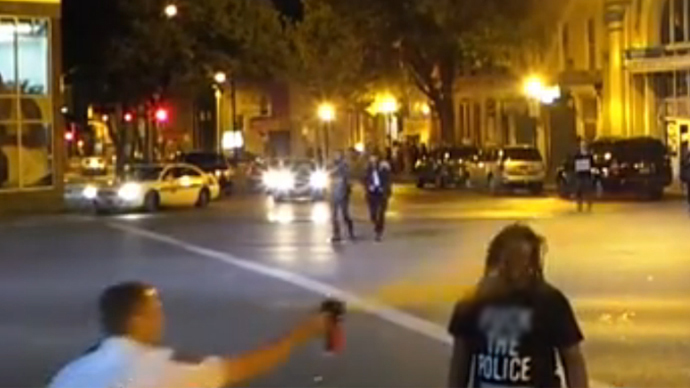 Police in Baltimore have pepper-sprayed a protester in the face as he approached them in a "F**k the police" T-shirt after the curfew. The incident comes amid protests over the death of Freddie Gray while in police custody.
The man walked towards the officers, saying: "Arrest me, I'm right here." The incident happened after 22:00 local time, past the curfew imposed by city authorities on Saturday night, according to AP.
Police officers sprayed pepper at him at a near point-blank range. The man was then pulled to the ground by the hair and dragged away by three law enforcers. The man didn't appear to be resisting the police.
Officers were later seen pouring water into his eyes to try to ease the effects of the pepper spray.
READ MORE: Freddie Gray's death ruled 'homicide', charges against all 6 officers involved
The US has been gripped by protests over the death of Freddie Gray in police custody. The latest series of riots are part of the "Black Lives Matter" protests that have rumbled in the nation in the wake of the murders of African Americans at the hands of police in Ferguson, New York, and Cleveland.
#Baltimore clashes: Cops pepper-spray protester in face at point blank range (VIDEO) https://t.co/6WStFz7j0jpic.twitter.com/4DM88Gcbg0

— RT (@RT_com) May 3, 2015
On Friday, Maryland State's Attorney Marilyn J. Mosby announced criminal charges against all six police officers involved in the arrest of Freddie Gray, which she declared "a homicide" and "an illegal arrest." Five of the officers have been arrested.
"The findings of our comprehensive, thorough and independent investigation, coupled with the medical examiner's determination that Mr. Gray's death was a homicide ‒ which we received today ‒ has led us to believe that we have probably cause to file criminal charges," she said.