1 in 4 renters spend half their income on housing, a paycheck away from homelessness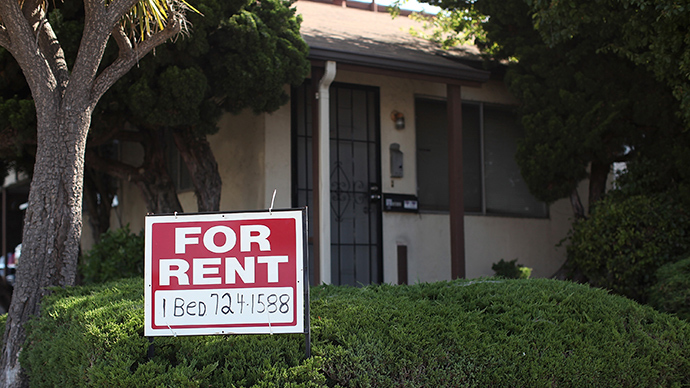 For more than one in four renters in the US, housing and utility costs take up at least half of their family's income, according to a new analysis of Census data. That number is up 26 percent since the beginning of the Great Recession in 2007.
Rising rents and stagnant wages are pushing more Americans into rental agreements, according to an analysis by Enterprise Community Partners, an affordable housing advocate. More than 36 percent of Americans rent housing as compared to 31 percent before the recession began.
The analysis found:

- 11.25 million families pay at least half of income for rent

- 6.4 million families headed by women pay at least half of income for rent

- Low income families paying at least 50% on rent spend about 40% less on food than those with affordable rents
The states most impacted by rising rents and stagnant wages are Florida, New Jersey, California and New York. In these states, 30 percent of renters are using at least half their income on rental housing and utilities.
The situation is nearly as dire across the nation. In Ohio, Alabama, Maine, Tennessee, Montana, and South Carolina, about 25 percent of renters dedicate half their income to rent and utilities. In fact, at least 20 percent of renters in every state, excepting Alaska, South Dakota, and Wyoming, face similar situations, according to the nonprofit's analysis of 2013 Census figures.
When more than a quarter of the nation's approximate 42 million household renters are forced to spend at least half their family income on shelter, tough decisions have to be made at the grocery store or concerning healthcare needs, Enterprise Community Partners' vice president Angela Bond said.
"The lack of rental homes is pervasive and affects working families, seniors and children across America. No community – be it urban, suburban or rural – is immune," she said in announcing the nonprofit's Make Room campaign to highlight the issue.
READ MORE: 'National moral disgrace': Over 1 in 5 US children on food stamps & living in poverty
About 9 million children and 1.8 million senior households are affected by this crisis, the organization reported.
The dilemma facing renters is directly tied to decades of stagnant pay, the analysis said. Average hourly wages have gone up only 2.1 percent in the last year, according to the US Labor Department. Rental prices have risen 3.7 percent in that time, real estate forecaster Zillow reported last week, according to AP.
Meanwhile, low-income renters are facing a housing shortage, according to the National Low Income Housing Coalition, of about 7.1 million apartments.
The US Commerce Department says apartment complexes are being built at a pace of about 321,000 units per year.
READ MORE: 1 in 3 US families classified as 'working poor,' higher for minorities
A recent poll of 1,000 US adults found that 37 percent had credit card debt that is equal or greater than their emergency savings, signaling that many Americans are one paycheck away from financial disaster.
It's not just lower income Americans who are in precarious positions. A third of higher income Americans are living paycheck-to-paycheck -- even when they earn $75,000 a year -- due to a lack of prioritizing for retirement, according to a recent survey.
You can share this story on social media: