One-third of America on the brink of financial disaster – survey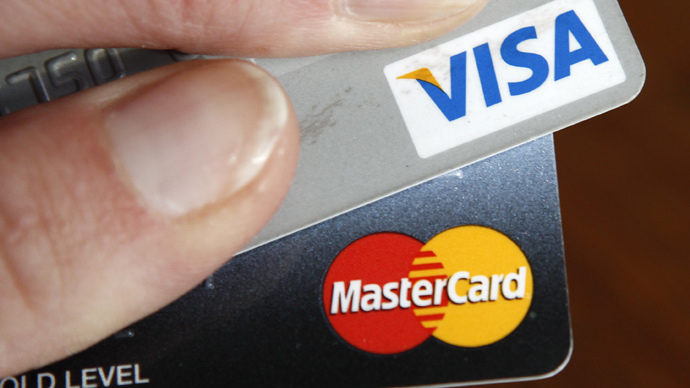 Thirty-seven percent of Americans have credit card debt that equals or is greater than their emergency savings, according to a new survey, leaving them "teetering on the edge of financial disaster."
A poll of more than 1,000 adults in the United States by Bankrate.com found that about 24 percent of Americans have more credit card debt than emergency savings, while another 13 percent have neither credit card debt nor emergency savings.
"Not only do most of them not have enough savings, they've all used up some portion of their available credit — they are running out of options,"said Greg McBride, Bankrate.com's chief financial analyst.
The 30 to 49 age group are in the most peril, with 32 percent of respondents reporting that they have credit card debt higher than their emergency savings. Twenty-five percent of those aged between 50 to 64 said the same, as did 21 percent in the 18 to 29 age bracket and 14 percent of those 65 and up.
As a 2014 survey by American Express reported, emergencies are more frequent than many would like to think. Half of Americans who responded to the survey had to deal with a fairly major unforeseen or emergency expense in the past year. Forty-four percent said the expense was health related, while 46 percent said it was for a car repair.
"People don't have enough money for unplanned expenses, and if they have more credit card debt than emergency savings, it's a double whammy," McBride said. "In the event of unplanned expenses, their options are limited."
Despite the discouraging numbers, more Americans are better off this year than in 2014, the Bankrate survey found. About 58 percent said they have more emergency savings than credit card debt, compared with 51 percent last year.
With effects of the Great Recession still lingering for many, and with decades of stagnant wage growth in several key work sectors, Bankrate's McBride said that putting a priority on saving has not been "a high enough priority for American households."
"It's difficult for people to really move the needle on savings when their income hasn't grown," he said.
The Federal Reserve Bank of New York, meanwhile, reported last week that the quantity of student loans in the US overdue by 90 days or more has risen to 11.3 percent, its highest point in a year.
In 2013, Americans ages 25 or younger held nearly $150 billion in student loan debt, the Government Accountability Office (GAO) found, while those between the ages of 25 and 49 carried about $700 billion in student debt. Those between the ages of 65 and 74 had around $150 billion in student debt.
Overall, debts in the US went up in the fourth quarter of 2014 – rising $117 billion from October through December to a total of $11.8 trillion, the New York Fed reported.