Family income affects brain anatomy, test scores – MIT study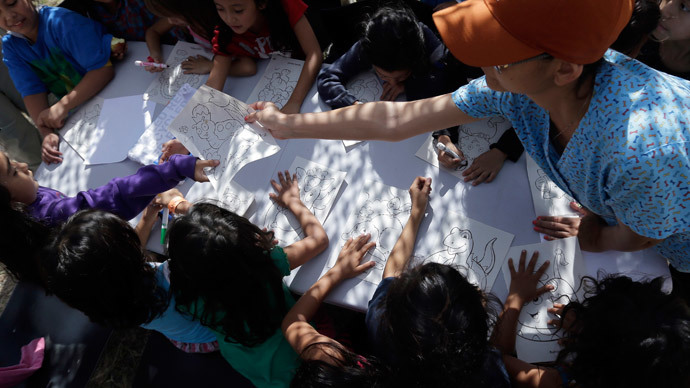 Kids in low-income households lag behind their peers from wealthier families when it comes to standardized testing. Their brain anatomy could be a factor, with the research exposing a "cost to not living in a supportive environment."
The researchers compared students' scores on the Massachusetts Comprehensive Assessment System (MCAS) with brain scans of the most highly developed part of the human brain - the layer often referred to as "gray matter." The cerebral cortex is responsible for thinking, perceiving, producing and understanding language.

Using magnetic resonance imaging (MRI) researchers at MIT and Harvard University came to the conclusion that the higher-income students have thicker brain cortex in areas associated with visual perception and knowledge accumulation. In most other measures of brain anatomy, the researchers found no significant differences. The study, published in the journal Psychological Science, did not provide possible reasons for these particular differences in brain anatomy, however.

The researchers point out that the structural differences they discovered are not necessarily permanent. "There's so much strong evidence that brains are highly plastic," MIT's professor of brain and cognitive sciences, and one of the study's authors, John Gabrieli, said. "Our findings don't mean that further educational support, home support, all those things, couldn't make big differences."

"To me, it's a call to action. You want to boost the opportunities for those for whom it doesn't come easily in their environment," he added.
READ MORE: Fast food, slow kids: Eating junk leads to poorer academic results, study shows

But, as Gabrieli noted, there's a "real cost to not living in a supportive environment. We can see it not only in test scores, in educational attainment, but within the brains of these children."

While previous studies have also described brain anatomy differences associated with income, they didn't link those differences to academic success.

"A number of labs have reported differences in children's brain structures as a function of family income, but this is the first to relate that to variation in academic achievement," an assistant professor of pediatrics at Columbia University, Kimberly Noble, explained.

Meanwhile, the achievement gap in the US between high- and low-income students has grown larger in recent years, even though gaps related to race and ethnicity have narrowed, according to Martin West, an associate professor of education at the Harvard Graduate School of Education and an one of the authors of the new study.

"The gap in student achievement, as measured by test scores between low-income and high-income students, is a pervasive and longstanding phenomenon in American education, and indeed in education systems around the world," he said.

"There's a lot of interest among educators and policymakers in trying to understand the sources of those achievement gaps, but even more interest in possible strategies to address them," Professor West added.

In their follow-up study, the researchers are challenged to find out what types of educational programs might help to narrow the so-called "achievement gap," and investigate whether some purposeful interventions influence brain anatomy just as well.

"Over the past decade we've been able to identify a growing number of educational interventions that have managed to have notable impacts on students' academic achievement as measured by standardized tests," West stated.

"What we don't know anything about is the extent to which those interventions — whether it be attending a very high-performing charter school, or being assigned to a particularly effective teacher, or being exposed to a high-quality curricular program — improves test scores by altering some of the differences in brain structure that we've documented, or whether they had those effects by other means."