Witness says Freddie Gray tried to injure himself, but questions remain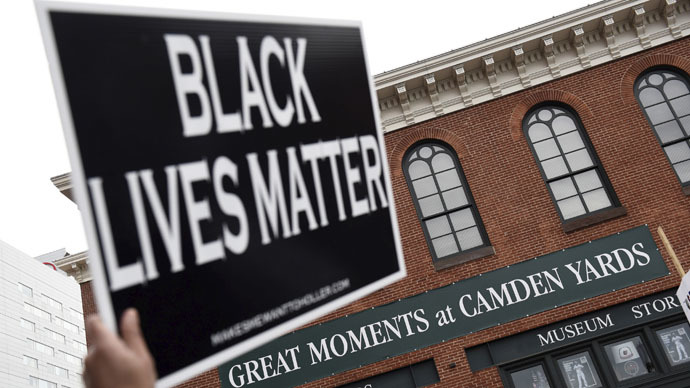 A prisoner who was sharing the same Baltimore police vehicle as Freddie Gray told investigators Gray was "intentionally trying to injure himself," but questions remain over the witness account and its consistency with what has already been reported.
LIVE UPDATES: Baltimore uprising: Solidarity protests spread across US
The news comes from documents obtained by the Washington Post, which state that the prisoner told investigators Gray was "banging against the walls" inside of the transport van.
READ MORE: More than 60 arrested as hundreds in NYC, DC rally for Baltimore's Freddie Gray
However, the prisoner could not actually see Gray because there was a metal partition separating the two men.
The prisoner, whose identity has been concealed because of fears of reprisals, is a 38-year-old man currently in jail and accused of violating a protection order. There is no information as to how many other prisoners were in the van.
His statement, written by a Baltimore police investigator, is sealed by the court and contained in an application for a search warrant. It offers one theory about what might have happened inside the van.
Other journalists are questioning the veracity of the Post's story. MSNBC's Chris Hayes said that as the prisoner couldn't actually see Gray, it would be hard to make the statement that the banging against the walls had been intentional. He also said it is strange that this is the only document that has been leaked.
Also, the prisoner in question couldn't actually see Freddie Gray; kinda hard to confidently infer intention from the sound of thrashing.

— Christopher Hayes (@chrislhayes) April 30, 2015
Meanwhile, Baltimore investigative journalist Jayne Miller of WBAL told Hayes that the Post story is "inconsistent" with what her outlet has reported. She said that the prisoner would have only been in the van with Gray for 5 minutes, and that by the time the prisoner is loaded into the vehicle, Gray was already unresponsive.
She added on Twitter that there's "no evidence" of Gray banging his head against the van. She also said Baltimore Police Commissioner Anthony Batts described Gray as "mostly quiet" in the van.
We have reported that when van stopped to pick up 2nd prisoner, sources say, Gray was unresponsive. No evidence banging head against van

— Jayne Miller (@jemillerwbal) April 30, 2015
BPD Commissioner Anthony Batts on 4/23 told us second prisoner in police van said Freddie Gray was "mostly quiet". ..

— Jayne Miller (@jemillerwbal) April 30, 2015
The Post contacted the Gray family for comment. One of their attorneys said the family had not been told about the prisoner's comments to investigators.
"We disagree with any implication that Freddie Gray severed his own spinal cord," attorney Jason Downs said. "We question the accuracy of the police reports we've seen thus far, including the police report that says Mr. Gray was arrested without force or incident."
The Post also contacted Baltimore police for comment but they declined.
What is know so far is that Gray, 25, was arrested by Baltimore police on April 12th. Video of the arrest, taken by a bystander, shows officers on top of Gray and then dragging him to the police van, which eventually transported him to the Wester District Police Station. Upon arrival, police found him unconscious in the van and called an ambulance.
READ MORE: Baltimore PD release CCTV video in Freddie Gray case, admit medical care wasn't given
Gray was found to have suffered broken vertebra and an injured voice box, and had to undergo emergency spinal surgery, after which he slipped into a coma from which he never recovered. His death touched off a wave of protests across Baltimore. These were capped by a riot on Monday in which angry residents' torched buildings, looted stores and pelted police officers with rocks.
For its part, the Baltimore Police Department said it will finish its investigation by Friday and hand over the results to the state's attorney's office for a decision on whether to indict the six police officers involved in the Gray incident. They have been suspended with pay while the investigation unfolds.
READ MORE: Baltimore riot: Violent clashes, tear gas, rubber bullets after Freddie Gray funeral
The police commissioner has been critical of his officers for repeatedly ignoring Gray's call for help and for failing to secure him in the back of the van. The Justice Department is also conducting its own investigation.
You can share this story on social media: