Lowest US science spending since WWII 'threatens America's future' – MIT
Published time: 27 Apr, 2015 19:32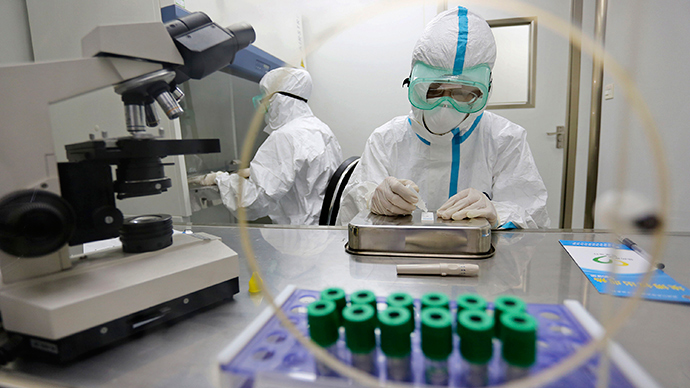 Scientists at the Massachusetts Institute of Technology have warned of an "innovation deficit" stemming from a decline in federal government spending on basic scientific research in areas such as cybersecurity, space exploration, and infectious diseases.
The report entitled "The Future Postponed" was released Monday in an effort to highlight steady decreases in the budgets of the US National Institutes of Health and other top research agencies.
Federal spending on research as a share of total US federal government outlays is now at about 3 percent, down from 10 percent in 1968, during the height of the space program.
Federal investment in scientific research is "the lowest it has been since the Second World War as a fraction of the federal budget," said MIT physicist Marc Kastner, leader of the report committee. "This really threatens America's future."
READ MORE: Ebola vaccine research stalled by budget cuts - NIH director
As a share of the gross domestic product, federal science funding is just under 0.4 percent.
The report begins by listing some of the top scientific highlights of 2014, including the landing of a spacecraft on a comet and the development of the world's fastest supercomputer. Yet those two achievements – by the European Space Agency and China, respectively – and the others mentioned all occurred outside the US.
Areas of research that are lacking, the report said, include cybersecurity, space exploration, plant sciences, fusion energy, infectious diseases, defense technology, and robotics.
MIT explained that it chose these fields based on their status as: "opportunities with high potential for big payoffs in health, energy, and high-tech industries; fields where we risk falling behind in critical strategic capabilities such as supercomputing, secure information systems, and national defense technologies; areas where national prestige is at stake, such as space exploration, or where a lack of specialized U.S research facilities is driving key scientific talent to work overseas."
The report attempted to show how, in the past, research investments like the ones MIT is calling for have been made and later proved to be successful for one reason or another.
READ MORE: D'Oh! 1 in 4 Americans don't know Earth circles Sun
"America's emergence last year as the world's largest oil producer has been justly celebrated as a milestone for energy independence," the report insisted.
"But the roots of the fracking revolution stem from federally-funded research—begun in the wake of the first OPEC oil embargo 40 years ago—that led to directional drilling technology, diamond drill bits tough enough to cut shale, and the first major hydraulic fracturing experiments. Do we also want the U.S. to be a leader in clean energy technologies a few decades hence, when these will be needed for large scale replacement of fossil energy sources, a huge global market? Then now is when more investment in advanced thin film solar cells, new battery concepts, and novel approaches to fusion energy should begin."
READ MORE: Brain drain: Funding and industry leave America, followed by top minds
The report does not offer specific cost projections or policy prescriptions to achieve better funding for these areas.
"It's fine to talk about research opportunities," Michael Lubell, director of public affairs at the American Physical Society, told Reuters. "But the report is long on identifying needs and short on identifying policy that will get us there."
Past surveys have shown Americans' knowledge of basic science to be lacking compared to other developed nations. For example, in a February 2014 study, one in four American respondents did not know that the Earth revolved around the Sun. Though that same survey found that more than 90 percent of Americans are of the opinion that scientists are "helping to solve challenging problems" and are "dedicated people who work for the good of humanity."