'Lock them up in a cell': Family of slain Louisiana man arrested for 'sagging pants' angry at police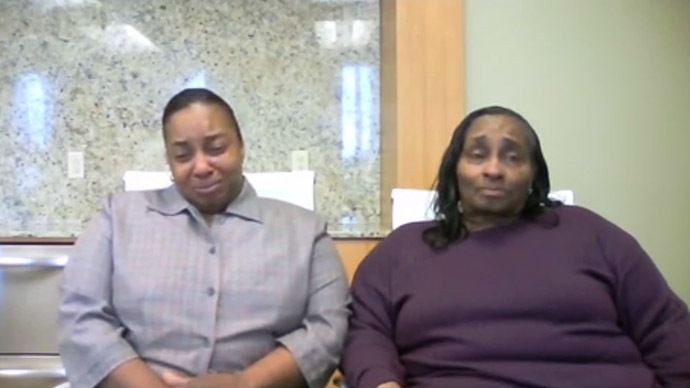 Family members of Ervin Edwards, who died in a Louisiana jail after being arrested for wearing "sagging pants," could not hide their grief and anger after seeing the video that showed him being tasered and left motionless on the cell floor.
In an exclusive interview with RT, Edwards' mother and sister, as well as the family's attorney helping with the wrongful death lawsuit, expressed their frustration at being lied to for a year and a half. Official police accounts of Edwards' death listed the cause as "undetermined" and blamed it on "acute cocaine and phencyclidine (PCP) intoxication in association with restraint by law enforcement."
"The written reports are completely different from what's shown on the video," said Donna Grodner, the Edwards family attorney.
"He went into that jail, and he was supposed to have come out, just like he came in," Edwards' mother Viney told RT. "They took his life."
"They're supposed to protect and serve," said Elizabeth Edwards. "Instead they killed him. I'm never going to see my brother."
The police officers, sheriff's deputies and jail staff seen in the video have not been charged with wrongdoing, or punished in any way. "They're considered untouchable, I guess," said Elizabeth Edwards.
"Their lawyers are trying to make up excuses for them. They need to stop that," added her mother.
John Jakuback, attorney for Port Allen Police Officer Dustin McMullan, who had tasered Edwards, told reporters that witness statements from the place of the arrest, the video and the autopsy report "confirm that neither Port Allen officer acted in any way inappropriately and that no action taken by those officers caused or contributed to Mr. Edwards' unfortunate death."
READ MORE: Death in jail cell: Video reveals man arrested for 'sagging pants' left to die
Grodner said she challenged Jakuback's claim and found out the "witnesses" were, in fact, police officers on the scene. She is pressing a federal civil rights case based on the violation of Edwards' 4th amendment rights, claiming that unreasonable search and seizure, the issue with his "sagging pants," led to his arrest and death.
"It's a callous indifference to federally protected rights," Grodner said of the behavior of officers in the video. "They have an obligation to provide safety to those persons they are holding in their jail."
Asked what she would consider justice for her son, Viney Edwards answered, "They need to take [the officers] and lock them up in a cell, where they need to be."
A ring Edwards wore that night was never recovered, Grodner pointed out. "This is his 'dad' ring," she said. "One of these officers has obviously got a little trophy. And I would like to see them stand before a jury and answer for what they did."
You can share this story on social media: