Baltimore mayor calls for 'peaceful and respectful' protests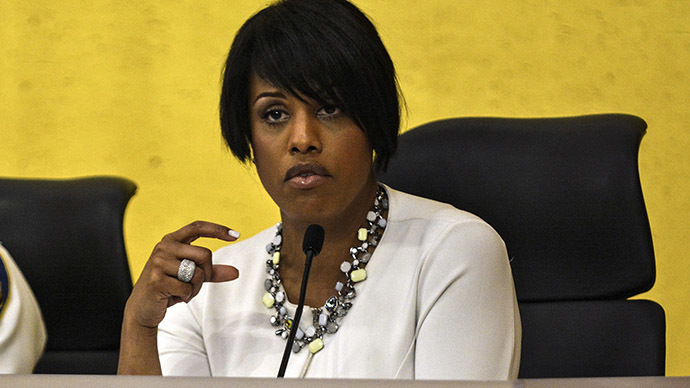 Baltimore Mayor Stephanie Rawlings-Blake called on residents to keep the protests "peaceful and respectful" in the Maryland city, and promised a swift investigation into the death of Freddie Gray in police custody.
"I offer my sincere condolences to all of Mr. Gray's family and friends. I am keenly aware of their pain at this difficult time." Rawlings-Blake said at a press conference with the city's faith leaders on Friday.
"We will determine exactly how this death has occurred," she said, adding "There is a process, and we have to respect that process. In order to have justice, and not just seek justice, the investigation has to follow procedures."
Baltimore Mayor Live Press Conference has ended. Video will be posted to http://t.co/X5YBTZS0P3pic.twitter.com/xupfkxPBBY

— WJZ | CBS Baltimore (@cbsbaltimore) April 24, 2015
To establish why police procedures were not followed in securing Gray after his arrest‒ namely in not using a seatbelt on him ‒ and why officers did not call for medical assistance for so long, the Baltimore PD will conduct a thorough investigation and "leave no stone unturned", the mayor said. Results will be presented to the office of the state's attorney by next Friday. She welcomed an outside investigation from the US Department of Justice, in the interest of transparency and accuracy.
"Throughout this process, it is absolutely vital that we remain one community," the mayor said.
The statement comes after a week of protests over Gray's death, who passed away last Sunday after remaining in a week-long coma. Baltimore police arrested Gray on April 12, after he "fled unprovoked upon noticing [a] police presence."
According to the police union lawyer representing the six officers involved in the arrest, the officers may not have secured Gray with a seatbelt inside the police van, in a violation of Baltimore PD policies.
READ MORE: Baltimore protests: 2 arrested as Maryland gov. sends state troopers
Maryland governor Larry Hogan called for calm and reinforced the local police force with 32 state troopers on Thursday.
"People legitimately have concerns, and the community is out in force protesting," Hogan told the Baltimore Sun. "So far it has been peaceful. We want to try to keep things under control. The last thing we need is more violence in Baltimore City."
A police press conference is expected at 4 PM Friday, with updates on the investigation.
Gray's funeral is scheduled for Monday.
You can share this story on social media: