Baltimore protests: 2 arrested as Maryland gov. sends state troopers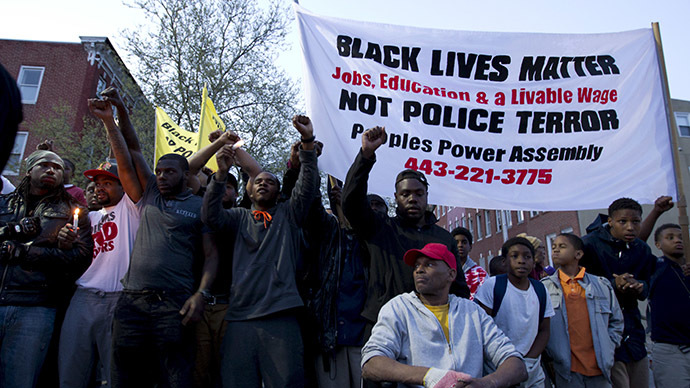 Baltimore residents and police clashed as people marched downtown to protest the mysterious death of Freddie Gray in police custody. Maryland Gov. Larry Hogan (R) said he will send 32 state troopers to the city in order to oversee demonstrations.
No concrete numbers are in, but hundreds of protesters took to the streets of downtown Baltimore, rallying in front of City Hall and the US Courthouse while calling for justice in Gray's death. The 25-year-old African-American man died as a result of a severe spinal cord injury, though it's unclear exactly how or when he was hurt. His funeral is set for Monday.
As demonstrators marched through the streets, they chanted phrases such as, "All night, all day – we're going to fight for Freddie Gray" and "Hands up, don't shoot!"
Protests for #FreddieGray are in their fifth day in Baltimore, with demonstrators in front of City Hall demanding justice and answers. Anya Parampil reports live from the scene.Posted by RT America on Thursday, April 23, 2015
At one point, protesters and police became involved in a scuffle, with reports on the ground saying that some people threw objects at officers.
Two people were arrested for disorderly conduct and destruction of property, police said.
Baltimore Police wrestle down John Patterson b4 arresting. Couldn't make out what happened. #FreddieGraypic.twitter.com/MntFh68T3t

— Chuck_MODI (@POPSspotSports) April 23, 2015
At another point in the protest, demonstrators surrounded a police vehicle and climbed on top of it, according to WNEW News.
#FreddieGray protestors surround a city police car. #Baltimorepic.twitter.com/xztPTeGiUa

— Brandon Longo (@brandonlongo) April 23, 2015
Otherwise, the day was largely peaceful. In some instances, people pushed into the streets, interrupting traffic as they spread their message. Some simply chanted "Freddie, Freddie!"while others called for the six officers involved in Gray's death to be indicted.
"Hands up don't shoot" #FreddieGray#Baltimorepic.twitter.com/ed97qtO0qI

— Anya Parampil (@anyaparampil) April 23, 2015
Gray was detained after making eye contact with police and running away. Officers gave chase and claimed he possessed a knife, but this account is disputed by Gray's family.
Finally we hit the streets to shut down traffic. pic.twitter.com/cSLS5aOfDh

— Lawrence Brown (@BmoreDoc) April 23, 2015
Police assisting protestors in Baltimore, blocking traffic as march spills into traffic. pic.twitter.com/znkp7lLKVH

— Rich Edson (@RichEdsonDC) April 23, 2015
Speaking with the Baltimore Sun, Hogan said he had sent 32 state troopers to the city following a request for assistance from the Baltimore Police Department. The troopers reportedly have "expertise" in crowd control.
"There's raw emotions. People legitimately have concerns, and the community is out in force protesting," Hogan told the paper. "I want to thank the folks involved in that. So far it has been peaceful. We want to try to keep things under control. The last thing we need is more violence in Baltimore City."
A few hundred protesters looping the plaza, "all night all day we want justice for #freddiegray." #voaalertpic.twitter.com/5DyLXSGZMO

— Victoria Macchi (@VMMacchi) April 23, 2015
While state troopers will be present in Baltimore, Hogan said city police will continue to bear most of the responsibility.
"The Baltimore Police Department, as a matter of past practice, asks for the assistance of local and state law enforcement partners for any large-scale event, festival and other occasions that draw large crowds," the police said in a statement, adding that it "will continue to do everything possible to ensure the safety of those engaged in the expression of their constitutional rights."
#FreddieGray protestors march on City Hall. If you're heading into the city expect delays. pic.twitter.com/QofDkSNywN

— WJZ | CBS Baltimore (@cbsbaltimore) April 23, 2015
Meanwhile, the circumstances surrounding Gray's death continue to be hazy. Michael Davey, an attorney for the police union who is representing at least one of the six officers currently under investigation, said that officers did not secure Gray with a seatbelt after arresting him and placing him in a police van. If true, that would be a violation of Baltimore PD policy.
"It is not always possible or safe for officers to enter the rear of those transport vans that are very small, and this one was very small," Davey said.
The Baltimore PD confirmed that it "has a policy requiring all prisoners to be properly seatbelted during transport," but did not clarify whether or not Gray was secured. It added that photographs of the van could not be shared with the media because they are currently part of an investigation.
#Baltimore is now chanting "Indict, Indict!" and #Freddie, Freddie!" #FreddieGraypic.twitter.com/ziURUad27M

— Popular Resistance (@PopResistance) April 23, 2015
Police have said that Gray was conscious when he was placed in the van but unconscious when taken out. They have acknowledged that Gray – who appeared injured as police attempt to get him inside the van, according to footage recorded by a bystander – asked for an inhaler, but a request for medical assistance was not made for another 40 minutes or so.
Due to all of these unanswered questions, Hogan told the Baltimore Sun that he will sign a recently passed bill that would let police departments outfit officers with body cameras.
"We're getting bits and pieces of information from bystanders that may or may not show the whole story, so we don't know what happened before the incident or after the incident that we have on tape," he said. "Having the real evidence of exactly what happened, having everything videotaped, is a step in the right direction."
Massive police presence in Baltimore today for #FreddieGray protests. Trying to avoid another ferguson #fresheyespic.twitter.com/gPLneQrIWv

— John (@LeaveIt2Weezer) April 23, 2015
You can share this story on social media: