SpaceX launch delayed: ISS crew on hold for coffeemaker delivery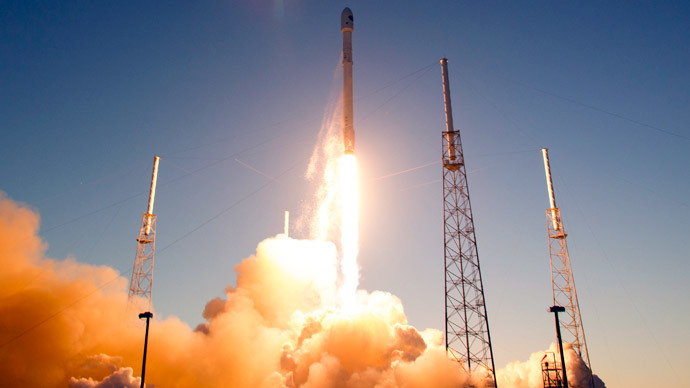 Cosmonauts aboard the International Space Station will have to wait another day for their long-promised space espresso machine. Today's launch of a Dragon resupply ship was rescheduled, after storm clouds came too close to Cape Canaveral.
Originally set for 4:33 PM local time Monday, the launch was postponed with just 2 minutes remaining, after lightning was spotted in the approaching clouds.
Launch scrubbed today for weather, next opportunity tomorrow 4/14 at 4:10pm EDT.

— SpaceX (@SpaceX) April 13, 2015
The ship was loaded with 4300 pounds of supplies and scientific materials headed for the crew of six at the orbital facility, including a zero-gravity "ISSpresso" machine.
The first coffee shop in space opens today. Here's how it works. #isspressohttp://t.co/omRAxuUdkjpic.twitter.com/Nk5TLIdOIf

— Wired UK (@WiredUK) April 13, 2015
Developed by the Italian Space Agency in collaboration with coffee company Lavazza and engineering firm Argotec, the special zero-gravity coffeemaker – dubbed the "ISSpresso" – is intended as a morale-booster for the crew.
"The psychological support is very, very important," NASA's space station program deputy manager, Dan Hartman, told reporters Sunday. "It's just to boost spirits."
The original delivery of the "ISSpresso" was supposed to coincide with the mission of Italian astronaut Samantha Cristoforetti of the European Space Agency (ESA), who came on board in September 2014. However, it had to be postponed in favor of replacements for supplies lost when a Virginia-launched supply ship exploded last October.
I love being of Italian descent: we have our priorities straight. Espresso machine to launch to ISS. http://t.co/GtmyXr1dly#NASA#ISSpresso

— Nicole Mortillaro (@NebulousNikki) April 13, 2015
As a result, Cristoforetti will have only a month to enjoy space espresso. She is due to return to Earth mid-May. Her colleagues, astronaut Scott Kelly and cosmonaut Mikhail Kornienko, will be spending a year in orbit as part of an long-duration spaceflight experiment.
SpaceX and @elonmusk are at it again. Takeoff and landing attempt slated for 4:33 p.m. EST: http://t.co/bSgVLo8dy0pic.twitter.com/n67umvPDiR

— Shawn Langlois (@slangwise) April 13, 2015
SpaceX is also continuing the attempts to achieve a controlled landing of the Falcon9 booster. By reusing the booster stage of the rocket, the company hopes to drastically reduce the costs of commercial space launches. The rocket is supposed to land aboard the remote-controlled barge "Just Read the Instructions," deployed about 200 miles off the Florida coast.
Read More: 'Rapid unscheduled disassembly': SpaceX releases video of Falcon 9 crash-landing
The previous attempt at a "soft landing", earlier this year, ended up in a fiery explosion that SpaceX CEO Elon Musk described as "rapid unscheduled disassembly." SpaceX was more optimistic in advance of Monday's launch, saying that the weather conditions were much more favorable than back in January.
SpaceX and @elonmusk are at it again. Takeoff and landing attempt slated for 4:33 p.m. EST: http://t.co/bSgVLo8dy0pic.twitter.com/n67umvPDiR

— Shawn Langlois (@slangwise) April 13, 2015
Among the science materials aboard the Dragon are materials for investigating the effects of micro-gravity on various cells in the human body as well as the crew's vision, and a new synthetic material space agencies hope to use for "muscle" for robotic explorers. The ship is scheduled to return in five weeks, with about 3,000 pounds of cargo including science experiments, hardware, and crew supplies.
Read More: SpaceX launches Falcon 9 on third try, 'soft-lands' reusable stage in ocean
On Sunday, the ISS crew celebrated Cosmonaut Day, the anniversary of the first human spaceflight in 1961 by the Soviet Union's Yuri Gagarin. Russian cosmonauts aboard the station also celebrated Easter with a call from the Patriarch of Moscow and All Russia, Kirill of the Russian Orthodox Church.