Coffee for cosmonauts! First 'ISSpresso' machine to arrive in space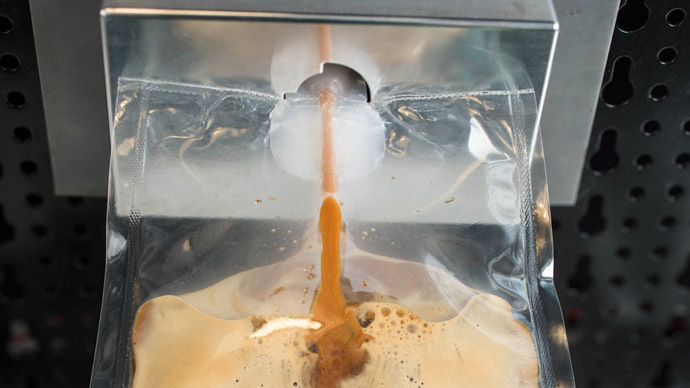 The International Space Station is set to welcome the first coffee machine in space in November. Until now, sleepy astronauts have been surviving only on dry powdered pouch-based products.
The coffee machine, called the ISSpresso, is a joint project developed by Italian coffee company Argotec and the Italian Space Agency.

"We have been thinking about taking espresso into space for some time," Giuseppe Lavazza, vice president of coffee retailer Lavazza, said in a statement.

"Today we are in a position to overcome the limits of weightlessness and enjoy a good espresso – the indisputable symbol of made in Italy products – on board the International Space Station."

According to Lavazza, an Italian astronaut aboard the ISS declared that he missed a good Italian espresso. However, at that point, the plan to make space coffee possible was already underway.

The machine weighs some 443 pounds and will arrive at the ISS with Italy's first female astronaut, Air Force Captain Samantha Cristoforetti. If all goes as planned, she will also be the first person in space to sample coffee from the ISSpresso coffee machine nearly 400km above Earth.

One of the problems faced in creating the device was controlling the pressure needed inside an espresso machine – between 8 and 10 bar, a measurement which understandably ignites some fear in the minds of astronauts aboard a sensitive satellite.

The plastic has been replaced with steel tubing capable of withstanding pressures exceeding 400 bar, which should alleviate some of the concerns.

The final coffee product will not be served in a cup – given the gravity restrictions – but piped into a sealed plastic pouch, from which the astronauts will have to drink it through a straw.

Nonetheless, it will share some similarities with its earthly counterparts.

"A sort of social network in space," Lavazza said of the cafè concept, hoping the machine would become a social hub as it is in standard workplaces. "[The ISSpresso will be] a venue for getting together, chatting and relaxing: an aspect that should not be ignored in missions that keep the astronauts away from home for many months in a challenging environment."