'Rapid unscheduled disassembly': SpaceX releases video of Falcon 9 crash-landing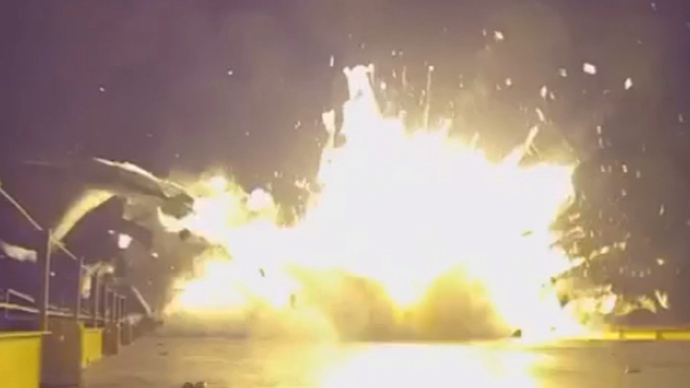 After a failed attempt by SpaceX to make history by landing its potentially reusable Falcon 9 rocket on a floating platform, the public was eager to learn how "hard" the actual landing was. Now the company has finally released video of the impact.
SpaceX CEO Elon Musk was brave enough to make public the footage of the exact moment of the crash landing last week. The landing took place on a barge and has generated loads of excitement ever since. The short clip shows the rocket attempting to land at an angle of 45 degrees and exploding in a massive fireball in a corner of the barge.
READ MORE: SpaceX's Dragon blasts off with Falcon rocket, reland attempt fails
A review of the video reveals that the rocket drifted across the barge after one of the fins of the vehicle reportedly lost power. It smashed its legs and then its engine sections.
@ID_AA_Carmack Before impact, fins lose power and go hardover. Engines fights to restore, but … pic.twitter.com/94VDi7IEHS

— Elon Musk (@elonmusk) January 16, 2015
@ID_AA_Carmack Full RUD (rapid unscheduled disassembly) event. Ship is fine minor repairs. Exciting day! pic.twitter.com/tIEctHFKHG

— Elon Musk (@elonmusk) January 16, 2015
After the launch last Saturday, the Falcon 9 rocket was supposed to return from its haul mission of the Dragon spacecraft to the International Space Station and attempt to land on a spaceport drone ship in the Atlantic Ocean.
@ID_AA_Carmack Rocket hits hard at ~45 deg angle, smashing legs and engine section pic.twitter.com/PnzHHluJfG

— Elon Musk (@elonmusk) January 16, 2015
"While the rocket made it to the drone ship, it landed hard," the company reported on its website. Musk jokingly described the moment of impact as the "Full RUD (rapid unscheduled disassembly) event," saying the barge will need minor repairs. Overall, Musk called it "an exciting day."
Next rocket landing on drone ship in 2 to 3 weeks w way more hydraulic fluid. At least it shd explode for a diff reason.

— Elon Musk (@elonmusk) January 16, 2015
SpaceX plans to test the rocket in two to three weeks with more hydraulic fluid to avoid a similar crash scenario, Musk said.
Saturday's flight, dubbed 'Commercial Resupply Services 5 (CRS-5)', was the fifth of a dozen planned Dragon delivery missions by SpaceX under a $1.6 billion contract with NASA.
You can share this story on social media: