NASA finds 'monster' black hole in tiny galaxy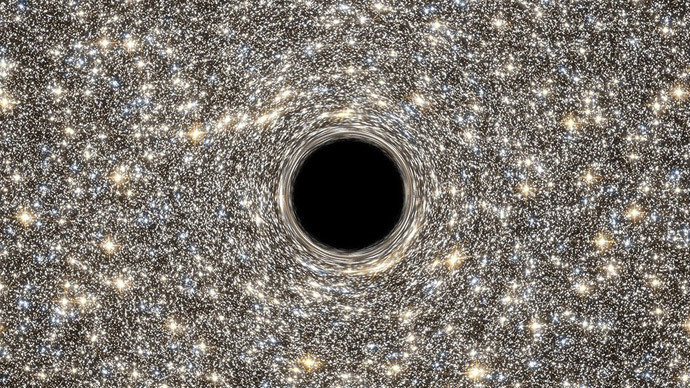 The M60-UCD1, discovered by NASA's Hubble Space Telescope in 2013, is one of the smallest known galaxies. But now the space agency has discovered that the dwarf galaxy is harboring a "monster" black hole.
The diameter of M60-UCD1 is about 300 light years – just 1/500th of our galaxy's width. However, it is packed with 140 million stars, which also makes it one of the densest galaxies.

For comparison, NASA explains, the nighttime sky we see from Earth's surface shows 4,000 stars. If we lived inside the newly-discovered M60-UCD1, our nighttime sky would be covered with at least one million stars "visible to the naked eye."

But what really surprised astronomers is the supermassive black hole they found inside M60-UCD1.

Lurking in the smallest galaxy, the black hole is five times the mass of the one at the center of our Milky Way galaxy. It has a mass equal to 21 million suns, and is 15 percent of the small galaxy's total mass – but less than 0.01 percent of the Milky Way's total mass.

"That is pretty amazing, given that the Milky Way is 500 times larger and more than 1,000 times heavier than the dwarf galaxy M60-UCD1," University of Utah astronomer Anil Seth, lead author of an international study on the dwarf galaxy, said in Nature's Thursday publication.

The finding has prompted astronomers to consider rethinking dwarf galaxy theories.

They have now grown to suggest that dwarf galaxies may, in fact, be the stripped remnants of larger galaxies that were torn apart during collisions with other galaxies. Until the discovery, they thought that tiny galaxies were small islands of stars born in isolation.

"We don't know of any other way you could make a black hole so big in an object this small," Seth said.

The observation also suggests that there are many other compact galaxies in the universe that contain supermassive black holes.

It could be that M60-UCD1 was once a large galaxy containing 10 billion stars, but then it passed very close to the center of an even larger galaxy, M60. As a result, the stars and dark matter in the outer part of the galaxy were torn away and became part of M60.

It is possible that M60-UCD1 may eventually be pulled to fully merge with M60, which has its own black hole that is more than 1,000 times bigger than the black hole in our galaxy.

Should this happen, the black holes in both galaxies – which are 50 million light-years away – would also likely merge.
You can share this story on social media: