$7 bln NASA Mars Mission rocket set for 2018 launch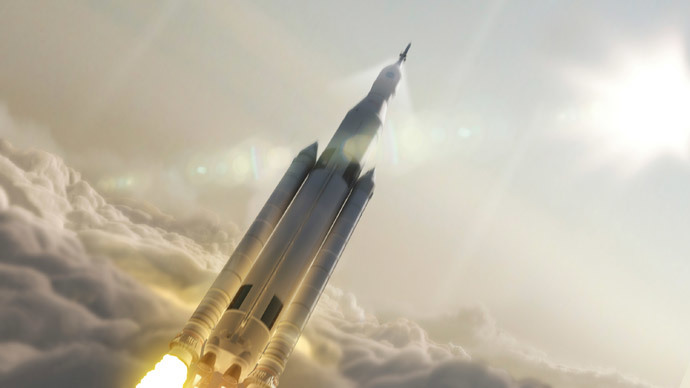 NASA's 70-metric-ton mega-rocket, which is due to launch in 2018 and may one day head to Mars, has passed a key stage in its development. The Space Launch System (SLS) rocket will be the largest and most powerful ever constructed.
"We are on a journey of scientific and human exploration that leads to Mars," said NASA Administrator Charles Bolden.
"And we're firmly committed to building the launch vehicle and other supporting systems that will take us on that journey."
The NASA officials announced Wednesday that they have passed a major milestone in the completion of the rocket.
Officials at the agency have approved further planning after the first, smaller model of the rocket passed an internal review.
The first flight test will see SLS configured for a 70-metric-ton capacity, and according to a NASA statement, will carry an unscrewed Orion spacecraft "beyond low-Earth orbit." However, at its most powerful, the SLS rocket will be able to provide a record 130 metric ton capacity.
The launcher will be 122 meters tall in its final configuration and the rocket itself is a variation on the shuttle-derived, heavy-lift booster made under NASA's previous $9 billion exploration called "Constellation," which aimed to put astronauts back on the moon by 2020.
Although it's possible that the rocket might be ready for a test flight in December 2017, an initial SLS flight has been scheduled for November 2018 – and after that – in 2030s, a human Mars mission.
"After rigorous review, we're committing today to a funding level and readiness date that will keep us on track to sending humans to Mars in the 2030s – and we're going to stand behind that commitment," Associate Administrator Robert Lightfoot said.
The review which let the SLS pass the milestone is known as Key Decision Point C (KDP-C) which established a development cost baselines and launch readiness schedule, according to NASA, both of which they deem conservative out of caution.
"Our nation is embarked on an ambitious space exploration program, and we owe it to the American taxpayers to get it right," Lightfoot said.
Project manager Todd May said that significant technical progress has already been made adding that hardware has been produced for all elements of the program.
"The team members deserve an enormous amount of credit for their dedication to building this national asset," May said.
The next step is a Critical Design Review that will confirm agency confidence in the program and assess any possible technical risks.