Crash and burn: Top 5 recent rocket disasters (VIDEO)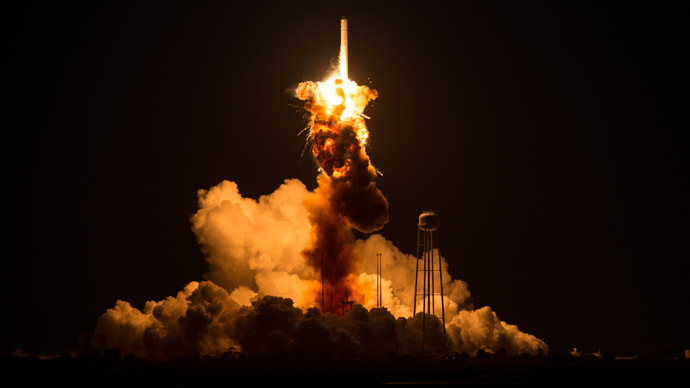 The spectacular launch failure of the Antares rocket over Virginia has drawn a fiery line under the perils of man's unquenchable thirst to explore the cosmos. Here are the top 5 crashes to rock international space programs in recent times.
US commercial space program takes a hit
Following NASA's decision to suspend its space shuttle program indefinitely in 2011, the US space agency now relies on Russia or the private sector to hitch a ride into space. This week, that strategy blew up in their face.
On Tuesday, an Orbital Sciences Corp. Antares rocket making its fifth venture into space erupted in a massive fireball over the coast of Virginia, obliterating a Cygnus cargo ship that was on board.
The $200 million launch was to be the third of eight planned Orbital missions to ferry gear and food to astronauts aboard the ISS. Instead, 5,000 pounds of food, supplies and scientific equipment were incinerated, along with faith in NASA's commercial space station resupply program.
Nine hours later, Russia successfully launched a Progress cargo craft from Kazakhstan, with nearly 3 tons of necessary supplies on board for the ISS. Later that day, Russia offered to send US supplies to the ISS on its Progress spacecraft.
SpaceX Falcon Flounders
On August 22, an experimental test flight of a three-engine Space X Falcon 9R rocket over McGregor, Texas, went awry. Sailing vertically into the air, the rocket veered off of its trajectory, causing the onboard safety system to issue a self-destruct command. The rocket was subsequently swallowed up by a fire ball, with debris raining down over the Lone Star State.
SpaceX founder and CEO Elon Musk would later say in a statement that a "blocked sensor port" was the cause of the rocket's demise.
The firm hopes to become a private taxi service for NASA, with plans of becoming the first commercial company to take astronauts into space as early as 2017.
But it wasn't all a wash for the Falcon 9R.
"We've been taking a lot of risks with the [Falcon 9R], so we're flying this thing in flight regimes and ConOps (concept of operations) that it was not designed for, all in an effort to learn," Garrett Reisman, who's heading up the firm's efforts to develop manned space launches, said after the crash.
Latest Proton-M catastrophe
On May 16, a Russian Proton-M rocket with an advanced satellite launched from Kazakhstan's Baikonur cosmodrome. But roughly 9 minutes into the launch, it careered off course, forcing its emergency engine shutdown system to kick in. Just moments away from orbit, the rocket traced a seemingly bluish arc in the sky and began its unplanned descent back to earth.
On the way down, the rocket and parts of its cargo all burned up. An Express-AM4R (which would have been Russia's most advanced and powerful satellite) was also lost in the accident. It was the second attempt to put a satellite of its kind into space.
Investigators believe the failure of a bearing unit in the turbine pump assembly was the most likely reason for the crash. But the plot thickened when sabotage was posited as a potential cause.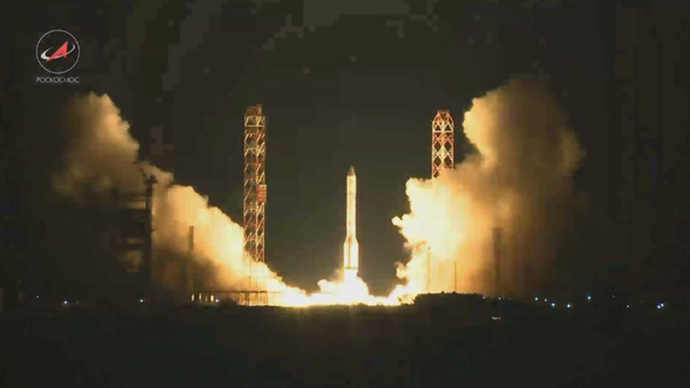 It wouldn't be the first time foul play was linked to a Russian rocket disaster.
The Proton-M disaster prequel
On July 2, 2013, a Russian Proton M/Block DM-03 rocket swerved to one side, tried to correct itself, only to veer off in the opposite direction. What was meant to be a vertical push became a mad dash across the horizon, with the rocket falling to pieces with its engines in full thrust. The rocket was then enveloped in flames, free falling to the ground, before erupting in a massive ball of fire upon impact on the harsh steppe of Kazakhstan.
The July 2 crash was broadcast live on television. Fears of a toxic fuel leak immediately began to circulate. The rocket was, after all, carrying over 600 tons of toxic propellants on board.
An upside down censor was first faulted for the accident following an initial investigation by Russian space agency Roscosmos on July 18.
The following year, a far more sinister version of events began to surface.
In June, there were reports that the Federal Security Service (FSB) was looking into the crash. According to the Russian daily Izvestia, the FSB found that foreign matter may have been deliberately placed into crucial components at the factory where it was assembled.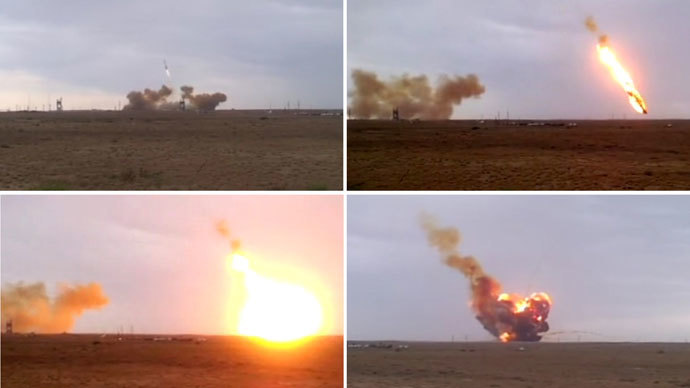 But whether by human design or error, one thing remains certain: the $1.3 billion dollar rocket and satellites onboard were a massive loss for Russia, in every sense of the word.
God of dreams takes a dive
Following the first free flight of NASA's experimental Morpheus LOX-Methane vertical take-off and landing vehicle at the Kennedy Space Center on August 9, 2012, all those in attendance must have quickly realized they had taken the red, and not the blue pill.
The moon lander probably displayed the least impressive of potential crashes, almost comically lifting into the air before flopping over and falling on its head. At first it smoldered like a bonfire before exploding in a massive shower of sparks and fire.
The vehicle was damaged beyond repair, and the cause of failure was listed as "hardware component failure."
Despite the setback, plans to demonstrate a new nontoxic spacecraft propellant system were not scuttled by one setback. Like all those who chase the stars, perseverance was the key.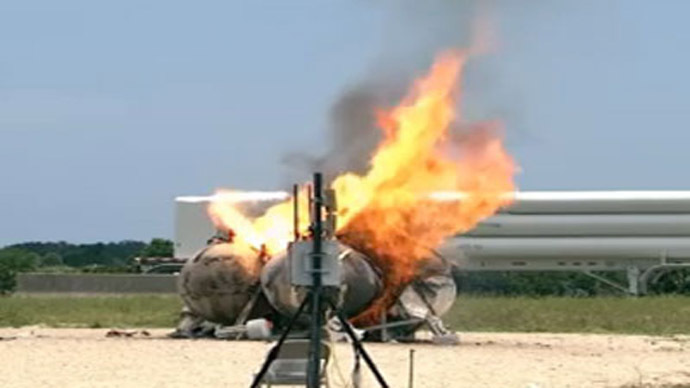 On December 10, 2013, the Project Morpheus lander managed its first successful free flight, proving that if you want to reach for the heavens, you must be prepared to eat a little dirt "for the benefit of all."
You can share this story on social media: