Basket cases: 29 arrests as frustrated basketball fans riot in Lexington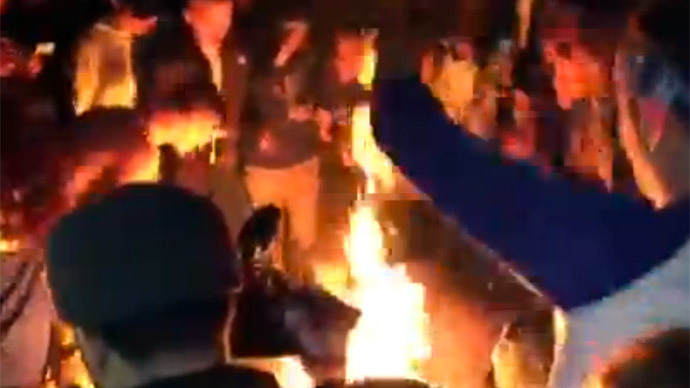 Kentucky Wildcats' fans went wild after a 64-71 loss to the Wisconsin Badgers, which dented Kentucky's hitherto perfect season of 38 straight wins. Wildcats' aficionados ran riot on the streets, setting things on fire and shrieking abuse at police.
Grief over the loss was unbearable for the Kentucky team and its fans, as they were only two wins away from winning the national championship. This would have been only the second undefeated season in Division I college basketball history. However, the team was upset in the open NCAA Final Four due to Wisconsin's fortitude and some good luck.
Some Kentucky raging pic.twitter.com/GdRQNAOEqV

— The Daily Dot (@dailydot) April 5, 2015
"It just doesn't feel real at all. There's a lot of emotions going through our heads," AP cited Kentucky's freshman forward Trey Lyles.
READ MORE: Tear gas, pepper spray disperse crowds of Ohio football fans
More fires on Kentucky's State Street pic.twitter.com/dj8CgZbc9T

— The Daily Dot (@dailydot) April 5, 2015
After the match at Lucas Oil Stadium in Indianapolis, more than a thousand Kentucky fans poured onto the streets of Lexington, Kentucky, to vent their frustration.
READ MORE: Cops demand Rams players who showed solidarity with Ferguson to be punished
Police let Kentucky fans revel. Or something. Not riot. That only happens in Ferguson https://t.co/JQZIYRBFim - pic.twitter.com/SXT4Eof97X

— Kevin Gosztola (@kgosztola) April 5, 2015
They set things on fire, shrieked in anger, and the frenzy degenerated into fights, with bottles flying through the air.
READ MORE: Gunshot wounds, fights with police: San Francisco riots after Giants win World Series
KENTUCKY: Fires Continue, More Fights, Girls Flashing, Arrest Count Up To 11 - http://t.co/aMBpNgjsjIpic.twitter.com/7GalJQiH8L

— Breaking News (@Breaking911) April 5, 2015
Over 29 were arrested during the #Kentucky riots, mostly for shouting insults at police, starting fires and scuffling with law enforcement officers, the Courier Journal reports.
Lexington officials slammed the crowd as "rowdy, and at times hostile." At least three people were taken to hospital with injuries.
READ MORE: Tear gas, rubber bullets in Lille, France, as Everton fans clash with police
Empty beer bottles are next to fall victim #statestreetpic.twitter.com/ZgcED1PHYT

— Cheyene Miller (@CheyeneMiller19) April 5, 2015
At first, Police chose to turn a blind eye to the disappointed fans' obstreperousness, but some students wouldn't calm down and kept on asking for trouble.
Just sad on State street in Lexington. #Kentucky fans are burning cars and buildings. 6 arrest so far. pic.twitter.com/8oji5AJlOR

— Skywarn Randy D. (@Dayton325) April 5, 2015
Three police helicopters buzzed overhead and law enforcers in riot gear closed off side roads along State Street, where the main unrest unfolded.
READ MORE: Argentina riot police clash with fans after World Cup loss (VIDEO, PHOTOS)
Another arrest has been made here on State Street after this man started fighting with police. pic.twitter.com/dCtXRtN7EP

— Paris Lewbel (@PLewbel) April 5, 2015
You can share this story on social media: