Tear gas, pepper spray disperse crowds of Ohio football fans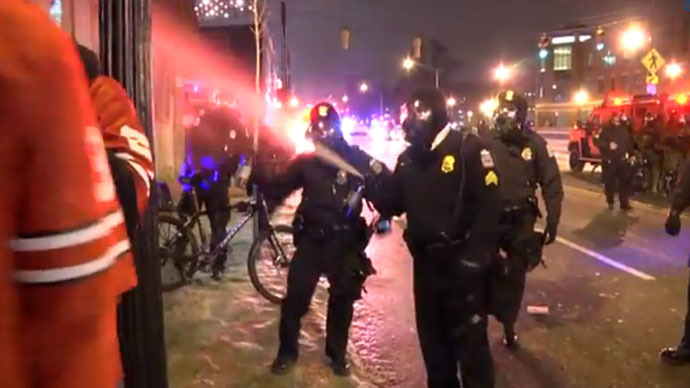 US police used tear gas and pepper spray to disperse students and college football fans who flooded the streets of Columbus, Ohio, on Tuesday, following the Buckeyes' National Championship win.
The campus was patrolled by Ohio State and Columbus police officers, dressed in full camouflage gear, who used tear gas to break up crowds of revelers celebrating Ohio State's 42-20 victory in the college football National Championship game, AP reported.
Thousands of chanting and cheering people, who gathered at the Ohio State football stadium and local bars, poured out, blocking some streets.
Ohio State: "@jpelzer: SWAT team is warning people to clear the street or they'll be gassed pic.twitter.com/Nv1lfPEgQj"

— Alex Hanson (@theAlexHanson) January 13, 2015
SWAT team is here, some with gas masks on pic.twitter.com/KpkZPAI5Pf

— Jeremy Pelzer (@jpelzer) January 13, 2015
To disperse the unruly crowd, SWAT and riot police were deployed in an effort to clear the streets. Students were reportedly warned to clear areas around High Street or risk arrest.
"@NBCNewsRiot cops use tear gas on Columbus crowds after Ohio State wins College Championship http://t.co/RvOnG34t6cpic.twitter.com/8IZqQsaUZ6"

— RAYDER1 XXXX (@RAYDER764) January 13, 2015
Tear gas has forced most of the crowd from High Street -- except this guy pic.twitter.com/MNVCNZQLxW

— Jeremy Pelzer (@jpelzer) January 13, 2015
The Columbus Dispatch newspaper reported about three canisters of tear gas used in front of the Ohio Union around 1:15 am. Sometime earlier, police began using pepper spray on many of the football fans.
A police spokesman said there were 30 to 40 fires in trash cans and dumpsters, AP reported.
There were also reports of celebratory gunfire.
No serious fires or arrests were reported, however, some people left the area with stinging eyes and runny noses. One person was reported to have been transported to the hospital.
Police use tear gas, pepper spray on revelers at Ohio State University (PHOTO GALLERY) http://t.co/MhpsLZiKilpic.twitter.com/gf0uI7zEDf

— Jeremy Pelzer (@jpelzer) January 13, 2015
Gas spreads in front of the Ohio Union pic.twitter.com/A3NLsTkS0o

— Jeremy Pelzer (@jpelzer) January 13, 2015
The crowds began dispersing after two hours.
Shortly before the pepper spray shower. #PepperSprayIsDelicious #GoBucks #ImTooOldForThis #BrBGonnaFlipACar

A video posted by Justin Henderson (@jhen3443) on Jan 12, 2015 at 9:59pm PST
You can share this story on social media: