Tear gas, rubber bullets in Lille, France, as Everton fans clash with police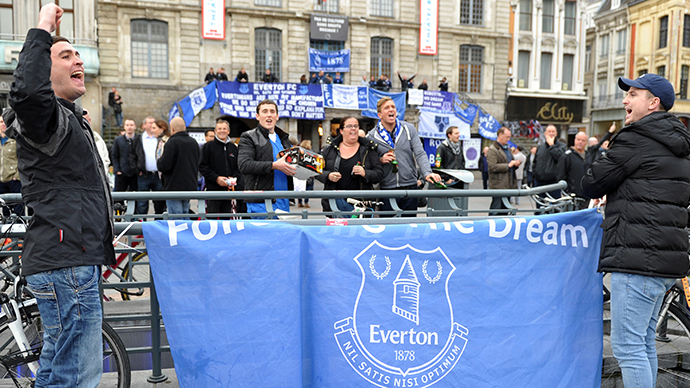 French police have used tear gas and rubber bullets against rioting English soccer fans who arrived in the country to support Liverpool side Everton in a Europa League match against Lille, local media report.
The clashes erupted at the Grand Place square in center of the city of Lille, Northern France. Everton Football Club has advised its fans to avoid the square where the unrest is taking place.
Absolutely disgusting behaviour from Lille police. Targeting/dispersing Evertonians for no reason via @GuillerezJSpic.twitter.com/aWRtYNEX5X

— GrandOldTeam.com (@grandoldteam) October 23, 2014
"@MirrorFootball: Image from @LivEchonews photographer @andyteebaypics from Lille. http://t.co/J3eRn9tqyDpic.twitter.com/xfnz5n9hPu" <Worrying!

— Gary Lineker (@GaryLineker) October 23, 2014
Visiting fans were lighting flares and throwing glass bottles at police officers. One Everton supporter reportedly suffered a head injury after being hit with a rubber bullet.
An Everton fan told the Daily Mail that the English supporters were merely singing their club chants when the police stormed into the square.
Lille and Everton are scheduled to face off at the Grand Stade Lille Métropole arena at 19:00 GMT. The two teams play in Group H of the Europe League together with Russia's Krasnodar and Wolfsburg of Germany.
More than 5,000 Everton fans have crossed the English channel to support their team against Lille.
Eye-witness updates from #Lille as #EFC fans tear gassed http://t.co/XCPdSKiwC5pic.twitter.com/CBthzbavoo

— Liverpool Echo (@LivEchoEFC) October 23, 2014
It's the second incident involving Everton fans since their arrival in the city. On Wednesday, a group of English fans was attacked by a mob of over 100 Lille supporters in one of the local bars.