UK police to withdraw over 1,400 football hooligans' passports ahead of World Cup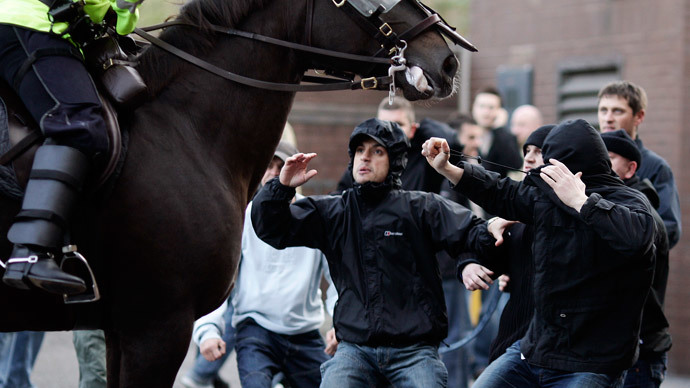 Some 1,400 football hooligans in England will have 'to surrender' their passports in the next few days to police to make sure they do not jet out for the upcoming World Cup event in Brazil. But what about Scottish, Welsh and Northern Irish delinquents?
The restriction concerns those fans who are convicted of football-related crimes and have a football banning order (FBO).
The passports of 1,452 hooligans have to be handed in to police authorities by June 3, ahead of England's opening warm-up game for the World Cup in Miami on June 4 and the World Cup on June 12.
Those who do not voluntarily hand in their passports – unless they have applied for an exemption – may expect a visit from police or even arrest. The offenders may also appear before a judge.
Football fans who 'surrender' their passports will be able to collect them at the end of England's involvement in the World Cup in Brazil, reports local media.
"We are rolling out well-rehearsed plans for the World Cup. We hope that it will be a successful and enjoyable tournament for fans … But we will not tolerate any football-related anti-social behavior or violence," Chief Inspector Jeff Foreman from Avon & Somerset Police told the Bristol Post.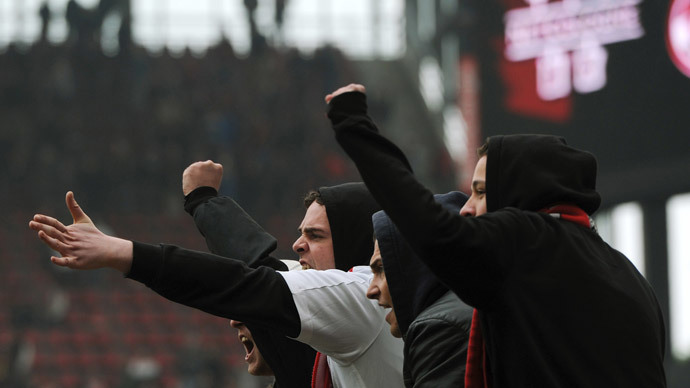 Meanwhile, the restriction does not spread to other parts of the UK such as Scotland, Wales and Northern Ireland. Football fans with banning orders from these regions may jet out to the football competition without any limitations.
Football banning orders preventing those with a known history of football-related violence or disorder from travelling to matches, both at home and abroad, were introduced in the country back in 2000.
An FBO prevents attendance at any match for a period of between three and five years, while for those who are imprisoned it extends to a period of between six and 10 years. Other conditions requested on an FBO may include exclusion zones around stadia before and after home fixtures.
Liverpool and Chelsea fans fight outside Anfield following Chelsea's 2-0 away win http://t.co/yRWfjrv5JQpic.twitter.com/g7cUIr8D2B

— MailOnline Sport (@MailSport) April 28, 2014
Since then they have proved an excellent tool for combating hooliganism, said Chief Superintendent Rachel Barber, of South Yorkshire Police who is leading a team of six UK police officers in Brazil.
"They are part of a broader suite of measures which have seen serious football misbehavior fall significantly in recent years and the fact that there have been no arrests of England fans for football-related violence during the last two tournaments supports this," she added.
Chelsea Headhunters on Paris rampage: 300 football hooligans smash-up shops.. http://t.co/82mOmsiBrO#edl#naziscumpic.twitter.com/t8Bve68Sp1

— Insecurity Division (@EDLParanoiaDiv) April 3, 2014
The UK had a reputation worldwide for football hooliganism from the early 1960s. However, since the 1980s the UK government has led a wide scale crackdown on football related violence. Although reports of British football hooliganism still surface, the instances now tend to occur at pre-arranged locations rather than at the matches themselves.
9 Arrested following #FACup trouble at Atherstone. http://t.co/vafQatl8bYpic.twitter.com/tosJUPEWli

— Terrace Life (@TerraceLife_) October 27, 2013
Police have plan in place for arrival of PSG fans ahead of Chelsea tie #MailOnlinehttp://t.co/HbxPfdcaWepic.twitter.com/EqKvmz3mrV

— Cixqo (@cixqo) April 7, 2014
football fans charged after Crystal Palace v Charlton "violence" http://t.co/NOw4ycCx#pyro#CAFC#CPFC#flarepic.twitter.com/kwWQ1pZX

— FootballFansceneUK (@VoiceAndColour) February 7, 2013