Gunshot wounds, fights with police: San Francisco riots after Giants win World Series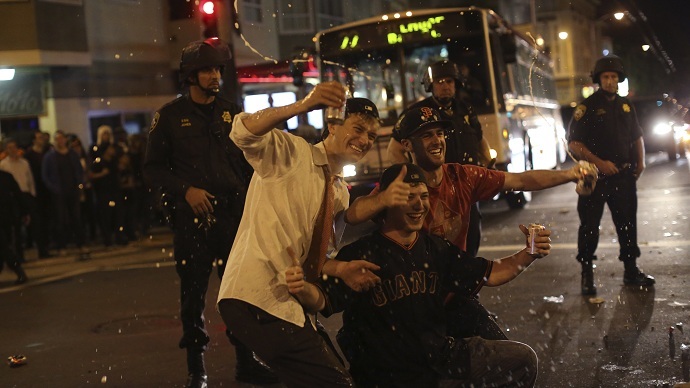 San Francisco Giants fans celebrated the team's World Series championship throughout the City by the Bay. The late-night festivities turned violent in some places, with three people injured and several arrests.
"I knew they were going to win. It's the Giants. They do this all the time," San Francisco native Barbra Norris, 54, told the Associated Press. The Giants have won three of the last five World Series, in 2010, 2012 and 2014.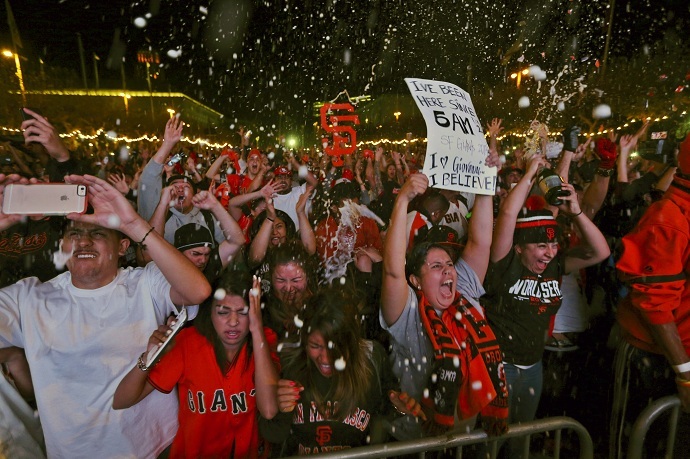 San Francisco Police Department officers made "a handful of arrests" as fans filled the streets and blocked traffic around the Civic Center, in the Mission District and on Market Street within walking distance of AT&T Park, Shyy told AP.
"The heavy stench of booze and marijuana filled the air everywhere the rowdy crowds gathered. Those people not inclined to break things headed home soon after the first spasm of celebration, casting nervous glances at the edgy celebrants staying behind — and then the real troubles began," the San Francisco Chronicle reported.
Casually rioting in San Fran with @DanUnoSietepic.twitter.com/6q2GBD8o45

— Zik Krtly (@ZacharyKirtley) October 30, 2014
Three people were injured: Two by gunshots and a man who was stabbed several times, police spokesman officer Gordon Shyy said. The gunshot wounds were not life-threatening; one was to the victim's hand. The stabbing victim was taken to SF General Hospital with serious injuries, according to the Chronicle.
SF Police car smashed in, officers had bottles thrown at them by out of control fans after World Series win #KTVUpic.twitter.com/YtbR3J34Qt

— taramoriarty (@taramoriarty1) October 30, 2014
"Police personnel were assaulted with bottles on Market Street and Mission district. Officers in the Southern district were also struck with bottles," Shyy said. "These objects were thrown at officers as they attempted to disperse crowds and assist firefighters extinguish bonfires."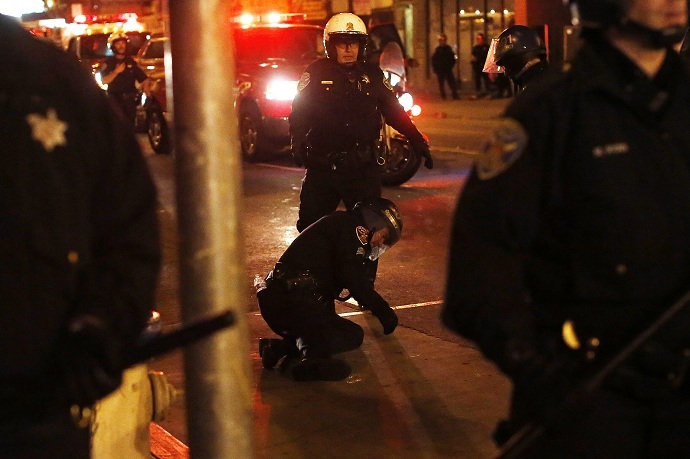 One officer was treated at a hospital, and multiple others suffered minor injuries.
Riot police set up a perimeter three rows deep around the Third and King streets area after thousands of fans began spraying beer on one another, smashing bottles, lighting fires and setting off fireworks, the Chronicle reported.
Quite the police presence in downtown SF following the #SFGiants#Game7 win! pic.twitter.com/Uywq06dzZg

— Chris Messina™ (@chrismessina) October 30, 2014
"We drove down to join in the celebration, but we're definitely keeping our distance to stay safe," Michelle Gomez, who was at the festivities with her husband Manny and their sleeping 2-year-old daughter Analise, told the city's paper. "We can have fun, but sometimes there's a limit."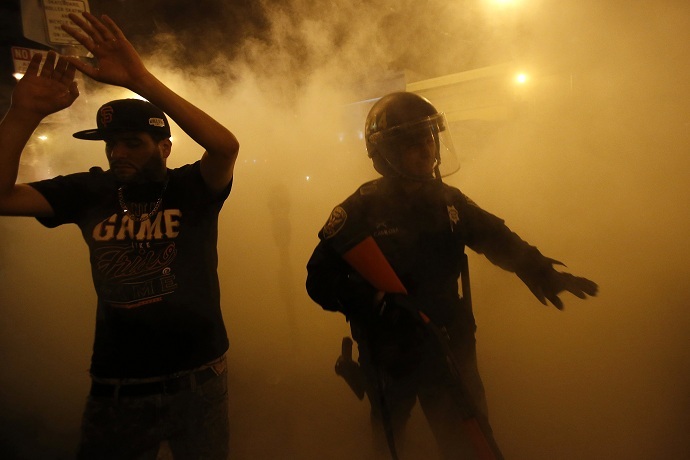 In the Mission District, revelers chanted, "Let's go Giants!" and "MadBum, MadBum, MadBum!" (for the series' most valuable player, pitcher Madison Bumgarner). They burned a couch, even as one woman begged them not to.
Bottles breaking, couches on fire, fireworks in the middle of the crowd. Because, yay baseball? pic.twitter.com/I7j2GmbV3O

— Kale Williams (@sfkale) October 30, 2014
"This isn't how we celebrate, y'all," she said to the crowd. "We're better than this!"
"Calm down, lady," was the response from one young man intent in seeing the burn. "It's just a couch."
Giants: 1 Couch: 0 pic.twitter.com/VHWbWb4A7E

— Kale Williams (@sfkale) October 30, 2014
Within minutes it was in flames. Partiers danced wildly around it, the Chronicle's Kale Williams reported from the scene.
Biggest fire yet at 19th and Mission. There's a drone overhead and a guy in a Bane mask. pic.twitter.com/nS593uqhzH

— Kale Williams (@sfkale) October 30, 2014
Earlier in the evening, across from San Francisco City Hall, where the exterior lights had been glowing orange all week, more than 9,000 people gathered in an outdoor plaza where the city had set up a Jumbotron and a vendor sold hot dogs but no beer, according to AP.
My sister lives in SAN FRAN and this is currently happening on her street lol pic.twitter.com/C4WykleJg3

— idonthaveacoolname (@Rebecca_Costa_) October 30, 2014
"You come out here to feel the pulse of the city. When it's the 7th game, you want to get the vibe," Geoff Goselin, 61, said as he watched the game.
"The Giants won a long time. Please go home." — cops on the loud speaker pleading w/ crowd of 20 on Valencia. pic.twitter.com/jGF3i0AjqP

— Kale Williams (@sfkale) October 30, 2014
The National League Giants beat the American League's Kansas City Royals 3-2 in a World Series that required all seven games be played.
Riots in San Fran after the game last night. How disgraceful. Kansas City would never destroy our beautiful city. pic.twitter.com/GPGgOxisBI

— Breah Sanders (@BreahSky) October 30, 2014
Kansas City had one of the most dominating playoff performances in baseball history, sweeping through the wildcard, League Division Series and League Championship Series with an 8-0 record. The Royals hadn't made it to the postseason since 1985, when they beat their fellow Missouri team, the St. Louis Cardinals, to win the World Series.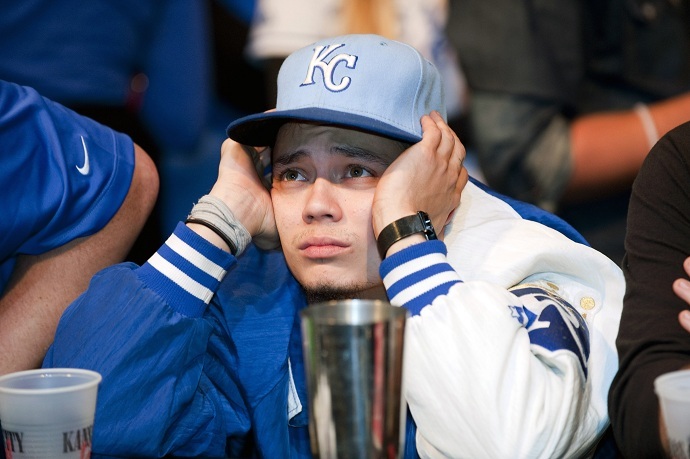 The mood in Kansas City, where the final game was played, was subdued.
Even after a heartbreaking loss, KC fans stayed in the stadium to chant LET'S GO ROYALS http://t.co/3Rka0TFW58pic.twitter.com/1qGXxREHNW

— SB Nation (@SBNation) October 30, 2014
"We came a long way and it wasn't an easy season," Royals fan Jacob Hamilton told the Kansas City Star. "But of course I am devastated."
Super classy move by KC; fountains at Kaufman Stadium turned orange when the @SFGiants won World Series last night pic.twitter.com/mZzsfXcZz9

— Pam Cook @ktvu (@PCooknews) October 30, 2014
"I was looking forward to what it would mean for Kansas City if they won," Katlin O'Malley said, crying on her 28th birthday. "But all the excitement isn't just going to go away. This was amazing. From wild card to the World Series. We already won."
You can share this story on social media: