Teachers look to take off Good Fridays through lawsuit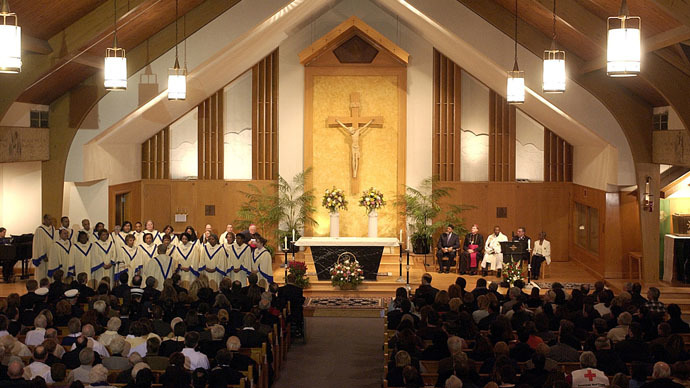 Teachers and other employees of Cranston Public Schools in Rhode Island are going forward with a lawsuit over their right to observe Good Friday in church, despite the objections of their employer and a court order giving them the day off.
A judge issued the preliminary injunction against the school district on Friday, saying that teachers may take the day off as long as they submit a request no later than April 1. The court order also says the school department can neither discipline teachers for requesting the day off nor deduct their pay.
Nearly 45 percent of the population in Rhode Island is Roman Catholic, according to the Public Religion Research Institute, making it the most Catholic state in the country.
Unlike in previous years, the Cranston Public Schools' calendar for the 2014-2015 academic year included classes on both Good Friday and the Jewish holiday of Rosh Hashanah, according to the Providence Journal. The school district allowed employees to request the day off for the Jewish New Year.
But when nearly 200 teachers and staff members in Cranston asked for Good Friday off, the school district denied their requests. One teacher, Anne McLaughlin, who has taken off the pre-Easter holiday ‒ during which Christians commemorate the crucifixion of Jesus ‒ for more than 30 years, told the Los Angeles Times that she was asked to provide documentation that church attendance was mandatory during the workday.
"I was shocked. Observing Good Friday is central to my Catholic identity," McLaughlin, 56, said of the day. "Reflecting and praying from noon to 4 is something that I feel personally obligated to do."
READ MORE: Christians remember Christ's Crucifixion on Good Friday
The teachers' union sued in mid-March, on behalf of the 200 affected employees.
In a joint statement, Superintendent of Cranston Public Schools Judith A. Lundsten and the Cranston School Committee said that the holiday of Rosh Hashanah specifically states that Jews may not work, while Good Friday has no such requirement for Christians.
"It is unfortunate that the Cranston Teachers' Alliance initiated a lawsuit regarding Good Friday. Certainly, we always seek to respect our students' and staff's religious practices," Lundsten said. "From our perspective, this is about a calendar that was agreed upon and passed by the school committee nine months ago."
"Teachers, teacher assistants, technical assistants and bus aides have the provision in their contracts to request up to two (2) religious observance days," she continued. "The contractual language states, they may be granted the day off if their... 'religious observance obligations require attendance at religious services held during the school day'."
Kevin Daley, the attorney representing the union, told the LA Times that the collective bargaining agreement allows school employees to use one of their religious observance days on Good Friday without documentation.
"Good Friday is one of the most holy days on the Christian calendar, second only to Easter," he said, adding that observants "are required to remain in silence from 12 to 3 [p.m.], and they must also remain in deep prayer during that time."
"It would be impossible for them to meet those obligations if they were in school. Those obligations are traditionally met by attending church," he said, arguing that the school district has a contractual obligation to allow its employees to take Good Friday off because it provides the two religious observance days.
READ MORE: NYC public schools to close for two Muslim holidays
But Lundsten argued that religious considerations had taken a back seat during negotiations with the Cranston Teachers' Alliance (CTA), the teachers' union.
"The Cranston Teachers' Alliance actively negotiated teacher assistant, technical assistant and bus aide contracts. In those negotiations, teacher assistants, technical assistants and bus aides sought to increase their hourly wage by giving up certain paid holidays. Good Friday was one of those paid holidays; so to come back with this lawsuit is rather surprising," she said in the statement.
Some teachers had called for turning Good Friday into a holiday when they were denied the day off. But Janice Ruggieri, chair of the Cranston School Committee, said that avenue was not plausible due to the number of school closures the district experienced due to snow.
"While in past years schools were closed on certain religious holidays, the current calendar eliminated those holidays," Ruggieri said in the statement. "I do not think changing the calendar at this time would be prudent."
Daley told AP that the order temporarily allows the teachers to observe Good Friday. He says a full hearing will determine whether the teachers can observe the holiday going forward.
Cranston Public Schools will discuss the 2015-2016 academic calendar during a School Committee work session on April 8, and it will be discussed and voted on during a public session of the School Committee on April 13.