​'War on Christmas' as DC suburb scraps religious holidays on calendar
Published time: 13 Nov, 2014 12:34
Edited time: 13 Nov, 2014 14:30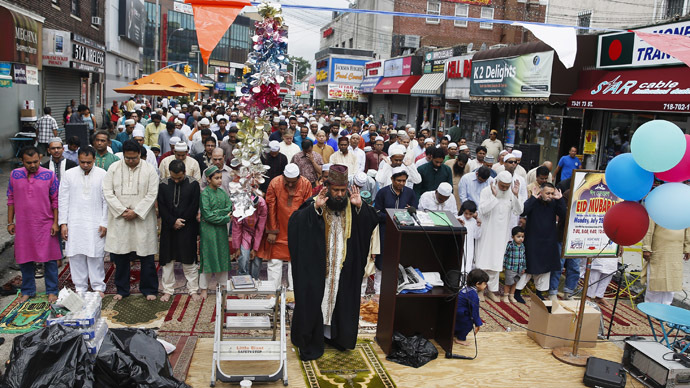 US conservative groups are in an uproar as an affluent D.C. suburb decided to remove any mention of religious holidays – Christmas included – following complaints from Muslim groups that their holidays were not being recognized.
The multi-ethnic, multi-denominational Montgomery Countyfaced a dilemma after its Muslim community had petitioned to include two of its religious holidays in the school calendar, as was the case with Christian and Jewish holidays.
READ MORE: New Jersey Muslims outraged by NYC mayor's support of surveillance
Instead of finding the space on the calendar for mentioning the Muslim holidays, however, the Montgomery CountyBoard of Education voted 7-1 to eliminate the mention of all religious holidays, a move that sparked a religious firestorm. Now, schools will be closed on the Jewish holiday of Yom Kippur and the Muslim holiday of Eid al-Adha, which are celebrated next year on the same day, without mention of the feast days in the calendar.
School district dumps Christmas to appease Muslims http://t.co/btuCqFofAO

— toddstarnes (@toddstarnes) November 12, 2014
The announcement triggered heated criticism from around the country. One Fox commentator practically compared the decision to the 'Grinch who stole Christmas.'
"As of next year – all Christian and Jewish holidays will be removed from the calendar," wrote Todd Starnes, with no loss of hyperbole. "That means no more Christmas, no more Easter and no more Yom Kippur."
"There's no word on whether the board will remove the Irish from St. Patrick's Day or the love from St. Valentine's Day, or the trees from Arbor Day," he added.
Even for the Montgomery School Board, the decision did not bring much comfort.
"It was a no-win situation for us," school board chairman Phil Kaufman told AP.
At the same time, the Muslim community was also disappointed with the vote, describing it as a "drastic step."
"By stripping the names Christmas, Easter, Rosh Hashanah and Yom Kippur, they have alienated other communities now, and we are no closer to equality," said Saqib Ali, a former Maryland state delegate and co-chair of the Equality for Eid Coalition. "It's a pretty drastic step, and they did it without any public notification."
Zainab Chaudry, also a co-chair of the coalition, said the Montgomery school officials went "so far as to paint themselves as the Grinch who stole Christmas" to avoid recognizing Muslim religious days.
"They would remove the Christian holidays and they would remove the Jewish holidays from the calendar before they would consider adding the Muslim holiday to the calendar," she said.
Due to the separation of church and state, US public schools are forbidden from citing religious holidays as a reason for closing. However, in the event that remaining open would appear redundant due to the high number of students remaining at home, schools are permitted to declare days off on those holidays.
Montgomery County's school system ranks as the 17th largest in the country, with 154,000 students.