New Jersey Muslims outraged by NYC mayor's support of surveillance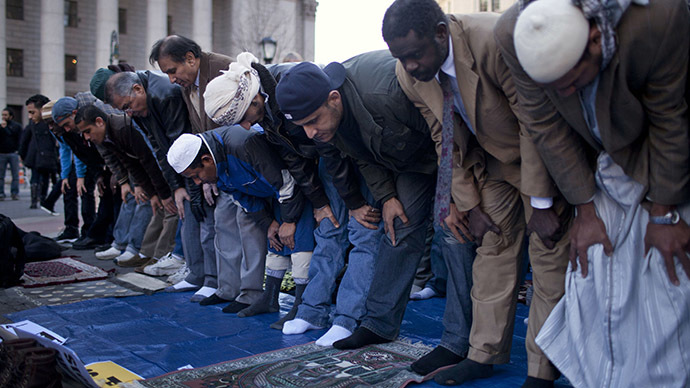 New Jersey Muslims who are suing New York City over the police department's alleged spying on them strongly criticized arguments in favor of continuing the program while appearing in court on Friday, labeling them "truly troubling."
Filed in 2012, the lawsuit brought by members of New Jersey's Muslim community claimed surveillance by the New York Police Department violated the constitutional rights of hundreds of American Muslims. A federal judge dismissed their case in February, but now the plaintiffs are pursuing the case in appeals court. They are dismayed by the city's response under the administration of Mayor Bill de Blasio.
In its brief to the appeals court deciding whether to overturn that ruling in Hassan et. Al v. City of New York, the city argued that the court should uphold US District Judge William Martini's decision and defended the practice of spying on American Muslim communities even without suspicion of wrongdoing.
READ MORE:'Like Hoover on MLK': Greenwald to expose NSA spying on US Muslims
When Judge Martini dismissed the New Jersey lawsuit in February, he claimed the only harm from the surveillance came when the Associated Press disclosed it over a series of articles. The court also endorsed the city's argument that its targeting of Muslims on the basis of their faith alone was justified in response to the attacks of September 11, 2001.
New Jersey Muslims Say De Blasio's Defense Of NYPD Surveillance Is 'Truly Troubling' http://t.co/M7xdRDARKq via @HuffPostPol

— Muslim Advocates (@MuslimAdvocates) November 11, 2014
"[The] brief is disappointing because it shows that the new administration does not care about protecting Americans' basic right to pray," Glen Katon, legal director for Muslim Advocates, said in a statement released by the Center for Constitutional Rights. "We've seen the serious hard the NYPD has inflicted on victims just because they are Muslim, and the City's brief continues to argue that the NYPD should be allowed to spy on people because of their faith."
De Blasio is blaming the AP for harming Muslims by exposing the NYPD's spying on Muslims http://t.co/qSs6qBUkcI

— HanK (@HenryKrinkIe) October 14, 2014
READ MORE:FBI accused of targeting Islamic leaders, pressuring them to become informants
Katon argued in the brief that "there is no dispute that the NYPD's unconstitutional surveillance program was a 'but for' cause of Plaintiffs' injuries and that without the program there would have been nothing for the Associated Press to expose."
AP produced the prize-winning news series based on a 60-page report of the New Jersey Police Department's collaboration with the NYPD when conducting a massive surveillance program against Muslims in businesses, student unions, restaurants, and even mosques. Muslims were outraged and filed a lawsuit against New York City, claiming the spying was illegal and a violation of the First Amendment of the US Constitution.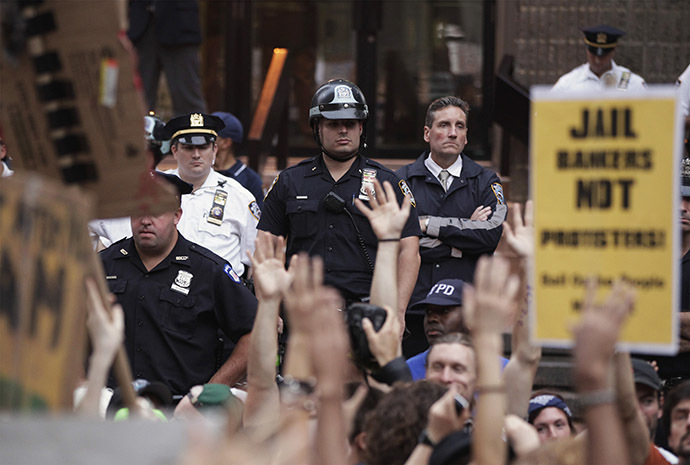 In its expose, AP said that for months in mid-2007, plainclothes officers from the NYPD's Demographics Units fanned out across Newark, taking pictures and eavesdropping on conversations inside businesses owned or frequented by Muslims. Those findings made up the 60-page report containing brief summaries of businesses and their clientele. Police also photographed and mapped 16 mosques, listing them as "Islamic Religious Institutions." The former Mayor of Newark, now US Senator Cory Booker, said he never authorized the spying and was never told it was happening.
READ MORE:FBI accused of targeting Islamic leaders, pressuring them to become informants
The goal of the report was to give police quick access to information about Muslim neighborhoods. If police got a tip about an Egyptian terrorist in the area, they wanted to know where he might find a cheap room to rent, buy his lunch, and pray. AP said the effect of the program was that hundreds of American citizens were catalogued – sometimes by name, sometimes simply by their businesses and their ethnicity – in secret police files that spanned hundreds of pages.
"It's not asking much for the NYPD to respect rights of Muslims as typical Americans and not treat us like criminals when we haven't done anything illegal," said Farhaj Hassan, the lead plaintiff in Hassan et. Al v. City of New York, in a statement released by the Center for Constitutional Rights, a co-counsel in the case.
The Center for Constitutional Rights says that in more than 10 years of operation, New York City's discriminatory program has failed to produce a single lead.
The city is exploring a settlement in two other lawsuits over its post-9/11 surveillance of Muslims, but not in the case of the New Jersey Muslims.
You can share this story on social media: