NYC public schools to close for two Muslim holidays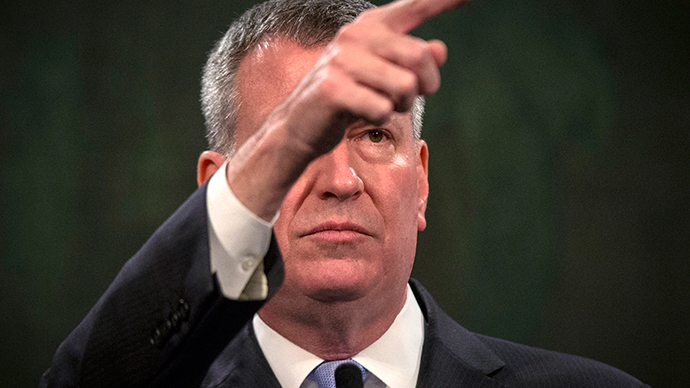 New York City Public Schools will get two new days off in 2015, as Mayor Bill de Blasio announced the city will incorporate the Muslim holidays of Eid al-Fitr and Eid al-Adha into its academic calendar. It will be the largest US school district to do so.
De Blasio tweeted the change in policy Wednesday, calling it "a change that respects the diversity of our city." The addition of the two holidays fulfills a pledge the mayor made during his campaign to better represent New York's increasing and diverse Muslim population, the New York Times reported.
Today we'll announce the addition of Eid al-Adha & al-Fitr to @NYCSchools holiday schedule, a change that respects the diversity of our city

— Bill de Blasio (@BilldeBlasio) March 4, 2015
The official announcement by de Blasio and Schools Chancellor Carmen Farina came four hours later at PS/IS 30 in Brooklyn, where officials said 36 percent of students were absent the last time Eid al-Adha fell on a school day, according to WCBS.
"We're here today to make good on a promise to our Muslim brothers and sisters that a holiday of supreme importance to the Muslim community will be recognized in our school calendar so that children can honor the holiday without missing school," the mayor said.
"We are committed to having a school calendar that reflects and honors the extraordinary diversity of our students," said Farina.
"Our foundational docs support free expression of religion. We seek 2 create a more perfect Union."--Mayor de Blasio pic.twitter.com/OlCcKssG4u

— Interfaith Center NY (@ICNY) March 4, 2015
Official estimates of the number of Muslims living in New York City vary from 600,000 to 1 million, with Columbia University estimating that 95 percent of Muslim children attended the city's public schools in 2008, composing 10 percent of the public education population.
Eid al-Fitr, or the Feast of Fast-Breaking, falls on the first three days after Ramadan. It celebrates the end of the month-long fast during daylight hours. Eid al-Adha, or the Feast of the Sacrifice, is a three-day feast that marks the culmination of the Hajj (pilgrimage to Mecca), and commemorates the Prophet Ibrahim's (Abraham's) willingness to sacrifice his son Ismail (Ishmael) at God's request.
In 2015, the holidays are celebrated in July and on September 23 to 24, respectively. New York City schools will be closed for Eid al-Adha on the 24th, while students and teachers participating in summer school will get Eid al-Fitr ‒ tentatively scheduled to begin July 17 ‒ as a designated holiday, the mayor's office said.
City officials and Muslim leaders alike cheered de Blasio's announcement.
Post by Linda Sarsour.
"Islam is one of the largest religions in the world, and the Muslim community is thriving not just in the Bronx but throughout the city of New York," said Bronx Borough President Ruben Diaz, Jr. "This decision allows our city's Muslim community to fully practice their faith without it interfering with their school attendance and education. As I have said in the past, by recognizing these two important holidays, we show that not only are we welcoming to everyone's religious beliefs but that we respect everyone's Constitutional right to freedom of religion."
The Big Apple has been debating the issue since at least 2009, when the New York City Council voted 50-0 to recognize Muslim holidays. The vote was merely a resolution to show solidarity with the Muslim community. Then-Mayor Michael Bloomberg argued against the move, saying that the schools are simply too diverse to recognize all holidays and that kids should not miss more school.
A year later, hundreds of New Yorkers rallied outside City Hall in support of adding Muslim holidays to the school calendar.
"It's only two days. If Christmas holidays get a 10 day break, why can we not have two days?" teacher Batina Abdul-Mumia asked at the time.
Other school districts are grappling with how to incorporate growing religious diversity into their academic calendars. In November, the Montgomery County Board of Education ‒ which runs schools in the affluent Maryland community just outside the nation's capital ‒ voted 7-1 to remove all mentions of religious holidays from its school calendar, regardless of denomination. The district has closed schools for two major Jewish holidays for decades, as well as scheduled its winter and spring vacations around Christmas and Easter. The holiday names were struck from the calendar, though the days off remain.
This year, Montgomery County Public Schools will be closed on the Jewish holiday of Yom Kippur and the Muslim holiday of Eid al-Adha, which are celebrated on the same day, without mention of the holy days in the calendar.
While New York schools will begin observing the Muslim holidays in 2015 thanks to de Blasio, the mayor hasn't taken a position on whether Diwali, a festival celebrated in India and other South Asian countries, will get the same treatment, he told WNYC.
"It is complicated in terms of logistics and school calendar and budget. But it's something I want to get done in a reasonable time frame," de Blasio said on Monday.
A spokesman for the Indian community appealed to the mayor to recognize the Hindu holiday, the New York Daily News reported.
"We are disappointed. We've been trying for a long time… It's very important for the community," Dr. Shashi Shah of the Association of Indians in America said.
You can share this story on social media: