Indiana declares state of emergency for HIV epidemic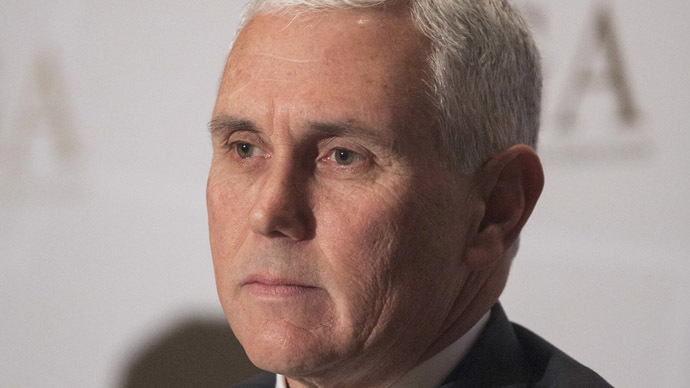 Indiana Gov. Mike Pence (R) has declared a state of emergency as Indiana battles the worst HIV outbreak in its history. At least 79 people have been diagnosed in one rural area, and the epidemic is linked to needle-sharing by opiate users.
The outbreak in Scott County, Indiana began with the first diagnosis in mid-December. By late January, there were seven known HIV-positive patients in the rural, five-county area. In February, the number climbed to 26. Now there are 79 confirmed cases of HIV originating in the southeastern Indiana county. Typically, Scott County would see fewer than five new HIV cases in a year, state officials said.
"Scott County is facing an epidemic of HIV, but this is not a Scott County problem; this is an Indiana problem," Pence said in a statement. "The people of Scott County are working hard to address this crisis, and with additional state resources and new tools provided by this emergency declaration, I am confident that together we will stop this HIV outbreak in its tracks."
Pence issued an executive order Thursday that orders the Indiana State Department of Health (ISDH) to set up an incident command center to coordinate HIV treatment and substance abuse treatment and requires state and local health, law enforcement and emergency response agencies, as well as health care providers and hospitals to cooperate and assist in disaster response. The order also authorizes a "targeted, short-term needle exchange program for the sole purpose of containing the epidemic." Pence has consistently said he doesn't support needle exchanges as an anti-drug policy.
In addition, the ISDH will launch a three-month regional public awareness campaign, called "You Are Not Alone," which will focus on drug treatment, infection prevention, safe sex, needle disposal and HIV testing and treatment.
READ MORE: Painkiller plague: 18 American women die every day from prescription drugs
All the cases are linked to needle sharing for intravenous drug use, mostly with the prescription painkiller Opana. State health officials say they expect to see more cases appear in the coming weeks.
"I am deeply troubled by this outbreak, and stopping it is a top priority for our department," State Health Commissioner Jerome Adams said in a statement Friday. "We are engaging local, state, and national partners to determine where we can most effectively focus our efforts. Extra care is being taken to invest resources in getting people off drugs and into treatment, since drug abuse is the clear driving force behind this outbreak."
The US Centers for Disease Control and Prevention (CDC) arrived Tuesday in the Scott County town of Austin ‒ considered the epicenter of the outbreak ‒ to combat the epidemic and administer HIV tests to residents. The CDC supports needle exchange programs.
Dr. William Cooke, medical director for Family Foundations Medicine in Austin, wasn't surprised by the outbreak.
"We have kind of a recipe for disaster, all the bad ingredients — unemployment, high dropout, high teen pregnancy rate, high drug abuse rate," he told AP, noting that more than half of Scott County deaths are due to IV drug overdose.
"We've seen an increase in overdoses. We've identified that most of our IV drug users are hepatitis-C positive. We knew it was a only matter of time until HIV set in," Cooke told NBC News. "We've been asking for help for a long time. We identified long ago there was an undercurrent here that was very unhealthy."
Dr. Kevin Burke, Clark County public health officer, told the Indianapolis Star that he hopes that even though the governor instituted a temporary needle exchange program, the legislature will act for a longer one.
"A 30-day program would be much too short," he said. "You're not going to help those people long-term."
Dr. Burke testifying in support of needle exchange measures to suppress Indiana HIV outbreak. pic.twitter.com/1ORmaADSU2

— IN St Medical Assn (@TheISMA) March 25, 2015
The needle exchange will only be available in Scott County, which doctors say won't be helpful in curbing the spread of HIV.
"[Interstate] 65 goes from south to north," Dr. Deepak Azad, an internist in Scott County, told the Indianapolis Star. "Keeping a needle exchange program only in Scott County is not going to solve the problem."
Republican state Rep. Ed Clere introduced an amendment to a bill on Wednesday that would create a needle exchange program in the state.
"My focus is on the crisis in southeastern Indiana and what the legislature can do to help mitigate it," Clere told Healthline. "Facilitating needle exchange is an obvious opportunity to slow the spread of HIV there, and to prevent additional outbreaks in other areas of the state. This outbreak has highlighted the lack of HIV/AIDS infrastructure in Indiana, including a widespread lack of available testing, and I expect a number of legislators will be interested in addressing that and other deficiencies and opportunities going forward."
Lawmaker to propose allowing clean needle distribution to slow HIV outbreak. @jkhrpr has more. http://t.co/bhvwjowru1pic.twitter.com/PjLJlaETkb

— WFYI News (@WFYINews) March 20, 2015
"Needle exchange is a proven and effective harm reduction measure. It isn't a new concept," he added. "To the contrary, needle exchange programs across the country have been protecting public health and saving lives for more than two decades."
You can share this story on social media: