Only 30% of HIV-positive Americans have virus under control ‒ CDC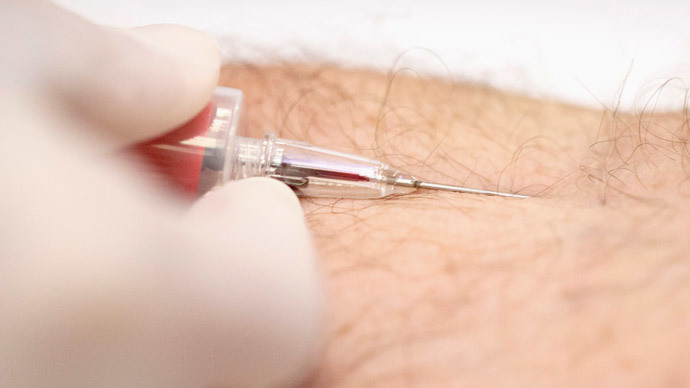 The number of Americans living with HIV who have the virus under control has plummeted to just 3 in 10, according to the Centers for Disease Control and Prevention. Youthful nonchalance and the cost of the antiretroviral drug cocktail may be to blame.
The CDC estimated the percentages of persons living with HIV during 2011, using data from the National HIV Surveillance System and the Medical Monitoring Project. Researchers then broke the data down along what they called the 'HIV Care Continuum,' which looks at whether patients with the virus have been diagnosed, sought medical care after the diagnosis, been prescribed antiretroviral therapy (ART) drugs, or have the disease under control.
In 2011, an estimated 1.2 million persons were living with HIV in the United States. Of those, an estimated 86 percent were diagnosed with HIV, 40 percent were engaged in HIV medical care, 37 percent were prescribed ART, and 30 percent achieved viral suppression.
"For people living with HIV, it's not just about knowing you're infected – it's also about going to the doctor for medical care," said CDC director Tom Frieden in a statement. "Key to controlling the nation's HIV epidemic is helping people with HIV get connected to – and stay in – care and treatment, to suppress the virus, live longer and help protect others."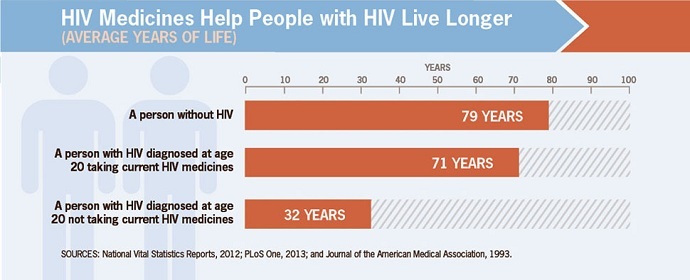 NBA Hall of Famer Earvin 'Magic' Johnson became a spokesperson for the disease after he was diagnosed with HIV in 1991. He credits the fact that he has remained healthy ‒ that his HIV has not developed into AIDS ‒ on the combination of pills that HIV-positive people take to keep the virus at bay, he told Sirius XM's HipHop Nation.
"Thanks to Johnson's story and that of other celebrities, a generation of Americans removed from the AIDS epidemic of the 1980s don't see HIV as a death sentence," ThinkProgress reported. "Awareness campaigns, billions of dollars in research and improvements in testing and prevention techniques have lengthened the lives of millions of people with the virus. In recent years, mother-to-child transmission of the virus also dropped by nearly 90 percent."
But those who were born around the time Johnson announced he had contracted the disease may be too far removed from the AIDS epidemic. Young people were least likely to have the virus in check, the report found.
"Young people today have not seen the epidemic killing their friends and partners like those at-risk did in the 1980s," Rolando M. Viani, professor of clinical pediatrics at the University of California, San Diego, said in a 2009 interview with health website Infectious Diseases in Children. "Among many young people, this has led to the development of a somewhat nonchalant attitude about HIV risk. Many young people do not understand the difficulties they will face if they acquire HIV infection and the enormous challenge of HIV treatment."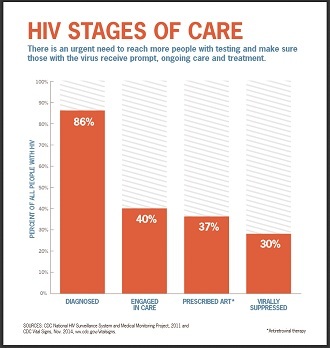 Although the smallest subset of all people with HIV are those between 18 and 24 years old, the report found that only 22 percent of people in this group are currently engaged in HIV care and just 13 percent have suppressed the virus. Less than half of those estimated to be infected in that age bracket have been diagnosed. Suppression for other age ranges is as follows: 23 percent of those aged 25-34, 27 percent of those aged 35-44, 34 percent of those aged 45-54, 36 percent of those aged 55-64, and 37 percent of those aged 65 and older.
"It's alarming that fewer than half of HIV-positive young adults know they are infected," Dr. Eugene McCray, director of the CDC's Division of HIV/AIDS Prevention, said in the agency's statement. "Closing that gap could have a huge impact on controlling HIV – knowing your status is the first critical step toward taking care of your own health and avoiding transmission to others."
The report's authors recommend that all adolescents and adults "should be tested for HIV infection at least once." And those who are diagnosed with the virus "should receive medical care and be offered ART as soon as possible after diagnosis with HIV infection…to prevent deterioration of immune function, prolong life, and decrease transmission risk."
Dr. Jonathan Mermin ‒ director of the CDC's National Center for HIV/AIDS, Viral Hepatitis, STD and Tuberculosis Prevention ‒ also focused on the urgent need for treatment.
"There is untapped potential to drive down the epidemic through improved testing and treatment, but we're missing too many opportunities," Mermin said in the statement. "Treatment is crucial. It is one of our most important strategies for stopping new HIV infections."
However, treatment itself is also a burden on those diagnosed with the virus, ThinkProgress noted. The ART drug cocktail is expensive, in part because many insurance providers have categorized special drugs — including those that treat HIV — so that patients shoulder as much as 50 percent of the total cost. The move was a reaction to the Affordable Care Act, which forbids insurance companies from refusing coverage to people with pre-existing conditions.
"While Obamacare caps annual out-of-pocket costs at $6,350 for individuals and $12,700 for families, patient advocates say that many HIV patients usually end up reaching the cap before insurance money kicks in," ThinkProgress reported.
Dr. Melanie Thompson, a Georgia physician, decried the practice. "By putting the drugs that are recommended up on the highest tiers in an unaffordable place, they are in essence discriminating against people with HIV because these are the lifesaving drugs they require to survive," she told Reuters in August.
According to the CDC, as many as 50,000 Americans become infected with HIV each year. The study did not find statistically significant differences in viral suppression by race or ethnicity, sex, or risk group.
You can share this story on social media: