DOJ won't charge Wilson with civil rights violations in Ferguson shooting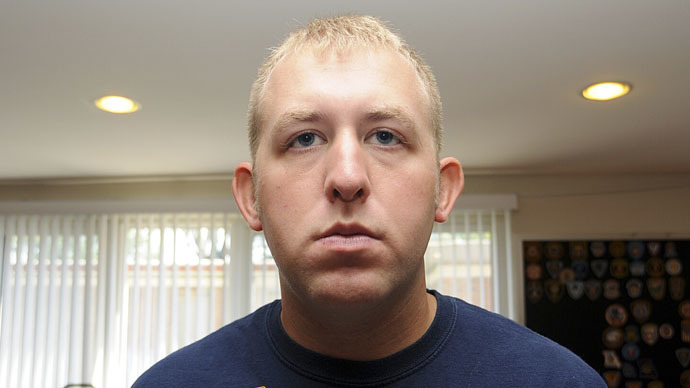 In a widely expected move, the US Justice Department has cleared former Ferguson, Missouri Police Officer Darren Wilson of civil rights violations after he shot and killed unarmed teenager Michael Brown in August.
Wednesday's announcement closes the book on the federal investigation into the incident in which Wilson, a white police officer, killed the black 18-year-old. The Justice Department said forensic evidence and other witnesses backed up Wilson's account that Brown fought with him, reached for the officer's gun, then charged him, the New York Times reported. Wilson repeatedly told investigators ‒ both state and federal ‒ that he feared for his life.
"There is no evidence upon which prosecutors can rely to disprove Wilson's stated subjective belief that he feared for his safety," the report said.
While several witnesses told investigators that Brown was surrendering to the officer when he was shot, the report found that those observers were not credible.
"Some of those accounts are inaccurate because they are inconsistent with the physical and forensic evidence; some of those accounts are materially inconsistent with that witnesses' own prior statements with no explanation," it said.
"Although some witnesses state that Brown held his hands up at shoulder level with his palms facing outward for a brief moment, these same witnesses describe Brown then dropping his hands and 'charging' at Wilson," it added.
"Those witness accounts stating that Brown never moved back toward Wilson could not be relied upon in a prosecution because their accounts cannot be reconciled with the DNA bloodstain evidence and other credible witness accounts."
READ MORE: Justice Department set to clear Ferguson police officer of civil rights charges
In January, reports surfaced that the Justice Department had begun work on a legal memo recommending no civil rights charges be filed against Wilson, after federal investigators had signaled for months that they were unlikely to file charges.
While the federal government has decided that Wilson did not violate Brown's civil rights, the Ferguson Police Department is not off the hook. The Justice Department released a report Wednesday that alleges that Ferguson police are guilty of disproportional fining and arresting African-American residents to balance the town's budget, making the lives of those unable to pay a nightmare.
In November, grand jury in Missouri declinedto indict Wilson for the shooting. The announcement touched off riots in the St. Louis suburb, which had been rocked by protests since Brown's death in August.
You can share this story on social media: