Justice Department set to clear Ferguson police officer of civil rights charges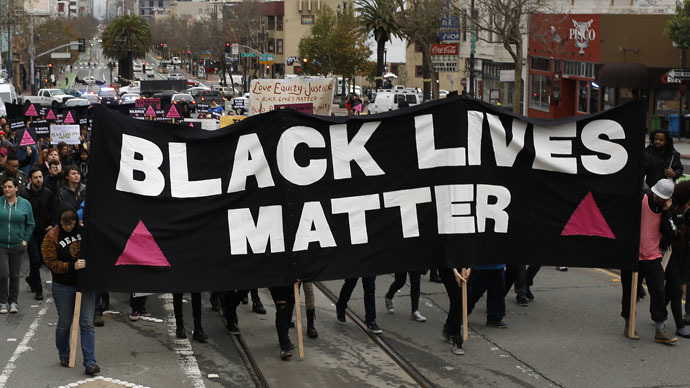 The Justice Department has begun work on a legal memo recommending no civil rights charges be filed against Darren Wilson after he shot and killed unarmed black teenager Michael Brown in August, the New York Times reported.
A broader investigation is still underway into the general use of excessive force and discriminatory police stops by the Ferguson Police Department.
READ MORE:Police brutality activists angry Obama glossed over Ferguson 'events' in SOTU
Regarding potential civil rights charges against Wilson, the investigation by the FBI is said to be complete and no evidence was found to support, officials told the NYT, which first broke the story. Prosecutors would have to prove that Wilson violated Brown's right "to be free of unreasonable seizure of his person," that Wilson intended to violate Brown's right when he opened fire and he had done so willfully – essentially, that he knew it was wrong to fire but did so anyway. Federal investigators had signaled for months that they were unlikely to file charges.
http://t.co/SqgdSdWvLb No Civil Rights Charges in Ferguson Shooting. NO SURPRISE. FBI not gonna lie for these POS pic.twitter.com/1oZw4TPika

— Martin W. Schwartz ћ (@Swohtz) January 21, 2015
"It's very hard to prove," William Yeomans, a former prosecutor with the Justice Department's Civil Rights Division, initially stated.
"It's difficult to prove exactly what was in his mind at the time, that he wasn't acting out of a reasonable sense of fear," he added, reported Yahoo News last November when the investigation was underway
"It's a very hard standard to meet - not impossible, but very, very tough."
READ MORE:What the jury heard as Darren Wilson defended the killing of Michael Brown
Law enforcement officials told the NYT that the Justice Department has been working on the legal memo and will release a report explaining its decision, but they gave no indication as to when this would occur.
Leak to NYT of "no charges" recommendation coming in DOJ investigation into Michael Brown shooting: http://t.co/6s9woXPfXu

— Chris Geidner (@chrisgeidner) January 21, 2015
Benjamin L. Crump, a lawyer for Brown's family, told the newspaper he did not want to comment on the investigation until the Justice Department made an official announcement.
"We've heard speculation on cases before that didn't turn out to be true," Crump said. "It's too much to put the family through to respond to every rumor."
He added that at the end of last year, the Justice Department had told him it was still investigating.
READ MORE: 'I have clean conscience, did my job right': Ferguson officer Wilson on Brown's death
The state failed to indict Wilson on criminal charges for Brown's murder, with Attorney General Eric Holder announcing at the time the Justice Department would continue its own investigation. Federal prosecutors shared information with local prosecutors during the course of the investigation, and even conducted their own autopsy.
The killing of Brown, who was shot at least six times, sparked months-long protests and anger in Ferguson, a predominantly black suburb of St. Louis whose community officials and police officers are mostly white, and across the nation in communities that have seen similar police killings – especially of young black men – go unpunished.
However, a wider civil rights probe is underway by the Justice Department regarding allegations about the practice and policies of the Ferguson Police Department.
Police have been accused of routinely engaging in discriminatory traffic stops and using excessive force. The investigation could lead to significant departmental changes, as other federal reviews have done for police departments in Albuquerque, New Mexico, and Newark, New Jersey.
You can share this story on social media: