Police brutality activists angry Obama glossed over Ferguson 'events' in SOTU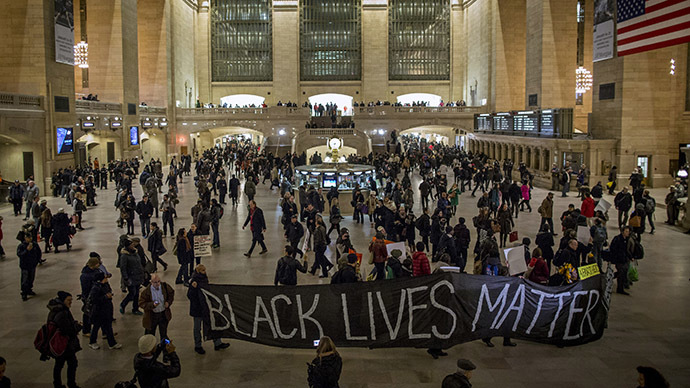 President Barack Obama's 2015 State of the Union address only briefly mentioned efforts to combat police brutality, but while he called for reform of the criminal justice system, many advocates for change criticized the brevity of his remarks.
Despite months of massive civil protests over the failures of the justice system to indict police officers for the deaths of African Americans Michael Brown in Ferguson, Missouri, and Eric Garner in New York City, scant mention was made on the issue until the end of President Obama's speech.
Referring to the controversial deaths as "the events of Ferguson and New York," President Obama asked people to see both sides of the issue.
"We may have different takes on the events of Ferguson and New York," he said, "but surely we can understand a father who fears his son can't walk home without being harassed. Surely we can understand the wife who won't rest until the police officer she married walks through the front door at the end of his shift."
Obama added that the crime rate and the incarceration rate are coming down, saying he supported the desire to reform America's criminal justice system.
"Surely we can agree it's a good thing that for the first time in 40 years, the crime rate and the incarceration rate have come down together, and use that as a starting point for Democrats and Republicans, community leaders and law enforcement, to reform America's criminal justice system so that it protects and serves us all."
For many users on Twitter, like @MariaN904, his words were not enough:
Me: So that's all ur going 2 say abt #Ferguson#MikeBrown#EricGarner & attack on the Black community by police? #POTUS: Yes. Me: Bet. #SOTU

— Maria C. Fernandez (@MariaN904) January 21, 2015
Ferguson protester @deray also felt like something was missing:
I need to read the transcript re: Obama's Selma and Ferguson comment. I feel like I missed something. #SOTU

— deray mckesson (@deray) January 21, 2015
Meanwhile, @ShaunKing was impressed a mention of Ferguson made it into the State of the Union at all:
6 months ago, I had honestly never heard of Ferguson, Missouri. That it was mentioned in the #SOTU tonight shows the impact it's had on us.

— Shaun King (@ShaunKing) January 21, 2015
Media consultant Viviana Hurtado, who created The Wise Latina Club website, thought it was a politically astute move:
#SOTU: Prez walked tightrope btwn comm& #police, argued4fairer criminal justice system #Ferguson#BlackLivesMatter#EricGarner#ICantBreathe

— Viviana Hurtado, PhD (@vivianahurtado) January 21, 2015
Peace activist group Code Pink always thinks more can be done:
Criminal justice system has a loooOOOOOooooonnnnggg way to go before it "protects and serves all of us" #SOBU#SOTU

— CODEPINK (@codepink) January 21, 2015
Writer Sarah Kendzior called out Obama's reference to the issue, noting that he was actually referring to the largest protest movement in the country.
"The events in Ferguson and New York" = "Mass movement protesting law enforcement officials who kill with impunity". ICYMI. #SOTU

— Sarah Kendzior (@sarahkendzior) January 21, 2015
Others took issue with the lack of details on the president's part.
I want to know from @BarackObama how exactly does he think we need to reform our criminal justice system? Need details. #SOTU

— Linda Sarsour (@lsarsour) January 21, 2015
We are just waiting to hear when Black Lives and the lives of the poor will matter in the #SOTU. #SOBU

— Millions March NYC (@MillionsMarch) January 21, 2015
You can share this story on social media: