Bill O'Reilly busted, take four: Fox News admits his tall tales about Irish terrorists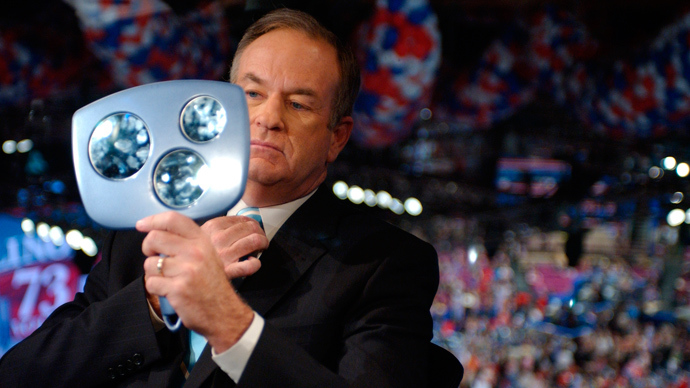 Fox News issued a mea culpa for one of anchor Bill O'Reilly's too-good-to-be-true stories ‒ but not for all his anecdotes that critics complain are fake. The controversial talk show host has been under fire for recollections of his reporting career.
In his 2013 book, 'Keep It Pithy', O'Reilly wrote, "I've seen soldiers gun down unarmed civilians in Latin America, Irish terrorists kill and maim their fellow citizens in Belfast with bombs."
Asked about O'Reilly's statements Friday, a Fox News spokesman told the Washington Post that O'Reilly was not an eyewitness to any bombings or injuries in Northern Ireland. Instead, he was shown photos of bombings by Protestant police officers.
Did Bill O'Reilly really witness bombings in Northern Ireland? Fox News says no http://t.co/AzzbPu9iTipic.twitter.com/XpxyDrE1FH

— i100 (@thei100) March 2, 2015
O'Reilly traveled to Northern Ireland in 1984 to research a book about the Troubles, according to Fox News. But he never completed the tome, and the Post said it's unclear whether he reported on his visit for any news organization.
At the time, he was working for Boston station WCVB, but his then-boss, Philip S. Balboni, told the Post that O'Reilly covered only local news and did commentary for the station.
In a recent radio interview, the Fox News favorite told syndicated host Hugh Hewitt only: "We went on a raid in Divis Flats with the police. And it was a pretty intense situation. There was stuff being thrown, arrests being made, all of that."
When Hewitt asked him if he was in physical danger, O'Reilly said no.
"Were you in fear of physical harm?" @hughhewitt asks Bill O'Reilly about his cvg from Northern Ireland. "No." https://t.co/suQ6vkst7G

— Kenneth P. Vogel (@kenvogel) February 20, 2015
The Fox News host has come under fire of late for other stories that he is accused of making up or embellishing. Another anecdote O'Reilly recounted during the Hewitt interview ‒ about covering the 1992 Rodney King riots in Los Angeles ‒ was disputed by his former CBS News colleagues.
He has been caught repeatedly lying about being present at the suicide of a key JFK assassination investigation witness. The account of was first mentioned in 'Killing Kennedy,' his bestselling investigative book published in 2012. He has also recounted the incident on his Fox News program.
Multiple witnesses and former colleagues say his vivid description is completely untrue.
The accusations against the journalist began in late February, when Mother Jones journalists David Corn and Daniel Schulman called into question O'Reilly's account about his heroic actions while covering the Falklands War in Argentina in 1982 ‒ "a war zone that he apparently never set foot in," the two reporters wrote.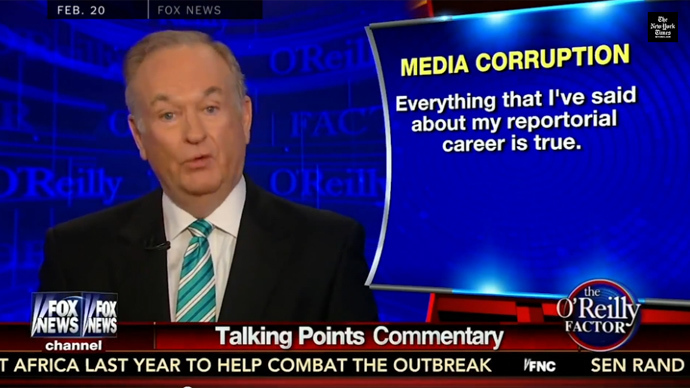 O'Reilly then dedicated an entire 10-minute segment of the next day's episode of the O'Reilly Factor to tearing Corn apart for the article, and calling their publication "the bottom rung of journalism in America."
Fox News aggressively denied the accusations against its star host at the beginning. In a statement to the Guardian, a spokeswoman for the network said that claims casting doubt on his recollections are "nothing more than an orchestrated campaign by far left advocates."
"Bill O'Reilly has already addressed several claims leveled against him," the spokeswoman said."Responding to the unproven accusation du jour has become an exercise in futility. Fox News maintains its staunch support of O'Reilly, who is no stranger to calculated onslaughts."
Fox News began backing away from its total support of O'Reilly when Politico's Media Matters blog published a report that the host ‒ who worked for a Dallas TV station in 1977 when George de Mohrenschildt committed suicide in Florida ‒ was actually in Dallas, not Palm Beach at the time the JFK assassination investigation witness died.
Interesting take on Fox's apology for O'Reilly's Northern Ireland lies: http://t.co/BMqBkvjrBypic.twitter.com/O47Kphhuhl

— James Griffiths (@jgriffiths) March 2, 2015
The network did not respond to the blog's request for comments, and referred others to O'Reilly's publishing company for the 2012 book.
Fox News' admission that its host was only shown photos of bombings by Protestant police officers, and was not, in fact, an eyewitness to any bombings or injuries in Northern Ireland, is the first time the network has vindicated O'Reilly's critics in any way.
You can share this story on social media: